Ease of Use
Disk Drill is easy to navigate and provides a quick and relatively painless way to retrieve your lost data. Upon landing on the homepage, users are greeted by the download buttons for Mac only – Free Download and Upgrade to Pro.
Not to sound picky but developers should tweak the homepage to introduce both Windows and Mac at the same time. Currently, the homepage is only an intro to Mac and you have to click a separate tab to get to the Windows page. And statistics estimate that there are more than 1 billion Windows-powered PCs in use in the world, roughly double Apple's Mac users. Just saying.
After clicking on the free green download button on the homepage, the next step before submitting your email is to identify which version of Mac is affected – Disk Drill 3 for MacOS 10.8.5 – 10.13. Or for older versions of MacOS X 10.5 – 10.8.4. Don't forget – free means up to 500 MB of restored data, nothing more!
The download process is the same for Windows. If you click on the Upgrade to Pro button for both Mac and Windows, you will be introduced to 3 versions – Basic, Pro and Enterprise. Each has a detailed explanation on what is included and the pricing structure. The checkout page is super simple with 8 payment options available.
Features
Disk Drill lays out data recovery features for Mac and Windows in a simple, straightforward manner. Scans can be paused, stopped or resumed anytime which is convenient should you need to step away for a few minutes or until the next day.
Here's a handy chart comparing Mac and Windows recovery details: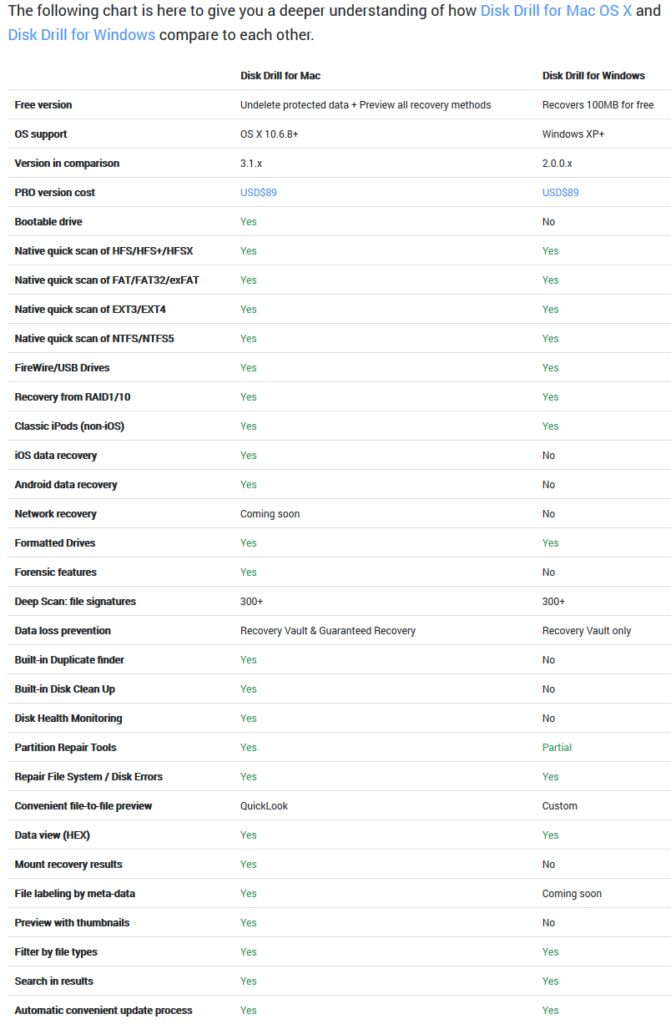 What happens if you don't want Disk Drill's software any more? There is a handy Uninstall button at the bottom of the homepage with easy uninstall instructions for both Mac and Windows.
Disk Drill offers a quick tip sections for both Mac and Windows that guides the user to correctly choose the download for their specific loss scenario.
Multiple scan options are pretty standard in data recovery services. Obviously, it's best to recover lost data the sooner the better, especially on a Windows device. Even if Disk Drill wasn't installed on your device when the files were deleted, its software knows where to find them.
The Quick Scan function can find accidentally deleted files in a snap. The file is still there but only the file name is removed. Once located, you then choose the ones you wish to recover.
If your loss was a little less recent, the Deep Scan option does a thorough search of your entire drive to find and reconstruct the lost files and recognizes more than 350 file types.
Bonus Features
Two other premium features to protect your data from future loss are Recovery Vault and Guaranteed Recovery. Recovery Vault saves the metadata (file names, location, etc.) of deleted files, but it doesn't save a copy of the file itself. Though it improves your chances of recovering a file, it doesn't guarantee it – the deleted files could be overwritten by new data and lost for good.
Guaranteed Recovery actually saves a complete copy of the file, making it much more likely that the file can be successfully recovered. Its footprint is large, taking up a lot more hard drive space versus Recovery Vault which doesn't need a lot.
Disk Drill is not only about data recovery. For Mac users only, it also offers additional tools to maintain your devices such as Mac cleanup, finding duplicates on your hard drive, backing up data, or monitor your disks' health. Best of all, these are all freebies!
Supported Platforms, Files and Devices
Disk Drill supports a wide variety of platforms, devices and files. Starting off with the desktop version of the software, Disk Drill is available on the latest versions of Windows and Mac, along with older versions (see below):
| | |
| --- | --- |
| Windows | Mac |
| ✔  Windows 7 | ✔  Mac OS 10.8.5 – 10.13 |
| ✔  Windows 8 | ✔  Mac OS X 10.6.8 – 10.11.x |
| ✔  Windows 10 | ✔  Mac OS X 10.5 – 10.6.8 |
| ✔  Windows XP | |
| ✔  Windows Vista | |
As mentioned in the Features section, the Deep Scan mode can really dig deep into the hard drive to find and extract hidden files. Be aware that not all the 200+ file formats can be reconstructed. If you are more tech-savvy than the normal home user, it might be worth your time to investigate the type (video, audio, image, document and archive) and file extensions you are missing.
Below is just a small sample of the different file types you can recover in deep scan mode:
3G2 / 3GPP2 / 3GP / 3GPP
AVI
DIR
DV
DXR
FLV
M4P
M4V
MKV
MOV
AAC
AIF, AIFC, AIFF
FLAC
M4A
MP3
OGG
WAV
AI
BLEND
NEF
RAF
Disasters are more likely to occur on your smartphone than on your laptop or computer, wouldn't you agree? Smartphones like the iPhone and Android have become extensions of your arm, pretty much glued to your hand. Thankfully, Disk Drill has taken this into consideration and provides software tools to recover data!
Below is a comparative look at what file types the Android and iOS versions can recover:
iOS Devices
Android
Supported Devices
iOS 5-10 – iPhone 4/4s/5/5s/6/6+/6s/6s+/7/7+, iPad/iPad Air, iPad Mini, iPad Pro, iPod Touch and any version of iTunes
Samsung S7, Edge, Note; HTC 10 & One M9; LG G5 & Flex, Sony Experia, Moto X & G, HuaWei Nexus 6P, Lenovo Vibe & Phab, ZTE Axon &  Galaxy, Android tablet
Recoverable

Situations

Failed iOS update; unfinished jailbreaking; water damage, locked device, infinite reboot, damaged screen, and more
Restore factory settings, SD corruption, Android virus attack, USB issue, incomplete file transfer, failed system upgrade and more
Recoverable File Formats
Camera roll photos (JPG, PNG, GIF, TIFF); videos (MP4, MOV); contacts (VCF); calendar (ICS); voice/memo recordings (M4A, MP3, AAC); text notes (HTML); notes with attachments (EML); bookmarks (HTML); chats, texts from messages (CSV); call history (CSV)
Contacts, text messages (SMS), videos, photos, media files, music, HTML files, archives, call logs, documents, attachments, custom files
Plans and Pricing
Why is data recovery is so expensive? It depends. For home users who lost data, Disk Drill's free options for both Mac and Windows offers the best solution. But if the unthinkable happened once, the chances are pretty good for it to happen again.
If you want to play it safe, you might want to consider buying the Pro versions and even shell out a bit more for the lifetime upgrades. Here are the pricing plans for both Mac and Windows:
Windows Version Pricing
Basic

Personal

Pro

1 user, up to 3 Macs

Enterprise

∞Users, ∞Macs

Features
Recovery Vault guaranteed, recovery protection, recover protected data, backup failing disks into DMG, preview all recovery methods
Data recovery for home users, Quick & Deep scan, rebuild HFS+ catalog, lost partition search & more, all media types and file systems
Full-featured commercial data recovery package with top-level support for the whole company; Forensic data export (DFXML)
Pricing
$0
$89
$399
Upgrades
None
LIfetime upgrades

+$29

Lifetime upgrades

free
Mac Version Pricing
Basic

Free recovery up to 500 MB

Pro

Unlimited personal recovery

Enterprise

Unlimited commercial recovery

Features
All recovery methods, Recovery Vault data protection,undelete protected data, backup failing disks, unlimited recovery preview
1 user, up to 3 computers, Quick & Deep Scan, partition search, all file systems (FAT32, NTFS, exFAT, EXT3/4 etc.), reconstructs 300+ file formats
∞users,∞installations

All Pro features, priority support, commercial license

Pricing
$0
$89
$399
Upgrades
None
Lifetime upgrades

$29

Lifetime upgrades

free
Disk Drill offers discounts galore – 20% off if you are a student, teacher or representative of an educational establishment, and employee of a government agency or non-profit organization. All you have to do is fill out a short form requesting the program and include your official email address (not personal). A second discount offers a Mac version cross-discount – buy Disk Drill for Windows and get a 50% coupon off for the Mac version.
A unique discount with the intent on grabbing business from their competition is Disk Drill's Competitive Upgrade. Take 50% off their product if you are dissatisfied with a competing data recovery software and want to switch!
Customer Service
Support at Disk Drill is basic – email, chat, FAQ, and Knowledge Base articles.  These are pretty standard for all the best data software recovery programs out in the market today.  To date, their YouTube channel has 12 how-to videos as well as information on Facebook, Twitter and Google+.
Their Knowledge Base section has tons of articles, tutorials, troubleshooting solutions, etc. but could use more organization in how this information is presented.  It's better to type in a keyword or words in the search bar which yields quicker and more accurate results.
Disk Drill Review 2020 
–

Conclusion

Which best data recovery software is the best? Well, it depends. What do you want? Data recovery for iPhone? Data recovery in memory card? Or data recovery for free? If you need a jack-of-all-trades data recovery software, Disk Drill might suit you best.

It's easy to navigate; has solutions for Mac, Windows, iPhone and Android; and offers free downloads. What do you have to lose? Try it for free and see for yourself!