Elite Singles Premium Pricing
Elite Singles lets you create an account for free. As with most competing sites, though, the free plan here is designed more as a free peek at Elite Singles' features rather than a standalone package meant for serious use. On the free plan, you'll be able to create a profile and take the assessment test, as well as receive match suggestions. However, the rest of Elite Singles' capabilities will only be available to you on a paid subscription.
Elite Singles has three packages for you to choose from. Two of those give you access to all of Elite Singles' premium features, while a third serves more as an extended trial run.
Here's a quick overview of your options:
| | | | |
| --- | --- | --- | --- |
| Features | Premium Light | Premium Classic | Premium Comfort |
| Monthly Fee | $39.95 | $29.95 | $19.95 |
| Contract Length | 3 Months | 6 Months | 12 Months |
| Unlimited communication | Yes | Yes | Yes |
| Automatic Matchmaking | Yes | Yes | Yes |
| View all member photos | No | Yes | Yes |
| See who visits your profile | No | Yes | Yes |
| Get read receipts for your messages | No | Yes | Yes |
| 20 extra Wild Card matches/day | Yes | Yes | Yes |
| Get premium mobile app features | Limited | Yes | Yes |
Are Elite Singles' paid plans worth it? Generally, yes.
Let's get the big exception out of the way first: Elite Singles' Premium Light package isn't worth the money, and it's clearly designed to nudge you towards a longer contract term. Other than more matches per day and unlimited messaging, Elite Singles' premium features are still inaccessible to you. The price is too steep for what you're getting. If you're averse to longer contract terms because you're not sure if you'll be on Elite Singles a lot or for longer than three months, it's best to try a free account and make up your mind first before getting a paid plan.
The Premium Classic and Premium Comfort packages are the only way to go if you've decided to pay. Unlike other dating services, Elite Singles gives both packages the same set of features; the only difference is contract length. If you're fairly certain it'll take you a while to find a match you want to pursue, then either plan offers good value for money.
Keep in mind that Elite Singles takes payment as lump sums, not installments. If you take a 12-month contract, for example, that means a payment of $239.40 in one go. This can make Elite Singles' price of entry a bit daunting. Remember, too, that Elite Singles automatically renews your subscription. If you're certain you won't be topping up your current subscription, it's best to notify Elite Singles early to avoid losing hundreds of dollars through automatic renewal.
How Do You Find Matches with Elite Singles?
Elite Singles' focus is on helping you find long-term, committed relationships with people who are at compatible stages of their lives. The site boasts of a membership that largely holds bachelor's degrees or higher, with majority aged between 30 and 55.
Elite Singles prides itself on creating a convenient and effective platform for singles seeking a good match, and that entails a rigorous — and somewhat tedious — registration process. In order to start finding matches for you, Elite Singles uses an extensive questionnaire that gathers data about your personality traits, lifestyle, and so on.
The test includes more than 200 questions, so Elite Singles advises that you set aside at least 45 minutes to complete it. You don't have to complete all the questions in one sitting, but whether you do it at once or over the course of several sessions, the test still requires significant time and effort.


You'll then be able to input your search criteria for potential partners, which includes everything from location to interests and even smoking and drinking habits. Elite Singles combines everything to calculate compatibility between you and other site members, and most of the matching happens through this system. You'll get 5-7 matches per day, or up to 20 more if you're on a paid subscription.
Since Elite Singles focuses so much on doing the matchmaking work for you, you'll find that this site doesn't have as extensive a search system as other online dating sites. There aren't many options for filtering by keywords or active profiles, for example, so most of the matches you find will depend upon the Elite Singles system. That's great if you don't want to expend much effort to find matches, but if you want to be more involved in the search process, you might find Elite Singles' options wanting.
To introduce some variety to your matchmaking, Elite Singles also runs a "Have You Met?" feature. This shows you users who are generally compatible with you but don't quite meet all of your custom criteria. It's a good way to widen your search field without incorporating completely random results, though your extra matches still get capped at 20 per day.
Does Elite Singles Let You Build the Best Profile Possible?
You'll get some latitude when it comes to customizing your profile. You'll have four main sections to fill out: your main profile page, your photo gallery, your personality assessment results, and your list of interests.
The personality assessment section uses neat graphics to give you or any profile visitors a quick overview of your results. You'll see where you place on sliding scales of different traits like openness and agreeableness. Additional graphs tell you how your scores fare across the wider population, too. Some of these summaries can be a bit vague, though. Premium subscribers get more detailed, granular analyses of their personality quiz results, so if you're interested in getting (and presenting) a more comprehensive portrait to other Elite Singles users, a paid account is your best bet.
Some of your answers from your initial personality assessment, like how you spend your free time or what your interests are, automatically appear on your profile. Elite Singles also lets you answer more freeform questions about your personality, hobbies, interests, values, and more. You can draw a random question or select one from a pool of options; either way, your answers will also appear on your profile for matches to see.
Here are some sample questions to give you an idea:
How do you most like to spend the day?
What should your partner know about you?
If you had one wish, what would you wish for?
As for photos, Elite Singles lets you upload photos from your device or import them from your existing Facebook account. Every photo you try to upload to Elite Singles undergoes screening, so it can take some time before your uploads become visible to other users. Read Elite Singles' security measures, including its photo screening policies.
Ho#securityw Can You Talk to Your Elite Singles Matches?
Once you do find people you'd like to connect with, Elite Singles offers you several ways to communicate with them. Free and premium users alike can send a "Smile" to matches, as well as "like" their posts and photos. If you want freer and more direct communication options, though, you'll need a paid subscription.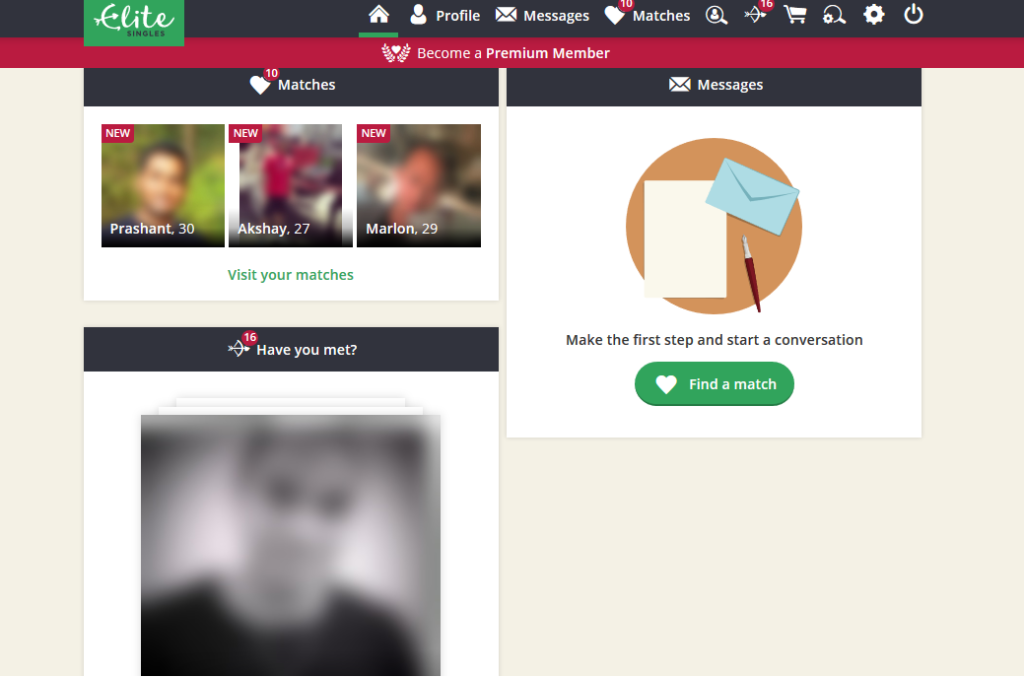 Premium users can leave comments on their matches' profile, as well as exchange custom messages directly with each match. Unfortunately, Elite Singles doesn't have video messaging, voice call, or live chat options, so you don't have as many choices for real-time conversation besides the text-based message system. If you'd like to level up your conversations with your matches, you'll need to find a different communication channel or service.
Is Elite Singles Safe to Join?
Elite Singles ultimately collects a lot of personal information from you, from your full name and location to your financial account information. This is especially true if you get a paid subscription.
As assurance, Elite Singles claims to conduct all connections and transactions with 256-bit SSL encryptions. You'll also be happy to learn that it doesn't disclose any of your personal information to other users or third parties.
Aside from all of this, Elite Singles has a dedicated Fraud Team that works to protect you from sham profiles, scammers, catfishers, and so on. All photos on the website can't be copied or downloaded, and any data you upload to your profile or gallery goes through an approval process before appearing on the site.
You also have the option to block offensive or abusive users, and Elite Singles gives you multiple channels for reporting inappropriate or abusive behavior from other users.
Elite Singles Customer Support
Elite Singles has a Help Center that features answers to basic questions or common issues, so you'll have an easy-to-navigate resource if you want to engage in some DIY troubleshooting. If you need direct assistance, you can also contact Elite Singles' Customer Care team through email, their online contact form, fax, or even snail mail.
LGBT Dating at Elite Singles
Elite Singles doesn't have features designed exclusively for LGBT users, but its matchmaking system is certainly flexible enough to accommodate non-heterosexual singles. You can specify which genders you're attracted to, as well as other traits and attributes you're looking for in a partner. All other features work the same regardless of your orientation, too: daily match suggestions, profile customization, and so on.
What's promising is that Elite Singles also provides supplementary resources to help LGBT users ease into online dating and find good matches. You can check the Elite Singles online magazine for posts on writing a good dating profile, figuring out how to prioritize your criteria for a possible partner, and even making the transition from meeting online to building a relationship offline.
Over-50 Dating at Elite Singles
As with LGBT dating, there are no exclusive Elite Singles features designed especially for over-50 users, but the Elite Singles matchmaking system can certainly be tweaked to work with your criteria.
Most of Elite Singles' user base skews a little young on the over-50 scale (i.e., generally in the 30-55 range, as the site itself reports), so you might have a smaller pool to choose from compared to specialty over-50 dating sites. However, that doesn't mean you won't find any matches.
Elite Singles lets you specify your preferred age range, as well as how important age is to your overall partner criteria. You're also asked to indicate relationship and family status (e.g., if you were previously married or if you have kids), as well as your preferences regarding similar information from potential partners. This can rule out potentially awkward situations where you might only find out this kind of information after a few dates with a potential match.
The Elite Singles interface itself is fairly simple and user-friendly. It's easy to navigate, even if you're not tech-savvy or particularly adept at technology. Checking matches or exchanging messages can be done with a few clicks, and most of your most crucial options are available from the ever-present navigation bar at the top of the page.
If you do run into trouble, the Elite Singles support team can help you troubleshoot over email. The lack of real-time support via phone or live chat is a bit disappointing, however, especially if you'd prefer having immediate answers or an easier way to clarify any unclear or confusing instructions.
Will You Find Your Match at Elite Singles?
If you're determined to find a lifelong partner who's just as driven as you are, Elite Singles might be the best place to look. Crafted especially for high-achieving singles with exacting standards and a yearning for a long-term, committed relationship, Elite Singles offers extensive personality assessments, compatibility calculations, and an active, engaged community.
You won't get as many bells and whistles as you might with other dating sites, but all the essentials are here. More importantly, you've got a sharp-eyed support team that weeds out inactive or fraudulent profiles and actively cultivates a pool of eligible singles that can meet even the most exacting standards.
If other dating services struggle to suggest matches that can keep up with you, Elite Singles just might be the service you've been waiting for.