OKCupid Premium Pricing
OKCupid is one of the rare dating sites that actually has a workable free plan. Not only can you search and browse matches, you can also send messages to people who catch your attention. You'll get unobtrusive ads peppered throughout your user interface, but you do get all the essentials you need to connect with potential matches for free.
If you want to liven up your experience with a few perks, you can check out OKCupid's A-List subscriptions. There are two types to choose from: Basic and Premium. Premium comes with all the features of Basic, plus a few extras. Here's a quick look at what you get from each:
| | | |
| --- | --- | --- |
| Feature | A-List Basic | A-List Premium |
| 1 Month | $9.95/mo | $24.90/mo |
| 3 Months | $7.95/mo | $22.90/mo |
| 6 Months | $4.95/mo | $19.90/mo |
| No Ads | Yes | Yes |
| See Who Likes You | Yes | Yes |
| Advanced Search | Yes | Yes |
| Read Message Receipts | Yes | Yes |
| Daily Auto Boost | No | Yes |
| More Attractive Matches | No | Yes |
| See Public Question Answers | No | Yes |
| Message Priority | No | Yes |
Is an OKCupid paid subscription worth it? Yes.
The OKCupid Free Plan already offers more value than many competitors' free packages just by serving as more than a gussied-up free trial. The Basic subscription enhances that value without breaking the bank: whichever subscription length you pick, you'll be paying less than $10/month for two of the most essential improvements: removal of ads and advanced search.
The Premium subscription enters more familiar price ranges for the industry. Arrayed among competing services' fees, though, OKCupid still sits comfortably in the mid-range — not the cheapest, but far from being the most expensive, either. When you consider that with the perks that you get, it's a good deal all around. Some services charge separately for visibility boosts, for example, while others reserve these boosts for subscription packages that could be $10-20 more expensive.
OKCupid's paid subscriptions continue the precedent set by its free plan, offering valuable features for less than you'd typically have to pay. Pair all that with OKCupid's large user base and the features we review below, and you've got a winning dating service on your hands.
How Do You Find Matches at OKCupid?
All of OKCupid is designed to give you matches. This isn't an exaggeration, either: almost every feature you encounter comes with corresponding match suggestions.
Random public questions that you can answer from your homepage? OKCupid suggests matches based on your answers.
Indicated your interest in TV shows like Game of Thrones in your profile? OKCupid lists potential matches with similar interests on your homepage.
There are three main engines for finding matches on OKCupid:
Compatibility Matching
You answer an initial questionnaire when you sign up, and OKCupid uses your responses to calculate your compatibility with other users. You'll see compatibility percentages (from 0% to 100%), with OKCupid sending daily recommendations of people who fall in the 80-90+ percentage range.
DoubleTake
This functions more like a typical dating app, giving you quick glimpses of potential matches' profiles, photos, and your compatibility ratings. You can "Like" or "Pass," and any users you've liked get added to your "Liked" list of potential matches.
Manual Search
You can search for more matches whenever you want. OKCupid gives you basic filters like sexual orientation, age, location, lifestyle habits (e.g., smoking or drinking), and more. If you've got a paid subscription, you can use more advanced filters like various personality traits (e.g., adventurous, compassionate, outgoing, etc.) or users' answers to specific questions (e.g., how spicy they like their food).
OKCupid's compatibility ratings are a great, quick way to get an approximation of how well you and each match will get along. The search filters also provide more flexibility than you'd typically find from online dating services: you're free to zero in on particular traits or habits that matter to you, especially if you've got a paid subscription.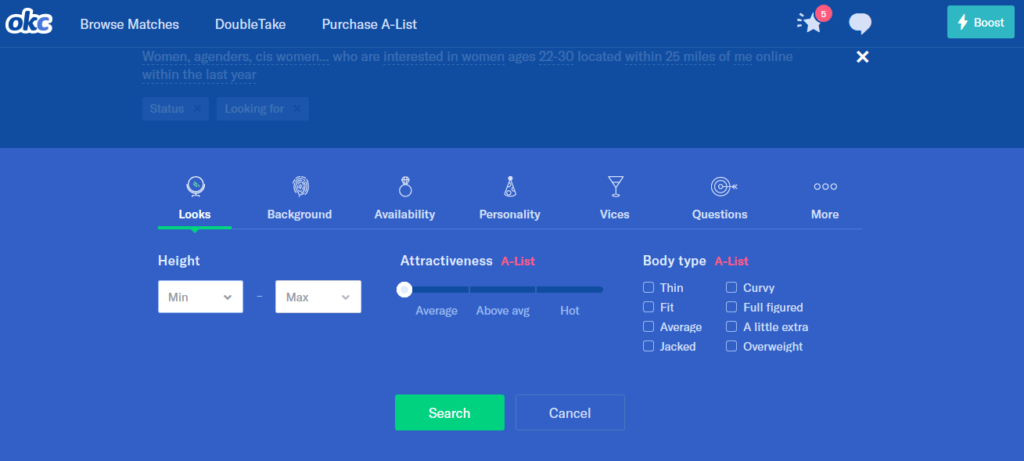 That flexibility gets echoed in the sheer variety of methods you can use to find a match. Any of the three main methods listed above — Compatibility Matching, DoubleTake, or manual search — yield sizable lists of potential matches. But even if you aren't as proactive, OKCupid stuffs your homepage with suggestions based on everything from your listed interests and attributes to your latest answers to public questions. You won't get into zero-match situations here.
Can You Build a Great Profile at OKCupid?
OKCupid has a quick, stylish onboarding process that has you answering the usual questions about personality, relationship expectations, ideal partner traits, and more. You also get lots of space to elaborate more about yourself, your beliefs, and your lifestyle, thanks to a freeform profile page and a deep pool of questions that you can choose to answer. Those questions range from things as simple as your favorite food to issues as complex as what your political leanings are.


OKCupid also gives you random prompts when you try to set up your profile. These go from "My current goal" to "The last show I binged," though if a prompt isn't to your liking, you can pick a new one from a dropdown menu. OKCupid also condenses key traits like lifestyle habits, physical attributes, education, and so on, into a handy list on your profile sidebar. This lets potential matches know important information about you upfront, bypassing the need to find the right timing to discuss any of these in conversation (though you're free to do so if/when you feel like it).


You can also upload photos, which OKCupid screens before posting. Like many dating services, OKCupid tries to weed out fake, offensive, or inappropriate photos to ensure a good (and safe-for-work) browsing experience.
How Do You Talk to Matches at OKCupid?
OKCupid's communication system revolves around messages. This is where OKCupid falls a little short of its competitors, some of which offer a variety of communication methods, from instant chat to secure calls.
That said, OKCupid's messaging system is pretty robust. Each user's profile features a button to send a message immediately if you're interested. The messaging module is also constantly available from your top navigation bar, so you'll never get lost.
Recently, OKCupid have implemented a filter system for incoming messages. You can still send messages to any user who catches your eye, but unless they've also Liked your profile, your message won't appear in their inbox. OKCupid will notify the user that you've sent a message, and your profile will be featured on their suggested matches and DoubleTake list, so your message (and profile) are unlikely to be overlooked. With the filter in place, though, it saves users — including you — from receiving a flood of messages from people you might not even be interested in.
OKCupid also lets you leave comments on people's profiles, posts, or question answers. This can be a great way to ease into more direct communication with someone.
Is OKCupid Safe to Join?
The short answer: yes. OKCupid seems dedicated to ensuring users' comfort and safety. That's clear not only from the service's continuous interface updates (to keep up with the latest design trends and maintain the interface's approachability), but from the policies that OKCupid implements.
There's the message filtration system we mentioned above, which is always active for everyone. In announcing that update, OKCupid noted marked decreases in message harassment for many female users, for example.
You can also "Pass" on users' profiles to ensure that they never turn up in your searches or match suggestions, including DoubleTake recommendations. If you'd rather prevent someone from viewing your profile or sending you messages, you can block them instead.
There are handy buttons for reporting any offensive, abusive, or inappropriate behavior from users, too.
OKCupid Customer Support
OKCupid's support and moderation staff can be reached via their feedback form or the messaging module. The lack of real-time systems like phone or live chat can be inconvenient, though, especially if you're troubleshooting an urgent issue.
There's also a comprehensive FAQ section on the OKCupid Support Page, but this doesn't offer much beyond the basics you need to get started. The active OKCupid blog also offers useful information on new features, as well as online dating success tips, though you might need to do a bit of searching or skimming to find the information you're looking for.
LGBT+ Dating at OKCupid
OKCupid is the most LGBT-friendly of the major online dating services we've reviewed, with lots of design tweaks to accommodate a broader range of genders and orientations. While most dating services content themselves with man-seeking-man/woman-seeking-woman binaries, for example, OKCupid doesn't shy away from the more complex shades of gender identity and orientation.


Right from the start, you can identify not just as gay or lesbian, but as transgender, intersex, genderqueer, or several other labels that you might be more comfortable using. The same goes for your prospective matches. This makes for a more refined matchmaking system, increasing the chances of you finding somebody who fits your preferences.
Over-50 Dating at OKCupid
OKCupid's target audience skews decidedly towards the younger (20-40) crowd, and its interface, system, and user base reflect this. Over-50 users won't have problems navigating the clean, uncluttered interface, but they might have problems finding more than a few promising matches.
There's no harm in trying, though, and OKCupid certainly does its best to help users find their way around. There are tooltips to familiarize new users with the OKCupid system, and the onboarding process is a gentle, effective introduction that makes an active effort to avoid information overload. Basic filters like age and location help you refine your search for potential matches, and OKCupid's handy compatibility ratings simplifies the process of browsing through your search results for a promising match.
Can OKCupid Help You Find Love?
Here's the thing: OKCupid tries its best to help you find what you're looking for, be it a "forever" kind of love, a hookup, interesting new friends, or anything in between. That flexibility is one of OKCupid's best features, not only because it gives you more say in the matchmaking process, but also because it boosts the chances of getting satisfying results for your efforts.
You won't get as many communication options as you might find at, say, Match, but OKCupid does offer a robust messaging system. Best yet, you can send and receive messages even if you're on a free plan, which makes OKCupid one of, if not the best budget option when it comes to online dating. Paid subscriptions offer great perks for affordable prices, too. OKCupid offers excellent design and a sleek, adaptable matchmaking system for fees that don't break the bank, and if you're at all interested in online dating, it's a fantastic place to start.