Registration
The process for creating an account is pretty much the same with other online psychic services: you have to enter your name, email address, billing address, nickname, and password. These information need to be accurate as Psychic Access validates the details (i.e. country versus street address versus phone number). If they detect that any of these details do not add up, your registration will not push through.
Unlike other competitors, though, it's not a requirement to enter your payment details before completing the account registration. You can load up your account later on, via credit card, PayPal, or money order. Do keep in mind that funding limits are applied to every account- the daily limit is $500; $1,000 for the last 7 days, and $3,000 for the past 30 days. This is to ensure that customers don't overspend when they avail of the reading services, and to keep the company safe from fraud as well.
Ease of Use
Using Psychic Access' website is not as breezy as other competitors- while you'll find their advisor search section right at their home page, it's a bit difficult to filter them according to your preferences, as they offer only a few tools to do so. You can only sort by rating, price, and name, and filters available only classify them by reading topics and a few tools. What's even weirder is that there is no search toolbar for you to use. This means if you stumble upon a psychic that you like and plan to contact in the future, you better add them to your favorites on the spot; otherwise, it'll take a bit of effort to try and find them again. The whole website is also outdated in terms of design- it looks straight out of the 90s, and not even mobile optimized.
On the flip side, advisor profiles on Psychic Access offer more information than most competitor psychic sites. It contains a short description of the psychic's reading style, rating, charge per minute, languages, reading channels, specialties, qualifications, experience, and a short bio. You'll also find individual customer ratings and reviews, as with the date that they sent the testimonials.
Psychic Access accepts all major credit cards, PayPal, and money orders to fund your account. They also have a spending limit set for the first 2 deposit methods, to ensure that customers don't impulsively spend on reading sessions, and so that they will be protected from fraud. The daily limit is $500, the past 7 day limit is $1,000 and the past 30 day limit is $3,000. If you are adamant on adding funds when you've already reached the limit, you can do so only via money order.
Psychic Screening Process
It's important for a psychic reading customer to know if a screening process is in place, and thankfully, there's one in Psychic Access' case. Aside from interview and test readings, each applicant's work history is checked, their English proficiency is tested, and their identities are verified by having them submit government IDs complete with photos, and their listed names should correspond with what's in the IDs submitted.
According to their About page, only one in eight applicants pass the interview stage, and out of that, only one in twenty are admitted into the company, so you can imagine how strict and comprehensive the whole process is. Their high standards in psychic reading, English proficiency, and customer service help ensure that you won't have a less than satisfying session, but in case you do, you can inform their support team, and they will review the conversation. If the encounter is not up to their standards, they will credit what you've spent back into your account.
Communication Channels
There are two main channels to get in touch with a psychic advisor- live chat and phone call. In addition to this, some psychics have a video call session where you can talk to them face to face. There is also an option to record a conversation and listen to it for the next 30 days. The psychic's extension numbers are not shown if you have not yet created an account, so be sure to register first before browsing and choosing a psychic you'd like to talk to.
Psychic Advisor Specialties and Tools
Love and Romance
Relationships
Career and Finance
Tarot Readings
Angels and Guides
Reaching Beyond
Dream Analysis
Past Lives
Numerology
Astrology
Pet Psychics
Pricing and Special Offers
Despite having a short blurb in their FAQ section saying that they do not offer free readings, Psychic Access has a 6-minute free reading session with any psychic advisor of your choice who is available once you've finished registration. They also have a refer-a-friend rewards program, where you earn $10 every time a friend you referred purchases a reading session.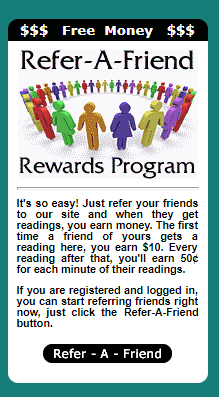 Advisor rates vary from $2.99 to $7.99 per minute, which is way more affordable compared to the rates of other online psychic reading services. Their rates mostly depend on their experience and ratings, but psychics with a lower charge are equally competent to handle sessions as well.
Customer Service
Under the support menu, you can find general and technical FAQ pages where you can read about the specifics of their service and processes. If you need to get in touch with their support team, you can do so by leaving a message at their contact page; they will try to respond within 24 hours or less. Unfortunately, this is the only means of contacting them- they do not have a hotline or email. They also don't seem to be present in any social media platforms.
Psychic Access Review 2020 – Conclusion
To be completely honest, Psychic Access is not the best online psychic reading service that you can find out there. Their website has an outdated interface, searching for a specific advisor can be a pain, the platform needs plug-ins for certain operating systems and browsers, and they do not have a quicker way to contact their support team. The main highlight of their platform is that they have a strict screening process where only a fraction of applicant psychics get hired, which also explains why they only have a limited number of psychics under their roof. They also have a funding limit to avoid customers from overspending for sessions. All in all, Psychic Access is not the greatest service, but they provide a straight-forward process to connect with a psychic advisor.