Moz Premium Pricing
Moz offers three plans for you to choose from: Standard, Medium, and Large. There's also a one-month free trial that lets you take the Large plan for a spin. All plans include access to Moz's core features, so you won't be missing out on any key functions even if you go for a cheaper plan.
The main difference lies in how high the ceiling for campaign and keyword resources goes. Here's a quick look at what you get with each plan:
| | | | |
| --- | --- | --- | --- |
| Feature | Standard | Medium | Large |
| Monthly Price | $99 | $179 | $349 |
| Yearly Price | $79/mo | $143/mo | $279/mo |
| Campaigns | 5 | 10 | 25 |
| Keyword Rankings | 300 | 900 | 1K |
| Mobile Rankings | Yes | Yes | Yes |
| Pages Crawled Weekly Per Campaign | 20K | 50K | 100K |
| Keyword Queries/Month | 150 | 5K | 15K |
| Backlink Queries/Month | 5K | 20K | 70K |
| Branded Reports | No | Yes | Yes |
| Users | 2 | 10 | 25 |
Are Moz's premium plans worth it? Yes.
Moz offers one of the best SEO suites out there, and the company makes a wise choice not to withhold most of those powerful tools in exchange for higher fees. Even the lowest-priced Standard plan can do pretty much the same things as the Medium or Large plans. If you're not running multiple campaigns or tracking thousands of keywords, Moz's Standard plan delivers amazing bang for your buck.
Of course, those resources get a boost when you go for a more expensive plan. This is one of our few quibbles with Moz: the Standard, Medium, and Large plans could stand to offer more campaigns, tracked keywords, link queries, and so on, with each account. The current allocations aren't stingy, but things can get pretty tight if you plan to run Moz in, say, an agency setup with multiple campaigns per user account.
If the Standard, Medium, or Large plans don't suit your needs, you can also contact Moz to set up a custom plan (and the corresponding fees). This option works best for enterprise-level operations, and Moz sweetens the deal by adding perks like dedicated account support.
Boost Keyword Rankings with Moz
Keywords are an essential part of the fabric of SEO, and Moz understandably offers numerous tools to help you work with keywords better. There are basic utilities like keyword ranking lists and suggestions, for example. You can also run comprehensive assessments for specific keywords, and Moz will deliver breakdowns of important details like:
The keyword's average search volume
The best-performing related keywords
How difficult it might be to rank well in search results for that keyword
To tailor results to your campaign goals, you can take the option to assign custom weights to each assessment dimension or even each keyword. That way, Moz will place more emphasis on the keywords or factors (e.g., search volume) that you care about most.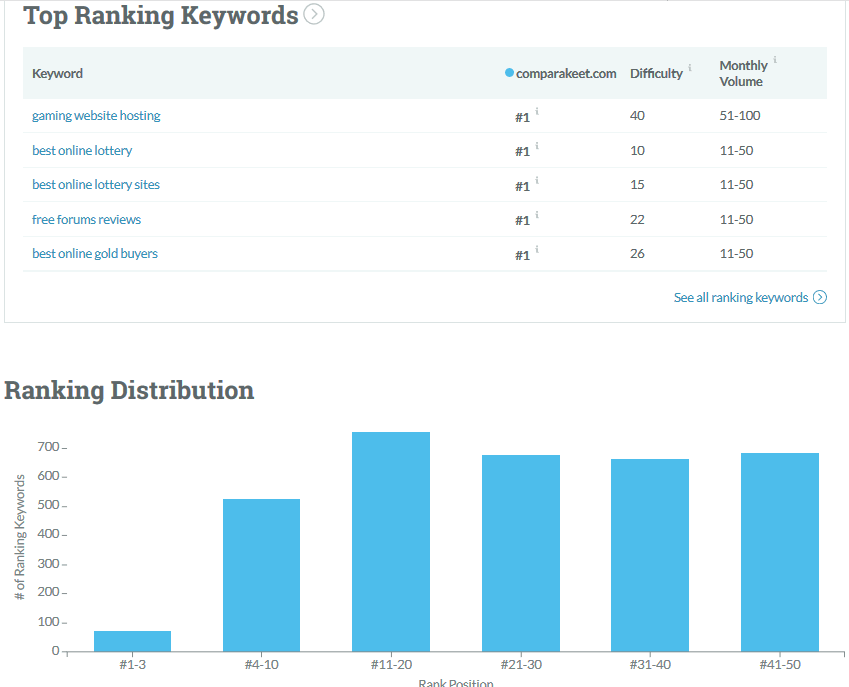 It's not just about current performance, though. Moz also lets you chart historical search engine rankings and performance for your website—or your competitors. You can also compile these records over time for an ongoing portrait of your rankings for specific keywords.
Finally, Moz's capabilities extend into marketing's big new frontier: mobile. You can set analytics and reports to distinguish between mobile and desktop performance.
Use MozPro On the Go with MozBar
For quicker access and more agile deployment of Moz's tools, you can also use the free MozBar. This packs Moz's features into a Chrome browser extension that lets you pull up on-page checks, link searches, and so on for whatever page you're viewing.
Size Up Competitors with Moz
Moz's keyword tools let you run side-by-side assessments on your website and up to 4 of your competitors. This can be a great tool for seeing how you match up against other players in your niche or industry. Moz helps you identify the specific keywords or topics where you're outperforming the competition—or, conversely, where you could stand to improve.
Thanks to Moz's detailed approach, you can pinpoint which high-traffic keywords to prioritize, which ones you can rank easier with, and so on.
Build Better Links with Moz
Linking is another vital thread in the SEO fabric, and Moz lets you map out your link profile, identify opportunities to improve your performance, and even scout out how your competitors' link-building strategies are faring.
Moz starts by calculating your "Domain Authority," a number that reflects how well your site is doing as a trusted and valuable resource. The Moz Link Explorer tool then digs deeper by:
assessing the number and quality of links to your site
identifying the most valuable pages in terms of link density
listing your most effective link anchor texts
ranking the trustworthiness and credentials of any domains linking back to you
All of this information creates a detailed picture of your website's link profile and gives you more room to spot areas for improvement or effective strategies that you can amplify.
As with keywords, Moz also lets you compare your link profiles with up to 4 competitors. By putting the details of your link status side by side, you can see where your competitors are performing better (or worse), what domains are driving their traffic, and so on.
You can also trace how these metrics have changed over time—handy for picking out, say, a big new partner site that boosted your competitor's traffic by 20% last October, or checking if your latest link-building strategy has lifted your standing compared to your closest competitors.
Optimize Your Website with MOZ
Like many competitors, Moz offers a comprehensive site auditing tool called Crawl Test. This tool checks your website's pages and flags errors, issues, or omissions that can hamper your search engine rankings. The difference here, though, is that Moz performs this audit regularly: you'll get weekly crawls and, subsequently, updates on issues. Moz does this automatically, making it easier to stay on top of your website's SEO health.
Any issues that get flagged come with recommended fixes and step-by-step solutions. There's also the option to ignore certain issues or highlight certain types of errors, ensuring that each crawl's results show you the information you want to focus on as you work on your website.
Aside from the Crawl Test audit, Moz also offers optimization help for specific webpages. Moz's tools can identify pages with the potential to rank high on relevant searches, for example. You can also get step-by-step guides for improving page content to rank better for specific keywords. Moz also gives you suggestions for hot topics related to your chosen keyword, giving you a starting point for future content planning.
Moz Customer Support
Moz offers fantastic customer support that benefits beginners, experts, and anyone in between. From the beginning, Moz welcomes you via a personalized, 1-on-1 onboarding walkthrough with a Moz expert. From there, you'll get round-the-clock support from the Moz crew via their website contact form or the ever-present chat button.
Moz goes beyond troubleshooting your problems, though. You'll also get access to tons of learning resources that enrich your marketing skills and knowledge. There are several beginner's guides for various aspects of online marketing, as well as video tutorials, how-to articles, and more. The dedicated Moz Academy explains foundational concepts like link building and inbound marketing, which you can further supplement with lessons delivered by the Moz staff through regular workshops and training.
Finally, there's the community support forum, where you can pose questions (or search previous answers) for the rest of the user community, the Moz staff, and other SEO professionals.
Will Moz Help Your SEO Game?
Getting a Moz account could be one of the best decisions you make for your business. We're not exaggerating, either: Moz puts powerful tools at your fingertips and gives you the resources you need to make the most of your toolkit. Moz covers everything from website optimization to strategizing tools like keyword research and link analysis. The best part, though, is that Moz presents you all that information through a user-friendly interface and in easy-to-grasp reports.
Moz's plans could stand to be more generous with the limits on campaigns, keywords, and so on, especially for lower-priced plans. As they stand, though, Moz's plans still offer tremendous value for your money. There's a one-month free trial available for the curious or skeptical, so you can see for yourself why Moz tops our list of the best SEO tools today.