WordStream Premium Pricing
WordStream prices its plans according to your monthly advertising budget, with special pricing if you intend to use the agency-scale version of WordStream's software. You can pay monthly on a 6-month or 12-month term. If you'd like to score a discount, you can opt to pay upfront for a year-long contract.
WordStream's prices come in five brackets for regular users and four brackets for agency clients. You'll get access to the same features regardless of your bracket; it's just that WordStream designs its fees to conform to your advertising budget.
Here's a look at what you can expect from the different payment and contract term options:
Monthly Ad Spend
6-Month Term
12-Month Term
Annual Pre-Pay
Up to $2.5K
$299/mo
$264/mo
$2928/year

($244/mo)

$2.5K – $5K
$429/mo
$374/mo
$4008/year

($334/mo)

$5K – $10K
$529/mo
$464/mo
$4968/year

($414/mo)

$10K – $25K*
$789/mo
$694/mo
$7428/year

($619/mo)

< $10K
Custom pricing
*for regular users only; not applicable for agency accounts
Are WordStream's paid accounts worth it? That depends on your goals.
If you're all-in on paid search, WordStream is a great platform for squeezing the highest returns possible from your campaigns. The WordStream system revolves around targeting better keywords, optimizing advertising spend, and getting more clicks and conversions from your paid campaigns, as we discuss in more detail later in this review.
However, if you'd also like extensive SEO audits of your website, deep research into your competitors' SEO performance beyond paid search, and more, you might find WordStream a little lacking. WordStream's narrow, hyperfocused feature set doesn't lend itself well to a broader advertising approach where paid ads and keyword targeting are only subsets of your campaign toolkit. There are more comprehensive services for handling SEO that include features like detailed competitive research, organic search analysis, and more. Check out the rest of our SEO Tools list for our recommendations!
What about managed services? Is WordStream's managed advertising plan worth it?
Enlisting the help of WordStream's paid consultants widens your scope, but that adds a hefty fee to your monthly costs. WordStream charges a flat $1,000 monthly service fee. On top of this, you'll also need to pay a percentage of your monthly advertising spend. Consequently, WordStream only accepts managed service clients who spend at least $5K per month on Google AdWords.
Here's a summary of WordStream's fee structure for managed services:
| | |
| --- | --- |
| Monthly Ad Spend | Monthly Fees |
| $5K – $10K | $1K fee + 10% of spend |
| $10,001 – $25K | $1K fee + 9% of spend |
| $25,001 – $50K | $1K fee + 8% of spend |
| $50,001 or more | $1K fee + 7% of spend |
If you're interested in WordStream's managed services, check out our discussion of the features and benefits you'll get if you sign up.
Run Better PPC Campaigns with WordStream Advisor
WordStream approaches its users' needs with one goal in mind: to increase advertising campaign returns. With WordStream's focus on paid search campaigns, this means tools designed to boost ad impressions and drive more clicks and conversions. WordStream places heavy emphasis on the Google AdWords, Bing, and Facebook platforms, so in the unlikely event that these don't comprise a big chunk of your ad portfolio, you might want to skip WordStream.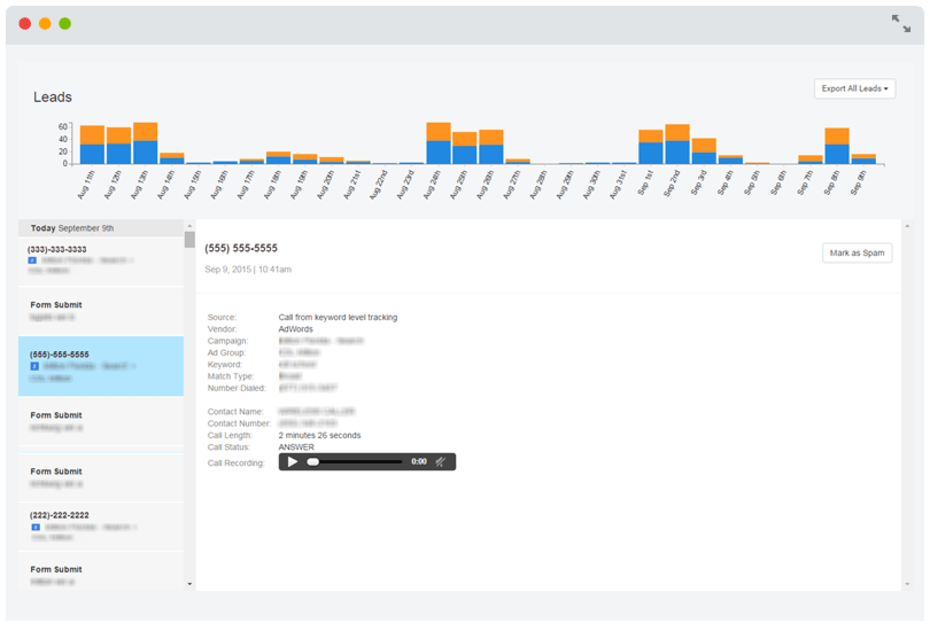 One of WordStream's big perks is that it consolidates data across platforms. This makes campaign management much easier for you, as you can view all your campaigns on, say, Google AdWords, Bing, and Facebook on the same dashboard.
Even better, WordStream doesn't stop at making the information easier to sift through. WordStream Advisor automatically tracks campaign performance, flagging any underperformers or highlighting more successful ones. You'll get prompts with recommendations for improving the effectiveness of each campaign, too.
Don't take WordStream's bird's eye view of your campaigns as a lack of granularity, though. For every campaign on your dashboard, there's the option to dig deeper into the key details and factors behind each campaign's results. WordStream Advisor will let you know if your ad text isn't enticing enough; if you need better images in your ad creatives; if audiences just happen to be searching more for a different related keyword; and more.
If you're worried about executing WordStream Advisor's recommendations, don't be. WordStream even includes a Smart Ads feature that automatically generates optimized ad creatives using your custom assets. Just load up some images and text, and WordStream does the rest.
Tap Advertising Expertise with WordStream Managed Services
If you'd rather not wade into the dizzying details of paid advertising, WordStream can still help you out through its Managed Services plan. Here, the WordStream team supplements your own marketing efforts. You'll get a dedicated account manager, and the WordStream team will take care of all the planning and execution needed to achieve your custom goals.
WordStream Managed Services can cover a wide variety of campaigns and platforms — wider, in fact, than you'd get from using WordStream yourself on a regular account. WordStream's account managers can work in domains like:
SEO
Social media marketing
Display advertising
Marketing data analysis and reporting
For each domain, you can expect WordStream's team to handle everything from preliminary keyword research to conversion tracking. You'll get detailed performance reports on your preferred schedule (daily, weekly, monthly). You'll also retain full access to each campaign, so you can check in yourself or override a decision made by the WordStream team if needed.
Track Performance with WordStream's Free Tools
WordStream charges substantial fees, but luckily, you can stick to its free tools if you're a bit cash-strapped. WordStream offers several tools that assess your campaigns and find opportunities to improve them. It's worth pointing out, though, that most of these tools focus on helping you work better with keywords.
AdWords Performance Grader
You'll need to provide your Google AdWords credentials, since this tool taps into your AdWords account to analyze your campaigns' performance. The Performance Grader calculates your ad spend's return on investment (ROI). It also appraises the quality of your ads and compiles its findings in a comprehensive report that details each ad's share of your total impressions, click-through rates, and more. Each report includes concrete recommendations for improvement. You'll find ideas for optimizing long-tail keywords, ad text, landing pages, etc.
AdWords Landing Page Grader
This tool assesses your landing pages' ability to convert visitors into paying clients. It helps you find ways to improve your AdWords Quality Score and create more enticing, effective landing pages for your ads.
Facebook Ads Performance Grader
This tool works the same way as the Google AdWords Performance Grader, but for the Facebook platform. You'll still need to provide your credentials; in return, WordStream generates a comprehensive report on the status of your Facebook ad campaigns.
Facebook Opportunity Calculator
This tool helps you gauge if a Facebook Ad campaign is the best move for your business, and if yes, what the ideal budget would be for your goals. This is a great tool if your business advertises primarily through Facebook, whether by your Page or through word of mouth. The calculator seems designed to work with smaller ad budgets, so if you're an independent seller, small business, or even just somebody looking to grow their side hustle, this can help you make the most of Facebook's platform.
Free Keyword Tools
If you'd like to improve your performance on both organic and paid search, you need to work well with keywords. WordStream's free tools help you gain as much information as possible so you can design and execute effective keyword-targeting strategies.
Keyword Generator: analyzes searches to help you find new, relevant keywords that you can incorporate into your ad strategies
Keyword Niche Finder: helps you find promising keywords for profitable areas or groups
Keyword Grouper: helps you build clusters of related keywords that can then serve as a foundation for your marketing strategies
Negative Keyword Tool: helps you find irrelevant or unprofitable keywords that you can then use to refine your marketing campaigns' scope
Each keyword tool generally gives you 10-30 free uses at first, with 1 free use each month going forward.
WordStream Customer Support
WordStream provides phone lines for US and international customers alike. You can also request callbacks from their support team.
If you'd like to buff your marketing skills and knowledge, you'll also enjoy WordStream's wealth of learning resources. There's the PPC University which takes you through basic concepts all the way up to advanced processes in paid search advertising. You'll also find informative blog posts, whitepapers, video tutorials, and webinars on various topics related to online marketing.
Is WordStream the Marketing Tool For You?
If you're all-in on paid search, then WordStream might well be your new best friend. True to its name, WordStream provides the most in-depth keyword management tools available, going above and beyond typical keyword research. From automatic assessments of your paid ad campaigns to deep dives into potential keyword opportunities, WordStream's wealth of keyword management tools promise measurable boosts to your marketing campaigns' returns.
While these keyword management tools are great aids to SEO and SEM professionals everywhere, though, they're far from being all-in-one tools. If you've only got the resources for one SEO tool, WordStream's hyperfocused toolkit is a hard sell, especially since it costs significantly more than other SEO services with broader scopes.