7 Recommended Holiday Subscription Boxes for Senior Citizens
Last Updated:
What was the most recent gift you gave to your grandparents? We'll go ahead and extend this question to your most recent gift to your parents or siblings, as well. Mother's Day is in May, Father's Day in June, and Grandparents Day in September, but when has anyone ever needed a reason to show love and appreciation for their grandparents? Without them, we would literally not exist.
It can be hard to shop for people over 50. What do you get people who've had all this time to get themselves what they want? What would still be a surprise to them? Instead of sending safe choices only on important days–a favorite snack or clothing item, perhaps–why don't you try a gift that keeps on giving, month on month? Not only are subscription boxes worth it; but they're a great way to add charm, nostalgia, a hint of adventure and a spark of the unexpected to the lives of your loved ones. Below are five of our favorite subscription boxes for senior citizens.
---
Price: Starts at $9.99/month
Ships internationally
BEST FOR: Loved ones watching their health
This is a very thoughtful gift if you have parents or grandparents with particular dietary restrictions. Sometimes keeping themselves healthy and fit can make it difficult for them to find edible treats. Love with Food sends a monthly assortment of  snacks that are both yummy and good for them.
Contents
Each box is filled with all-natural and organic food, delivered straight to your parent or grandparent. GMO-free, gluten-free, celiac-safe and mostly dairy-free snacks are available–you just need to pick the right subscription box, as they have several.
Other Information
Part of the company's earnings are used to donate meals to hungry children all over the US. For more food subscription box suggestions, check out our top list.
---
Price: Starts at $52.00/month
Ships to continental US only
BEST FOR: Loved ones that love wine
Some grandparents have dietary restrictions to deal with, but others love to live it up! Some senior citizens still live in their own homes, and love to entertain. If this sounds like your family, then Winc may be right up your alley.
Contents
Winc subscription boxes include four wine bottles a month or more, depending on the box you get. Winc has a range of artisanal and small-lot wines from all over the world that you can choose from; or they can send wines based on your preferences.
Other Information
Because of legal restrictions, Winc can only ship to US states which have laws that permit shipment of wine directly to consumers. Winc is currently unable to ship to addresses in over ten US states; as well as certain locations within in Florida, New Hampshire, Connecticut, and West Virginia.
---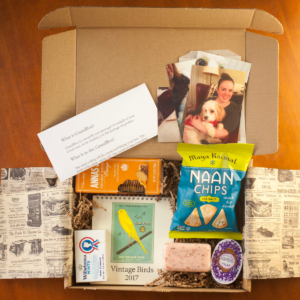 Price: Starts at $33/month 
Ships to the US only
BEST FOR: Loved ones living far away
Made for loved ones over 65, each GrandBox has a single purpose: to bring joy. Monthly deliveries arrive before important dates; like Mother's Day, Father's Day, Thanksgiving, and Christmas. January GrandBoxes are also special–its annual theme is Explore the World–because it's filled with new products from all over for your loved ones to try and discover as the new year rolls in.
Contents
You'll be asked to describe your elderly loved one in detail–age, gender, health, as well as their relationship to you–when you purchase a subscription. Box contents will be curated according to this profile; containing up to six selections that are nostalgic, useful, or new and interesting: ranging from fashion, style, health and wellness, to food and other recreational items.
Other Information
Shipping is free! You can also personalize each box you send by adding up to five family photos and a note from you. Email the company each month, and GrandBox will print physical copies to include in the care package.
---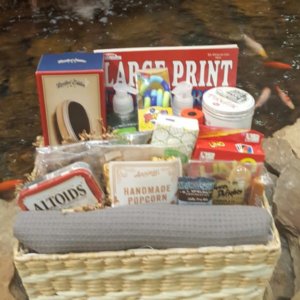 Price: Starts at $29.99/month
Ships to the US only
BEST FOR: Loved ones in a senior living community
Whether it's a simple retirement community or an assisted living facility, fully adjusting and transitioning from living in a familiar home to a whole new place can be jarring. CheerCrates are monthly encouragement boxes for people like this in your life.
Contents
These monthly boxes are filled with more than half a dozen treats and surprises; ranging from varied snacks and recreational activities–like coloring books and puzzles–to health and wellness products, all hand selected with care.
Other Information
Curation is important; more so, when it comes to CheerCrates. The company was put together by experienced senior health care professionals, so their selections are informed by years of experience in senior living communities.
---

Price: Starts at $15.99 + shipping and handling 
Ships internationally
BEST FOR: Christian mothers and grandmothers
While not all elderly relatives are religious, it's safe to assume some are. These boxes of encouragement are for women, specifically–doses of spiritual inspiration to look forward to every few weeks, and reminders to grow and walk in faith.
Contents
Each customized monthly box includes a devotional keepsake card, a gift meant to uplift and motivate, a mini poster, a reminder sticker, and a scripture card–plus an extra encouragement kit for your loved one to pass on or share the experience with someone else. Style accessories, lifestyle items, and home decor may be included, as well. Sometimes there are even bonus presents!
Other Information
For each box shipped, the company makes a donation to the Union Rescue Mission Hope Gardens Family Center. For more subscription box suggestions for Christians, check out this list.
---

Price: Starts at $40/month
Ships to continental US only
BEST FOR: Mothers and grandmothers
Similar to the unisex GrandBox, Lemon Drop Boxes are monthly care packages with sundry items that are selected and put together with the intent to comfort and cheer up a loved one. However, this subscription box is curated specifically for women.
Contents
Again, very similar to GrandBox, but with more focus on fashion, style and wellness. There are less items–five at most–but they are typically bigger than the usual knickknacks and small products included in less expensive subscription boxes. It also comes with a personalized postcard made from a photo and message from you.
Other Information
What makes these boxes different from those that are similar is that they're inspired by the love of a mother–always trying to brighten someone's day, just because. Price is inclusive of the shipping fee. For more subscription box suggestions for mothers, check out this list.
---

Price: Starts at $25/month
Ships internationally
BEST FOR: Fathers and grandfathers
Gentleman's Box is perfect for the true gentlemen in your life. Your father and grandfather alike will appreciate these little monthly gifts that include the things they love but may forget to get for themselves—or things they may not even realize that they enjoy! The idea of what a gentleman is has evolved through the years, and this subscription box will make sure that your beloved men will be up to date.
Contents
Each box is built around a theme: a gentleman or male archetype from the past or present. The carefully selected collection of four to five items—hygiene product, style items, accessories, etc.—fully reflects the image of the month's honored person.
Other Information
Gentleman's Box accepts no returns, no refunds and no exchanges. In the US, this comes with free shipping; and in the US and Canada, boxes come with the latest issue of GQ! Payments can be made only by credit cards. For more subscription box suggestions for fathers, check out this list.
---
Just the Basics
These subscription boxes are a good start, but it's not a comprehensive list—and that's because we don't know your parents and grandparents like you do! While wholesome, all-around care packages are thoughtful and great, they might enjoy a monthly restock of needed materials for their favorite hobbies or pastimes.
If they're passionate pet owners, they might like Barkbox. If they send you Christmas sweaters each year, they might like Knit-Wise. If they're hip granddaddies with classic taste, they might like Bespoke Post. You get the idea. Whatever the case may be, we're sure your loved one will be happy just to get something especially from you.