There's a Box for That: 10 Weirdest Subscription Boxes
Last Updated:
Whatever you're into at the moment, chances are that there's a subscription box for it. This trend has gone far beyond the mainstream and has started to spread to niche communities and cult followings–catering to interests ranging from uncommon to the truly bizarre. Wanna find out what's beyond all the popular food, beauty and otherwise typical subscription boxes? Check out this list of the weirdest ones we've found so far.
#1: Grass Potty Pads from DoggieLawn
Don't have a backyard or nearby dog parks where you live? Maybe you're just not able to walk your dog every day. Whatever the case may be, DoggieLawn has your back. They believe that your dog deserves the best, even when it comes to bathroom breaks; so for as low as $27 per shipment, you get fresh, environmentally friendly, hydroponically grown grass patches delivered to your doorstep every one to four weeks. Now your dog can "go" comfortably, day or night, and even in bad weather.
If you're interested in this, you might also like:
Little L's Monthly Club
Contains one to three bags of Krak'ems–Little L's low sodium dog treat invention made from poultry and meat; without grain, wheat, soy, sugar, additives or artificial coloring–sent monthly.
Barkbox
Contains a themed collection of at least one chew, two toys and two bags of treats; shipped monthly in a box.
Canada-based Esperidon claims that it is the biggest predatory plant nursery in North America. For $15 a month plus shipping and handling, you can get unique and tropical carnivorous pet plants delivered straight to your doorstep from their greenhouse. Plants can be shipped worldwide, and always come with a guide containing ideal care information.
If you're interested in this, you might also like:
Mushroom Cultures of the Month Club
Contains mushroom strains ranging from edible and medicinal, to carnivorous, and even bioluminescent; shipped in packs of three culture-filled syringes.
Moss of the Month Club
Contains assorted alive or preserved moss and lichens packed in plastic sandwich bags.
Succulents of the Month Club
Contains unique, handpicked and labeled succulents of different varieties, complete with instructions for care; shipped in boxes of five.
#3: Fairy Essentials and Activities from TinyMagicMail
This service hopes to instill a sense of wonder and magic in you and your child. In addition to monthly themed boxes containing what they call "fairy essentials"–typically miniature, fairy-sized decorative items–and accompanying educational crafts and activities, a whole starter package is sent to you when you first subscribe. You will get a fairy door with a key that opens a post box, which you can install in your home; a fairy interaction guide with letter blanks and fairy dust to help you keep up the illusion; and a welcome letter from their very own fairy, for your child.
If you're interested in this, you might also like:
Fairy Garden Chest
Contains one to three decorative figurines and accessories for gardens and dwellings–from fairies to appropriately-sized furniture items, and even miniature houses and walkways; shipped monthly.
Fairyloot
Contains a young adult book and handpicked goodies, usually following a fantasy focused theme that changes each month; all packed and sent in a box.
Once upon a Fairytale
Contains three to seven fantasy-themed, handmade and exclusive jewelry pieces and accessories; shipped in monthly treasure boxes.
#4: Survival and Tactical Gear from BattlBox
The thought of living in a post-apocalyptic world might be fiction fodder for most, but there are people who take it seriously and prepare for it. Subscription boxes like this are not as uncommon as one might think. Depending on the plan–the basic one costs $24.99 plus shipping and handling–a BattlBox can be packed with up to a dozen items. This includes survival manuals, emergency supplies, and EDC (Every Day Carry) or tactical gear; such as fire pistons, concealed carry holsters, watches, belts and even a Knife of the Month. Certain enclosed products follow a theme: a different survival or tactical scenario each time.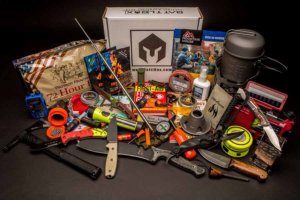 If you're interested in this, you might also like:
Apocabox
Contains at least one guide, one handcrafted item, and EDC gadgets and accessories–plus a skill building challenge–curated by Creek Stewart (a survival skills training facility founder and instructor); boxes ship every two months.
Prepper Gear Box
Contains tools, gear and educational materials curated by experts in their respective fields–such as US Army Drill Sergeants, CIA Master Trainers, US Army Special Forces, and more–following a monthly theme.
Monthly Knife Club
The basic plan gives you one brand new knife a month. More expensive plans add assorted tactical or hunting gear, survival kits, and EDC gadgets to the package.
Inspired by old dirty magazines from before the Internet age, this sexy-photos-sent-by-post service for adults is really half provocative–with pictures ranging from "sexy but pretty tame" to "dirtier than you'd believe", according to the site–and half novelty. For as little as $10 monthly, you get two 5" x 7" signed quality prints on archival photo paper; chosen especially for you based on your preferences.
If you're interested in this, you might also like:
Dollar Jimmy Hat Club
One of many monthly condom subscription services available online, but this one starts from $1.
Bubbles & Books
Monthly boxes come in three different themes–Historical, Paranormal and Bad Boy–and contain one erotic romance novel, one artisan-crafted soap and other bath-related items like candles, bath bombs and more.
The Fantasy Box
Contains items–from role cards and costumes, to props and toys, and more–to help a couple play out a particular bedroom fantasy. Boxes ship every one or two months, and feature a different theme each time.
This service is for sassy, grown-up women who love mermaids, but aren't into the wholesome vibe that usually comes with mermaid-themed products. For $19.99 a month plus shipping and handling, Siren Swag Bags–each containing three to five carefully picked, sea-inspired items; from sexy accessories and playful products, to health and beauty items, and more–will make their way to your doorstep every four weeks and help you celebrate your inner good mermaid gone bad.
If you're interested in this, you might also like:
MerLady Box
Contains five to seven handpicked and mermaid-themed bath, beauty, fashion and lifestyle items and accessories; boxes ship monthly.
Made by Mermaids
Contains three to four mermaid-inspired items; which may include jewelry, grooming products, home decor, beach gear, books and other items–sent monthly in a sparkly package.
Mermaidbox
Contains five mermaid-themed items of the family-friendly and cutesy kind, with the occasional unicorn-themed item snuck in; from jewelry to makeup, and even collectibles. Boxes ship every month.
#7: Antique Novelties from Estate Crate
Some people get a kick out of anything vintage: books, coins, jewelry, stamps, tableware, toys, and more–even random personal items like photographs and letters. If you're one of them, Estate Crate might be up your alley. The service sends out $54 monthly one-of-a-kind mystery boxes containing a variety of these old and antique collectibles, novelties and objects. Every single item is handpicked, and although most are not in mint condition and show signs of wear, there's a history behind each one.
If you're interested in this, you might also like:
Crooked House Vintage Monthly Book Club
Each month a package will arrive at your doorstep containing one carefully selected hardcover vintage book, printed anytime between 1800 and 1975.
Prudence and the Crow
Contains a handpicked vintage paperback, a handmade book bag, a stylized library card, and more. Packages ship every month.
Venture in History
Contains a selection of seven or more genuine paper currencies from all over the world, guaranteed to be worth at least $20–the price of the subscription. Ships monthly.
#8: Year-Round Halloween Surprises from Hallow-Fiend
Halloween doesn't have to be just once a year. When you subscribe, you get a box full of tricks and treats each month for $21.99 or lower. Items contained in this regular mystery box include appropriately themed apparel and costumes, decorations, tricks and surprises, films and books, and even taste snacks! There's never been an easier way to embrace your love of horror and eerie holiday spirit.
If you're interested in this, you might also like:
Unboxing the Bizarre
Each monthly box contains at least four items, each representing a different weird and offbeat holiday, as well as information cards on the special days that share trivia and suggestions for celebration.
Tinselbox
Contains six to eight fun and unique items–such as decorations, activities and other surprises–to help you celebrate a specific holiday. Boxes ship every other month.
Hauliday Box
Contains six to eight cute and chic items–an assortment of bath products, candles, coffee or tea, treats, paper goods, mugs or tumblers, cloth goods and decor–with a specific holiday as a theme. Boxes ship monthly.
#9: New Age Pagan Worship Supplies from Box of Shadows
Subscription boxes for witches and pagan worshippers are surprisingly not that hard to find on the Internet. This one in particular is affordable–as low as $19.99 a month, plus shipping–and is a great beginner collection of supplies, decorations and surprise items assembled for pagans, by pagans. Products you may get include: candles, incense, smudge sticks, an Herb of the Month, a Gemstone of the Month, and more.
If you're interested in this, you might also like:
Magickal Folk
This service offers a variety of differently curated monthly boxes based on mindfulness, magic, moon phases, and more.
The Witch'in Way
Contains a smudge stick, two charcoal discs, one selected stone, two bags of selected herbs, candles and other surprise items. Packages are themed and ship every month.
The Moon Box
Each monthly shipment contains a handcrafted spell candle; a print of a hand painted mandala, rune, or sigil; three bags of selected herbs; a jar of sacred salt; a bottle of anointing oil; a smudge stick; incense; a selected crystal; and other surprises, including a celebration item during Sabbat months.
#10: Interactive Murderous Tales from Hunt A Killer
Here's something truly unique. Rather than a box subscription, Hunt A Killer sells memberships–only 250 new members are accepted each week, and the community of members is very active online and offline. For as low as $25 a month when you prepay for a year, you will receive a package every four weeks containing investigative tools, clues in the form of objects, puzzle pieces, coded correspondences and other items related to a case. Each case is part of a huge, indefinitely continuing, immersive and interactive story involving a serial killer, murders and other things dark and scary.
If you're interested in this, you might also like:
The Mystery Experiences Company
Each monthly package gives you one self-contained experience involving relics, murders, killers or secrets: a mystery that can be solved without prior knowledge of past packages. However, all mysteries are set in the same universe, which–combined with an overarching plot–provides extra satisfaction for loyal subscribers.
Escape the Crate
Contains materials for you to create an escape room–complete with cracking codes, solving riddles, following a rich story–for the enjoyment of friends and family. Packages ship every other month and are always differently themed; expect pirate ships, murder mysteries, and more.
Mail Order Mystery
The service offers mysteries for children ages eight to 13, experienced through packages sent via mail; containing top secret files, handwritten notes, maps, puzzles, and more. There are six weekly shipments, with the final one including a special artifact or keepsake.