What Makes FatCow Stand Out?
If FatCow's portfolio of packages looks a little too similar to other providers like iPage, don't be confused—they happen to be sister companies, all operating under the umbrella of web hosting giant EIG. That's right: FatCow's services are backed by one of the largest and most reliable hosting companies on the web—a good reassurance in light of FatCow's lack of a clear and forthright uptime guarantee.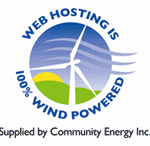 What sets FatCow apart from other providers, especially those also operating under EIG? Two things that may help with your peace of mind: the focus on green policies, and their "HeiferCratic Oath". If you care about the environmental impact of your hosting solutions, then you can rest easy knowing that FatCow has been powered solely by wind energy since 2009. The company's "HeiferCratic Oath", on the other hand, assures round-the-clock support through both phone and online channels and a commitment to iron out any issues you might encounter over the course of your hosting plan subscription.
Plans and Pricing
FatCow's offerings include packages for shared hosting—the original FatCow plan and the WordPress hosting plans fall under this—as well as VPS and dedicated hosting. All plans include a set of premium add-ons free of charge: easy installation of WordPress and Joomla—and likely other one-click installs from within FatCow's vDeck control panel, powered by MOJO Marketplace; domain name registration for one year, as well as a domain transfer, should you need it; and marketing credits worth $100 each for Google AdWords and Bing Ads. The ability to create unlimited email addresses and MySQL databases is also bundled into all plans, as well as unlimited domains and subdomains—though it should be noted these additional domains do need to be registered, and that part doesn't come free.
Shared Hosting: From $14.95 Monthly
Yes, Original FatCow plan is a little pricey for shared hosting when you consider the regular rates; but they frequently offer this package for first time subscribers at a drastically reduced price of $49/year, which comes out to about $4.08/month. Below is a look at the regular monthly rates for the Original Fatcow plan, inclusive of small discounts applied upon choosing longer term periods.
1-month term: $14.95/month , subject to availability
12-months term: $14.95/month, billed $179.40/year
24-months term: $13.95/month, billed $334.80/2 years
36-months term: $12.95/month, billed $466.20/3 years
The singular shared hosting plan comes not only all the freebies that FatCow bundles in with all their packages, but also with unlimited storage and unmetered bandwidth—within reason, of course, as outlined in FatCow's Terms of Service. In addition to the free marketing credits, there are many great e-commerce tools packed into the Original FatCow plan: the previously mentioned ShopSite online store, credit card acceptance and PayPal integration for your shopping cart, shared SSL, and more. You even get a free online YELLOWPAGES.COM listing, and US-based subscribers are also provided with a toll-free phone number.
Beginners will be glad to know that features like a newsletter manager, spam filtering, web analytics, daily server backups, and more are on hand—these are tools that bloggers or other online creative that are just starting out may not even think to look for, so it's nice that they're included. There's also free setup and instant activation; as well as a control panel with a drag-and-drop website builder powered by Weebly and one-click installs powered by MOJO Marketplace. A few words of caution for the not very technically adept regarding these one-click installs, though: Many of the usual applications you expect are offered—WordPress, of course; as well as Joomla, Drupal and more—but some are not! Magento is curiously unavailable, and even ShopSite is only usable as an included feature in the Original FatCow plan. If you try to install it through MOJO Marketplace, it will not work.
Not a beginner? The Original FatCow plan seems to be put together for those that don't really want to take the time to handle the specifics, but that doesn't mean that programmers are left with no options. There is a whole script library; and support for CGI, Python, Perl, Ruby, PHP—from 5.3 up to 7.1—and more.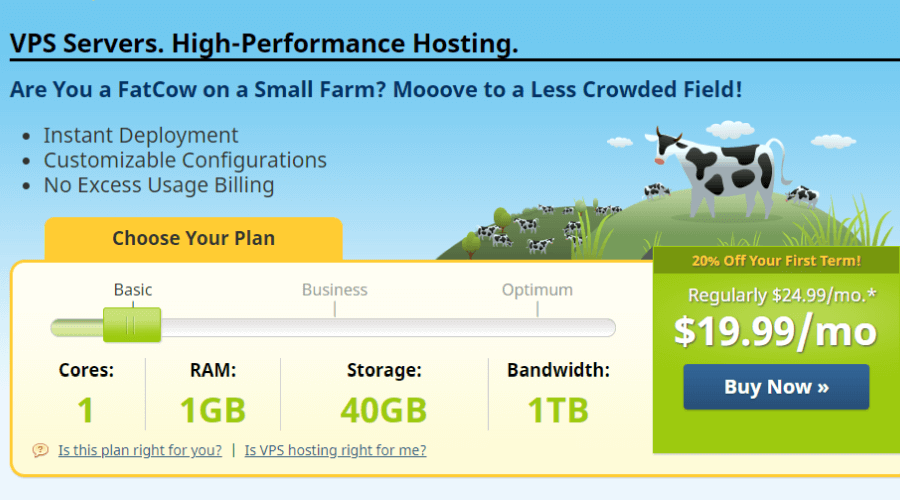 VPS Hosting: From $24.99 Monthly
For more resource-intensive projects, you my want to upgrade or start out with one of FatCow's VPS hosting plans; instead of the Original FatCow plan. There three plans to choose from: Basic, Business and Optimum. Below is a quick look at each VPS hosting plan's specifications.
| Feature | Basic | Business | Optimum |
| --- | --- | --- | --- |
| Regular Monthly Rate | $24.99 | $59.99 | $79.99 |
| CPU Core | 1 | 2 | 4 |
| RAM | 1 GB | 4 GB | 8 GB |
| Storage | 40 GB | 90 GB | 120 GB |
| Bandwidth | 1 TB | 3 TB | 4 TB |
| Dedicated IP | 1 | 2 | 2 |
An introductory discount of 20% may be applied to your first term. If you use this on the Basic plan, the rate goes down to $19.99/month. And while we're on the subject of term periods, here's a rundown of the regular rates—inclusive of the small discounts applied to the lengthier billing cycles.
| Term Period | Basic | Business | Optimum |
| --- | --- | --- | --- |
| 1-month | $24.99/mo | $59.99/mo | $99.99/mo |
| 12-month | $22.49/mo | $53.99/mo | $89.99/mo |
| 24-months | $21.24/mo | $50.99/mo | $84.99/mo |
Unlike FatCow's singular shared hosting plan, you actually get options when it comes to what you want out of their VPS hosting. The catch? No Windows options. It's Linux all the way. However, with seamless migration and instant provisioning, even scaling up to a higher tier plan is hassle-free. All VPS hosting plans come with all the freebies all FatCow packages offer; as well as cPanel bundled in with optional root access and extensive script support. FatCow virtual private servers all come fully managed at no additional cost, too.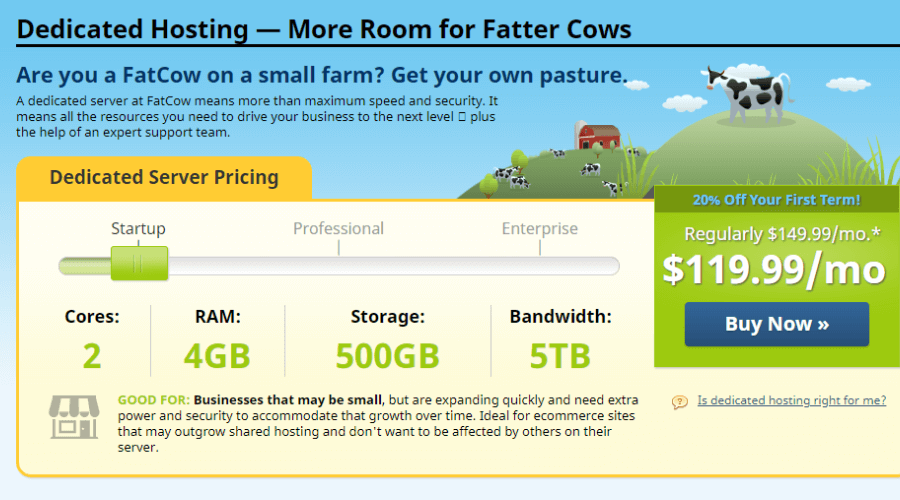 Dedicated Hosting: From $149.99 Monthly
FatCow's dedicated hosting packages tend to be a bit underpowered for the price, but if you want to stick with this provider while scaling up—and VPS hosting is no longer enough—then dedicated servers are the way to go. Below is a quick peek at FatCow's dedicated hosting options:
| Feature | Startup | Professional | Enterprise |
| --- | --- | --- | --- |
| Regular Monthly Rate | $149.99 | $189.99 | $239.99 |
| CPU | Intel Xeon E3-1220LV2 | Intel Xeon E3-1265LV2 | Intel Xeon E3-1230V2 |
| RAM | 4 GB | 8 GB | 16 GB |
| Storage | 500 GB | 1 TB | 1 TB |
| Bandwidth | 5 TB | 10 TB | 15 TB |
| Dedicated IP | 3 | 4 | 5 |
FatCow doesn't offer the lowest rates in the field, but the prices aren't remarkably high either. There are three tiers for you to choose from: Startup, Professional, and Enterprise, with rates ranging from $149.99 up to $239.99 a month. Like FatCow's VPS hosting plans, you can also avail of a 20% introductory discount; which brings down the Startup plan's monthly rate to $119.99/month. This can only be applied to the first term period of your subscription, though. Below is a look at the dedicated hosting plans and the regular monthly rates inclusive of the small discounts applied to longer term periods.
| Term Period | Startup | Professional | Enterprise |
| --- | --- | --- | --- |
| 1-month | $149.99/mo | $189.99 /mo | $209.99/mo |
| 12-month | $139.99/mo | $179.99/mo | $219.99 /mo |
| 24-months | $129.99/mo | $169.99/mo | $239.99/mo |
Like the VPS hosting plans, all three of FatCow's dedicated hosting plans come with cPanel, optional root access, and fully managed support. There are also the usual bells and whistles: free domain registration, free marketing credits, unlimited MySQL databases, unlimited FTP accounts, unlimited email addresses, capacity for an unlimited number of domains and subdomains, and more. Again, a noticeable limitation is the lack of Windows support; all FatCow dedicated Linux servers run on CentOS 6.4.
Specialty Hosting and Other Services
Apart from web hosting, FatCow also has a variety of other offerings: domain services such as parking, privacy, registration, renewals, transfers, and more; marketing services in the form of SEO, email marketing, and the like; website design and management; and more. There's even a referral program, which does its share to offset the steep regular rates of FatCow's hosting plans. And when it comes to specialty hosting, they offer optimized plan for just one platform: WordPress.
WordPress Hosting: From $10.49 Monthly
FatCow has two WordPress hosting plans: WP Starter and WP Essential. Both come with a customized control panel specifically designed for WordPress hosting, pre-installed WordPress plugins and themes, and a core shared hosting plan that—like the Original FatCow plan—provides unlimited storage, unmetered bandwidth, free domain registration for one year, free marketing credits, and more. Below is a look at regular monthly rates for both plans, dependent on the term period you choose.
| Term Period | WP Starter | WP Essential |
| --- | --- | --- |
| 1-month | $10.49/mo | $12.49 /mo |
| 12-month | $9.49/mo | $12.49 /mo |
| 24-months | $8.49/mo | $11.49/mo |
| 36-months | $7.49/mo | $10.49/mo |
Introductory pricing lowers the monthly rates to $3.75 for WP Starter and $6.95 for WP Essential; though, as usual, the discount only applies to the first term of your subscription. Important to note, too, that these term periods are billing cycles. For example: If you choose the 36-months term of WP Essential, you'll be billed not $10.49/month, but $377.64/3 years.
What is different about WP Essential that puts its price points above WP Starter's? Simply put, if WP Starter is about convenience, WP Essential ups the ante and adds a focus on performance. On top of everything that WP Starter offers, WP Essential also benefits from more speed, more security, and more expert support. An SSD-based infrastructure improves site uptime significantly; a deluxe security bundle from SiteLock seeks out and eliminates malware; and instead of regular customer support, you'll get access to continuous personalized service from WordPress experts.

Referral Program
If you enjoy using the services of FatCow then you may want to spread the word to your friends who you think would also benefit from using it and get credit incentives. For every person that uses your username or domain name upon registration and stays in good standing for 30 days, you earn $35 credit which can be used upon renewal of your subscription. There is no limit to the number of referrals you can have per account; so the more people you refer, the more credits you have to use. You can even refer yourself if you plan to get an additional account apart from your existing one. Check out all the details of their referral program on their website as well as the terms and conditions to make sure you get everything right.
Customer Support
Should you feel the need to contact the FatCow support team, you can do so by initiating a live chat session, leaving a message on their support console, or giving their hotline a call. Their team is ready to assist customers 24 hours a day, 7 days a week. The phone line is a definite plus, as most hosting providers don't offer this option. It is important to note here that customer feedback over the years—as FatCow has been around for a long time—has not always been positive, but hopefully the many avenues of support have made things easier these days.
Knowledge Base and User Guides
FatCow also maintains a sizable knowledge base and a catalog of user guides to help you deal with more common issues and questions. These knowledge base contains helpful articles on a wide range of subjects; such as account specifics, general content, online security, premium hosting, WordPress, domains, e-commerce services, marketing, partnership programs, and more. You can use the handy search toolbar to find related articles to your keyword faster. The user guide section, on the other hand, focuses on providing you with step-by-step article that can help you build your website from the ground up.
Money-Back Guarantee
Finally, you will be happy to know that FatCow offers a 30-day money-back guarantee, in case you come to the conclusion that you are looking for something else from what they are able to provide. All you have to do to initiate this process is to inform their support team, and they will be able to do the rest. Take note that this only applies to credit card payments; and due to the nature of some services, cannot be applied to add-on service purchases.
FatCow Review 2019 – Conclusion
There's a lot of room for improvement when it comes to FatCow, but this does not mean that they currently offer terrible or mediocre services. For starters, they offer hosting packages across the spectrum, giving you plans that can cater to the needs of beginners and expert users alike. It's the former that's most important, though; as FatCow does feel more worth it for beginners that don't want to think about too many options and details. If you want to be able to start your website despite having little to no knowledge regarding the technical aspects of web hosting, FatCow is a worthy service to consider.