Squarespace Premium Pricing
Unlike many of its competitors, Squarespace doesn't let you launch a website for free. You can check out Squarespace's website builder through a free two-week trial, but you'll have to pay monthly fees if you want a long-term account.
| | | | | |
| --- | --- | --- | --- | --- |
| Features | Personal | Business | Basic (Ecommerce) | Advanced |
| Monthly Fee | $16 | $26 | $30 | $46 |
| Storage | Unlimited | Unlimited | Unlimited | Unlimited |
| Bandwidth | Unlimited | Unlimited | Unlimited | Unlimited |
| Contributors | 2 | Unlimited | Unlimited | Unlimited |
| Free Domain | Yes | Yes | Yes | Yes |
| SSL Encryption | Yes | Yes | Yes | Yes |
| Google AdWords Credit | No | $100 | Yes | Yes |
| Ecommerce Module | No | Yes | Yes | Yes |
| Ecommerce Transaction Fees | N/A | 3% | No | No |
| Custom CSS / Javascript | No | Yes | Yes | Yes |
| Premium Integrations | No | Yes | Yes | Yes |
| Mobile-optimized | Website | Website | Website + Checkout | Website + Checkout |
| Customer Accounts | No | No | Yes | Yes |
| Advanced Commerce Analytics | No | No | Yes | Yes |
| Abandoned Cart Recovery | No | No | No | Yes |
| Real-Time Shipping Rates | No | No | No | Yes |
| Automated Discounts | No | No | No | Yes |
| Gift Card Support | No | No | No | Yes |
| Ecommerce Orders API | No | No | No | Yes |
Are Squarespace's paid plans worth it? Yes.
Overall, Squarespace is a powerful, stylish, and user-friendly website builder that will give you a professional-looking website in as little as an hour.
The lack of a free plan might seem like a turn-off, but consider how limited the free plans of competing website builders can be. If you only need to launch a test website or a small project that's not meant for public viewing, then Squarespace isn't a cost-effective solution. However, for any other serious website, you'll need to ditch ads, get greater control over your branding and website performance, and have a powerful toolkit that helps you make an unforgettable impression. All of the best website builders will ask you to pay to tick all those boxes, and in that field, Squarespace delivers better value than most.
Which Squarespace plan should you get? Each of Squarespace's plans has its selling points. If you're looking to build a personal website, portfolio, or blog, the Personal or Business plans will work well.
However, if you're planning to sell anything through your website, Squarespace's ecommerce-specific plans (Basic or Advanced) are the way to go. Springing for either Basic or Advanced will get rid of the 3% commission that Squarespace would otherwise deduct from your sales, plus you'll get access to features like customer accounts and advanced analytics that can help your store grow into a full-fledged online enterprise.
Stand Out with Squarespace Templates
Do you want an effortlessly impressive website? Squarespace gives you 80+ beautiful templates to choose from. While this might seem like a modest selection, Squarespace's templates aren't at all shy about leaving an impression—or blowing most competitors' designs out of the water. While other website builders might have hundreds-strong template galleries, Squarespace still stands head and shoulders above these competitors in terms of aesthetic impact. Every one of Squarespace's templates is a stunner.
Squarespace's templates all sport modern, sophisticated design touches like parallax scrolling, smooth page section transitions, and bold font pairings that pop on the page. If you're a fan of clean lines, striking visual contrasts, and subtle accents, Squarespace's aesthetic sensibilities will suit you perfectly.
One caveat, though: Most of Squarespace's template designs lean heavily on images. You'll need a library of high-quality visual assets to make the most of Squarespace's templates. This makes Squarespace the most natural fit for designers, photographers, and artists. Still, its templates are flexible enough to work well for other purposes, and Squarespace's emphasis on visuals can help your website make a memorable first impression.
Here's a look at some of Squarespace's most popular templates:






Make A Statement with Squarespace Cover Pages
One-page websites have also become a trend, and Squarespace offers Cover Pages to help you get with the times. As the name suggests, a Cover Page is a style you can choose to use for one of your website's pages—or to serve as the main framework for the website itself, if you'd like everything on one page.
Squarespace Cover Pages are special: they can have different layouts from your overall website, and they use minimal blocks or sections to maintain that bold, streamlined look. A Squarespace Cover Page will work perfectly if you:
want a striking landing page to greet your visitors
need to spotlight content (e.g., major announcements) or sections of your website (e.g., newsletter sign-ups)
have evergreen content that you want to differentiate from the rest of your website (e.g., a compilation of top blog posts for new readers)
want to infuse more style and personality into "housekeeping" pages like 404 errors or "under construction" notices
Cover Pages are a fairly unique option, in the sense that other website builders don't yet pay as much attention to creating unique single-page sections for your website. This is a great way to strongly delineate important sections of your website, and it's another tool for structuring the intended "flow" of your visitors' overall experience.
Wield Aesthetic Control with Squarespace's Design Tools
Squarespace has one of the most powerful website customization modules available. But there will be a learning curve. Unlike pure drag-and-drop interfaces, Squarespace divides its controls into a central Settings panel and sets that rotate depending on the page you want to modify. Considering how many options Squarespace offers you, this seems like a good move: the wealth of controls isn't as overwhelming as it could be.
However, it also makes for an interface that takes some time to grasp. You'll need to click around a lot just to figure out where to find everything. Most controls only appear when you click on the relevant webpage or section; in other cases, you'll need to look to the universal sidebar to find options like uploading media assets or picking a new section to drop onto the page.


Once you've oriented yourself, though, it's smooth sailing. Squarespace gives you a remarkable degree of freedom over your website's design and layouts. If you're handy with CSS, you can even use custom CSS or JavaScript code to customize your website. Take note, however, that these still follow the parameters set by your chosen template.
The good news? If your current template won't allow the specific layouts or customizations you want, you can swap it out for a different template—without losing any of the content you've created so far.
Boost Your Site with Squarespace Integrations
Whether you're designing for your hotel business or your rising band, Squarespace provides apps and integrations to help your website perform crucial functions without a hitch. What's interesting about Squarespace's approach is that there's no separate app market or store: all of the extended-functionality modules are baked into the platform. You just need to decide whether to deploy them.
This seems like a trivial difference, but it simplifies the process of powering up your website. You won't need to worry about installing apps properly or knitting new functions into your website's infrastructure—Squarespace has done all of the work for you.
Well-curated options are a running theme with Squarespace. Like its template gallery, Squarespace's integrations list is much smaller compared to its top competitors. But what Squarespace does offer covers many of the common bases, with crowd-favorite solutions like Disqus, PayPal, and Bandsintown comprising the bulk of your options.
Squarespace makes a clear effort here to maintain a good spread of integrations that serve a variety of needs. You can find apps for blogging or ecommerce, for example, as well as bookings and rich media. Social integrations are by far the most expansive category here, though, with ready integrations for everything from social network standbys Facebook and Twitter to Github, Yelp, Spotify, and more.
Optimize for Mobile with Squarespace Responsive Design
All of Squarespace's templates are mobile-responsive by default. Presumably to cut down on the options you need to fiddle with, Squarespace doesn't offer you a way to customize the details of your website's mobile version. You can specify such things as the main focus of your visual assets (to ensure more favorable cropping for mobile screens), but these are minor tweaks at best.
Squarespace does let you preview how your site will look on different devices, so you can adjust your overall design to ensure best results on multiple screen sizes. Some templates let you turn off automatic mobile styling entirely. However, considering how many users browse the web on mobile devices, plus how search engines now take your mobile performance into account when ranking your website, it's best to skip over this option, even if your template does offer it.
Find Your Crowd with Squarespace SEO and Marketing
Squarespace gives you the tools you need to rank high on search engines, and then some. You'll find the basics of SEO covered. For example, you'll get the ability to set meta titles, descriptions, and data like alt-text for images. Squarespace also promises clean HTML markup for all of your webpages, making them much more receptive to search engine crawlers seeking to index your website.
It's worth noting, however, that your metadata options vary across templates. Some templates won't let you toggle the visibility of page titles and descriptions, for example; others will have your page titles doubling as navigation menu sections, keeping you from optimizing each section properly.
Squarespace also performs some helpful optimizations automatically. Your pages get compressed, mobile-friendly versions to boost your website's performance on mobile devices, for example; Squarespace will also generate an XML sitemap file to make your website more search engine-friendly.
Squarespace Analytics—or Google Analytics, which can be integrated into your Squarespace dashboard if you prefer—gives you continuous insight into how these options help (or hurt) your website. You'll find daily, weekly, monthly reports on your site traffic, as well as information on where that traffic is coming from and what topics or keywords are bringing in the most people. You can use Squarespace's and Google's statistics platforms side by side on your Squarespace dashboard, too, simplifying your website management workflow.
SEO is just one part of a successful marketing strategy, though. Fortunately, Squarespace also offers some support for tools like email marketing, newsletters, and closer social network integration. Most of these functionalities come through Squarespace's integrations, where you'll find ready-to-deploy apps or modules for popular solutions like MailChimp, Facebook and Twitter, and more.
Squarespace Hosts Your Website for Free
All Squarespace websites get free, automatic hosting on Squarespace servers. This is par for the course for a website builder, and it saves you the trouble of worrying about server maintenance, website uptime monitoring, and all the other back-end processes that keep your website up and running.
Squarespace also gives you a free domain if you sign up for annual billing. If you'd rather buy your domains separately, you can still get these directly through Squarespace. These domains will automatically be linked to your Squarespace account, and you can manage them directly from your dashboard. If you opt to use a different domain name registrar altogether, Squarespace will still let you use those domains with your website, even giving you a step-by-step to set it up for your account.
If you'd like to have email accounts linked to your domain, Squarespace offers that option, too. Again, this is par for the course for most website builders. What's different about Squarespace is that email support comes via a partnership with G Suite. You'll get Google Mail-powered email accounts, plus automatic integration with Google services like Calendar, Drive, the Docs suite, and more. If you'd prefer to have your email built on Google's system, Squarespace's offer conveniently simplifies the integration process with your website.
Finally, unlike many of its competitors, Squarespace lets you export your website content as an XML file. This makes it incredibly easy to migrate your website to a different platform (e.g., WordPress) if you ever decide to leave Squarespace—if your business grows too big for its capabilities, for example, or if your audience grows to the point that you need a more powerful web host. Even if you intend to stick with Squarespace for the foreseeable future, manual exports also let you keep personal backups/copies of your site data. That's handy for recovering your website in the aftermath of major site failure or unexpected errors.
Squarespace Customer Support
Squarespace has made its name on dazzling visuals, and that carries over to how it handles customer support too. Squarespace's best user guides and tutorials come in video form. From getting up to speed on the Squarespace builder to setting up specific elements like your navigation menu, Squarespace provides quick, digestible video guides to walk you through each process. For those who'd rather not skim through a video, there are written guides as well.
If you need more detailed troubleshooting help, the Squarespace forums place an active, helpful community at your service. You'll find popular questions/topics arranged by tag on a handy sidebar, plus a search bar that will help you find similar questions/issues. Turnaround time for questions is pretty fast, and most users provide detailed solutions that are nevertheless easy for beginners to follow.
When your website issues really require the direct attention of experts, Squarespace has your back. You can expect 24/7 customer support through email, with answers coming in within an hour of your inquiry. If you need to consult Squarespace's support staff in real-time, there's also the live chat option, though that's only available from 4AM – 8PM EST on weekdays.
Will Squarespace Fit Your Website?
Different kinds of websites have different needs, and no website builder can fulfill them all. But it's worth noting that top general website builders like Squarespace come close. We looked at some of the most popular niches that you might build a website for, and we delved into how well Squarespace works with each.
Squarespace for Blogging
Squarespace helps you build beautiful blogs that are a breeze to manage. We've covered Squarespace's templates and design options, and when it comes to blogging, Squarespace backs up its style with a lot of substance. The Squarespace blogging module puts all aspects of blog management (from writing posts to moderating comments) in one place. Integrated editing panes do the same for each aspect of your blog: the "Edit Post" pane, for example, houses not just your content entry box, but the options to set custom post URLs, excerpts, thumbnails, and social sharing channels, as well.
As for creating entries, Squarespace gives you a user-friendly WYSIWYG (what you see is what you get) editor. What's fun about Squarespace's blog editor is the ability to drop different sections into your blog post. You can play around with the layout and composition of your blog post: break up long stretches of text with a spacer or an image, for example, or highlight key points by dropping in a pull-quote or bullet-point accordion. Thanks to Squarespace's interface, what used to require some finicky hand-coding can now be done with a few quick clicks.
Organizing your content is equally easy. Squarespace lets you tag posts and file them under custom categories, and managing published, scheduled, or draft content is a matter of clicking to a neighboring pane on the module. You can set up automatic syndication, e.g., with Apple News; Squarespace will even help you set up RSS feeds if your blog serves as the home for your podcast.
Aside from the blogging module itself, Squarespace's integrations give you more ways to boost your blog. Modules like Disqus, for example, give you more sophisticated comment systems, while the plethora of social integrations turn your Squarespace dashboard into a centralized hub for pushing content out to different social networks simultaneously.
Squarespace for Ecommerce
Squarespace occupies a middle ground between basic online store services and the sprawling, full-featured systems of dedicated solutions like Shopify. You'll find a comprehensive ecommerce module that grants you extensive control over your product inventory, customer orders, payment and billing, and more.
One of the best things about Squarespace's ecommerce module? There are no restrictions on how many products you want to sell. Unlike other website builders that charge more if you have a large inventory, Squarespace accommodates stores big and small at no extra charge. You can sell physical products, digital goods, and even services like online education, consultations, and more.
The product inventory aspect of your store itself is pretty powerful. You can specify custom variants for each product, with Squarespace supporting even multiple variants per product. As for the inventory's back-end, you can quickly oversee your store thanks to sorting via useful criteria like available stocks or custom product categories.
Squarespace supports payments in multiple currencies, with processing powered by Stripe, PayPal, or both. This means you can take payments via various credit and debit cards, as well as digital wallets and services like Apple Pay. You can fold in taxes automatically so that customers get all-in quotes for their convenience.
You'll get similarly extensive support for different shipping options, too. You can set flat rates, weight-based rates, free shipping, or even real-time calculations via specific couriers. Squarespace gives you enough fine-grained control to set restrictions or custom guidelines per country, though you can't yet set custom shipping rules for individual products.
Unlike many of its competitors, Squarespace doesn't lean heavily on its third-party integrations to power your online store. This can be both a good and bad thing.
On the one hand, all of your store's functionality and controls are built right into the Squarespace system. In fact, Squarespace has embedded these options so deeply into its ecosystem that you can have, say, rich product blocks integrated into your blog posts or featured items in your catalog highlighted on special Cover Pages, all with a few simple clicks.
On the other hand, your store's capabilities are inextricably tied to the Squarespace system. You can't bring in a third-party system, for example, to enhance your online store beyond the limits of the base Squarespace ecommerce module. This isn't to say that Squarespace offers no integrations whatsoever; you'll find options like Xero, which summarizes daily store transactions, or FedEx and UPS integrations. However, unlike other website builders, Squarespace doesn't let you bring in Ecwid stores, tie in your Etsy or Facebook stores for management within the Squarespace online store dashboard, or otherwise bolt on other services that can help you once your store grows beyond the capabilities of Squarespace's ecommerce module alone.
Of course, if you do decide to sell via Squarespace, it helps that you don't have to pay transaction fees for your sales if you're on an ecommerce-specific plan. (The Business plan, while giving you access to the online store module, isn't ecommerce-specific and comes with a 3% cut for Squarespace as a result.)
Squarespace for Musicians
Here's the deal: Squarespace has what it takes to serve as your main media and publicity hub online, but it's not designed to be your chief portal for selling your music on the internet. Other website builders, for example, nose ahead in the music niche by offering integrated distribution through, say, Apple Music or Amazon. This is not the case with Squarespace.
In fact, music isn't quite as big a focus as musicians might like. Squarespace lets you upload mp3 files as individual tracks or as part of an album: there are page section blocks for embedding music directly from your computer or from external sources like Soundcloud and Spotify. However, there are no options to upload tracks in other formats (FLAC or WAV, for example), nor are there integrations with distribution channels like Apple Music, Google Play Music, Tidal, and other services.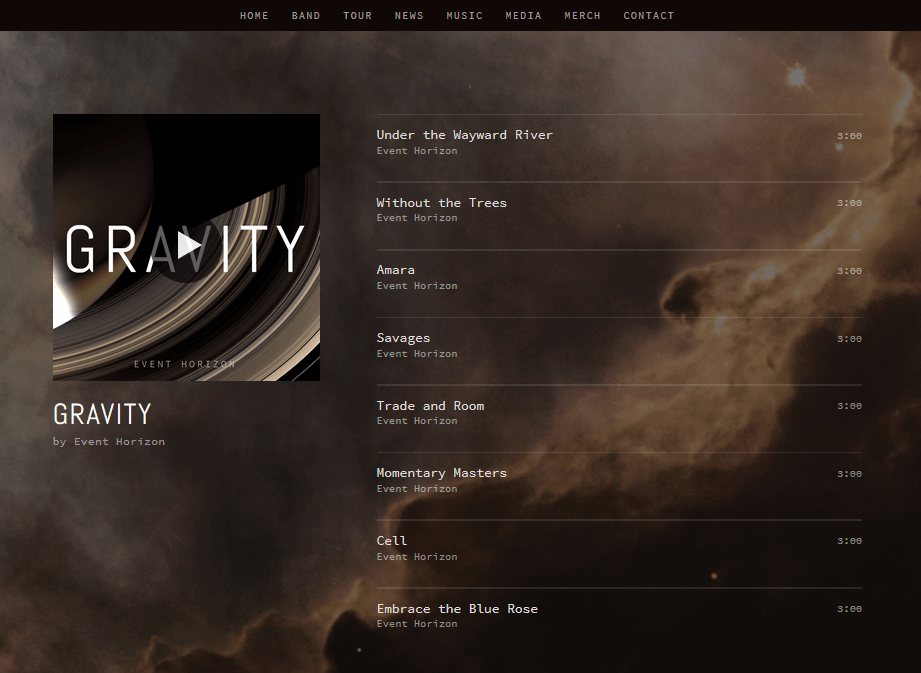 Even selling your tracks through Squarespace's ecommerce module is fairly basic, at least compared to specialty solutions or competing website builders. You can sell both physical products (e.g., merchandise or physical copies of your EPs/albums) and digital downloads. However, for the latter, you can't offer different formats (FLAC or MP3 at varying bitrates, for example), and Squarespace imposes a 300MB limit for each product. This can be a bit of a setback, especially if you want to offer high-quality copies of lengthy releases like, say, a full album or a deluxe edition with bonus content.
Squarespace does give you plenty of opportunity to showcase media, publicize tour dates or releases, and connect with fans. There are templates designed specifically for musicians, complete with ready-made pages for gig calendars and media pages. You'll also find integrations with handy services like Bandsintown, which are more powerful and sophisticated than vanilla calendar modules.


Squarespace offers enough to build a comprehensive website for musicians who want to put their name out there and establish a stronger web presence.
Squarespace for Designers
Squarespace might be the website builder service for designers and other visual artists. The templates themselves are gorgeous and pliable enough to infuse with your (or your design agency's) specific branding or aesthetic sensibilities. Whether you use bespoke CSS and JavaScript or just put a solid hour or two of editing in, Squarespace speeds up the process of designing and launching a stunning website without curtailing your customization options.
Squarespace's emphasis on visuals, in general, is a big pro for designers. Whichever template you choose, there will be lots of opportunities to show off your work. Some templates are designed specifically to showcase a variety of portfolios, for example, which is great for displaying your agency's top projects. You'll also find support for different kinds of galleries, as well as features like lightboxes. Contact forms, quotation requests, and similar functionalities are easy to deploy, too, thanks to ready-made Squarespace modules and page sections.
Squarespace for Photographers
Shutterbugs will find a lot to be happy about at Squarespace. For one thing, the promise of unlimited storage is good news for anyone working with hefty, high-resolution photographs. For another, Squarespace's emphasis on big, bold visuals and heavy use of images is the kind of design sense that offers photographers tons of opportunities to captivate audiences with their work.
Squarespace has numerous templates designed for photography portfolios, but the truth is that any template in Squarespace's gallery lends itself well to delivering a visual punch. Full-width images, bold parallax backgrounds, eye-catching galleries or sliders, and more, are all essential parts of the Squarespace package. Small but thoughtful touches, like being able to specify the focal points for each photo to ensure smarter cropping on different screens, help you make sure that your images wow your audience no matter how they reach your website.
You can upload images directly to Squarespace, or you can look to native integrations with services like Flickr or SmugMug if you want to store your images elsewhere. Deploying these integrations takes a few clicks at most, and they're great for garnering an audience beyond your website.
Interested in selling prints, copies, or usage rights for your images? How about your photography skills? Squarespace's ecommerce module supports different kinds of products, including services. The module itself is a powerful option, and if ecommerce isn't your top priority for your website, Squarespace's system is a more cost-effective solution than dedicated services like Shopify or BigCommerce.
Should You Build Your Website with Squarespace?
Yes. You might say that's just the fun marketing videos, celebrity endorsers, or frequent podcast commercials talking, but beneath its snappy marketing, Squarespace is a legitimately fantastic website builder.
It's certainly your best option if design and aesthetics are one of your top priorities. Squarespace's templates leave competing website builders in the dust, and though you get a smaller gallery overall, Squarespace's powerful builder ensures that each template can be the seed for countless unique—and stylish—website looks. That power extends to other important functionalities like ecommerce support and integrations, though it does bear pointing out that Squarespace comes with a bit of a learning curve.
Some templates won't give you as much freedom as others, but you're free to swap templates as often as you wish. Squarespace's focus on offering a consistent, "bespoke" feel throughout its ecosystem also means fewer third-party integrations than you might get from other website builders. Finally, Squarespace's lack of a free plan eliminates it as an option for users who just need a simple, no-cost website builder for, say, testing projects or small, private websites.
For all that, however, Squarespace offers more than enough to justify its premium plans' various price tags. It might not be the cheapest option, but Squarespace delivers fantastic value nonetheless. If you're not averse to paying a bit more for a website builder that looks, feels, and performs premium, give Squarespace a try today.