A Look at Weebly Premium Pricing
You can build a website for free with Weebly. However, you'll get Weebly ads on your website (though these tend to be limited to an innocuous bar running along the bottom of the page). You'll also be limited to a subdomain (yoursite.weebly.com [or whatever format]) rather than a custom domain tailored for your website (yoursite.com).
You get full use of Weebly's core website builder, plus SSL security and 500 MB of storage. But these aren't enough to outweigh the negatives: having ads and using a Weebly subdomain will both be huge minus points if you need to project a more professional image.
If you're building a website aimed at the general public (or a target audience), better stick to Weebly's premium plans.
You'll have four paid plans to choose from. Features are staggered across tiers, so you'll need to pay more if you want advanced features like video backgrounds or HD media.
Here's a closer look at what you'll get with each plan:
| | | | | |
| --- | --- | --- | --- | --- |
| Feature | Starter | Pro | Business | Performance |
| Monthly Price | $8 | $12 | $25 | $38 |
| Displays Weebly ads? | No | No | No | No |
| Storage | Unlimited | Unlimited | Unlimited | Unlimited |
| Free Domain | Yes | Yes | Yes | Yes |
| Google Ads credit | $100 | $100 | $100 | $100 |
| SSL Security | Yes | Yes | Yes | Yes |
| Advanced Site Stats | Yes | Yes | Yes | Yes |
| Site Search | No | Yes | Yes | Yes |
| Password Protection | No | Yes | Yes | Yes |
| Advanced multimedia options | No | Yes | Yes | Yes |
| Members-only sections | No | Up to 100 | Unlimited | Unlimited; includes membership registration system |
| SEO | Yes | Yes | Yes | Yes |
| Email marketing | No | No | No | 5 campaigns/month |
| Ecommerce transaction fee | 3% | 3% | 0% | 0% |
| Ecommerce product limit | 10 | 25 | Unlimited | Unlimited |
| Advanced ecommerce features? | No | No | Yes | Yes |
| Customer Support | Chat & email | Chat & email | Chat, email, phone | Chat, email, phone |
Are Weebly's premium plans worth it? Yes! Weebly's plans are more generous than its competitors when it comes to aspects like storage and ad credits. You'll also get a free domain, though this only becomes available if you sign up for annual billing.
Weebly has strong support for SEO in general, as we discuss in our section on Weebly's SEO and marketing features. Free SSL security with every plan is great for your website's search rankings and overall trustworthiness, especially if you're setting up an online store. This all dovetails well with Weebly's ecommerce features, which are available on every plan, too.
That said, Weebly does have some baffling limits. The most obvious—and most puzzling—is the exclusion of Site Search from the Starter plan. Giving visitors the ability to search your website is a basic feature, and it's strangely stingy to withhold it here.
With the popularity of HD displays, high-resolution visuals are practically mandatory for any website that wants to make an impact. But Weebly saves advanced media options like video backgrounds and high-resolution images and video only for the Pro plan and up. This means you'll have to shell out more money if you want a website that features stunning visual assets.
Finally, Weebly imposes some transaction fees and product inventory limits that can undercut its value as an ecommerce website builder for many users. If your main purpose is to sell products online, only the Business or Performance plans can handle a sizable store inventory. You can read more in our section on using the Weebly website builder for ecommerce.
Can't decide between the Business and Performance plans?
Give these plans a quick glance and they seem practically identical. Thanks to Weebly's pricing model of staggering features across pricing tiers, the Performance plan is just the Business plan with a few more advanced features thrown in.
Consequently, if you opt for the Performance plan, you can be sure that you're not missing out on any features from the Business Plan tier. But should you jump to the Performance level right off the bat?
The main question here is: What ecommerce and marketing features do you need? That's the biggest—in fact, only—difference between the Business and Performance plans.
If you sign up for a Performance plan, you'll get these extra features:
Real-time shipping rate calculations in your online store
Abandoned cart automatic email reminders
The ability to issue and accept gift cards
5 email marketing campaigns per month, limited to 500 recipients per email
Are these worth the extra $13 per month? We're inclined to say no, but that's up to you to decide. These aren't features that are integral to an online store; you can run an ecommerce website without them. If you want to know more about Weebly's ecommerce capabilities before deciding, check out our sections on Weebly for Ecommerce or Weebly Promote, the company's dedicated email marketing platform.
Build Your Perfect Website with Weebly's Templates
Weebly outdoes many of its competitors by trusting its users: you get more freedom to tinker with your website's underlying design. Coupled with Weebly's supremely user-friendly customization tools, this is a website builder that lets you take a website from idea to reality, no problem.
At first glance, Weebly's template selection might seem disappointing. You've only got around 50 templates to choose from—quite a difference from the hundreds offered by Weebly's top competitors.
The template choices themselves are fine, though not as striking as the competition, either. Most are pleasant to view and workmanlike in their practicality. You'll find straightforward menus, often expansive, full-page layouts, and large spaces for statement images. Most templates, especially the newer ones, are mobile-responsive.
Weebly organizes its templates into broad categories: for blogging, for portfolios, and so on. But there's not much to distinguish between templates in different categories, so you can take a blogging theme and apply it to your restaurant website, for example.
Here's a sampling of the templates you can choose from:
Sample Weebly business website template
Sample Weebly events website template
Sample Weebly travel website template
Sample Weebly restaurant website template
Sample Weebly portfolio website template
Sample Weebly designer website template
Weebly's Design Tools: A Winning Combo
If that sounds like a lukewarm take on Weebly's design tools, that's because we haven't gotten to Weebly's secret weapons yet. Three points lift Weebly's templates and customization tools from "okay" to "great":
First, there's Weebly's dedication to providing the smoothest, most user-friendly website building experience out there. Weebly's might not be the most sophisticated website builder console available, but it's certainly the one with the least amount of friction and snags for newcomers. There's practically no learning curve: if you know how to point, click, and choose an option, you can build a great website with Weebly.
Of course, if you need a little help, you can always lean on Weebly's second secret weapon: its preconfigured page section layouts. Each webpage you make with Weebly can contain any number of sections, and Weebly lets you give each section its own layout. Those plain templates you had to choose from? It turns out that you can have countless variations in layout—per page of your website—to spice things up and set your site apart.
You can choose from a range of layouts, like menus, "featured post" pages, galleries, and more. Each type of layout presents a subset of choices, so even two galleries on the same page can have a different structure. Switching layouts wipes out the data from that section but you can swap whole templates without losing your work.
Granted, there's still a downside: as much as they expand your choices, Weebly's layouts can constrain as well. The drag-and-drop interface works within the bounds dictated by your chosen template and layouts: You can't drag an element to a part of the page where your template doesn't allow for it; you can't resize elements if your layout, say, calls for a full-width section.
That's not to say that Weebly's builder is underpowered. Far from it. The drag-and-drop website builder is more than capable of creating great websites, and features like preconfigured layouts deliver convenience, speed, and efficiency despite their quibbles.
This is also where Weebly's third "secret weapon" pulls through: Unlike many of its top competitors, Weebly lets you modify your website's HTML and CSS. If you're handy with code, or you know someone who is, this means the sky's the limit for your website design.
Cultivate Your Community with Weebly Memberships
One of Weebly's more unique features is the ability to incorporate memberships into your website. You can designate certain sections or pages of your website as members-only, which can be a good foundation for monetizing some of your content. However, you'll need a Business Plan account to allow visitors to register for memberships directly through your website. Otherwise, you'll need to manually invite and review each prospective member.
Weebly lets you assign members to different groups, so you can have a range of access settings for your website's content. For businesses, this is a great way to set up pricing tiers; if you're using memberships for nonprofit purposes, like for education, this can be a good way to juggle different sections that you might be teaching.
Weebly memberships are available for the Pro and Business premium plans. The Pro plan is limited to 100 members; the Business plan allows for as many members as you like.
Engage Your Visitors with Weebly Promote
Weebly has developed a full-blown email marketing platform called Promote, and it integrates seamlessly with the Weebly website management dashboard. If you've been looking for ways to speak directly to your audience, then you might be wondering if Weebly Promote deserves a spot in your toolkit.
The quick answer: Not quite.
Weebly Promote's biggest advantage is its integration with the Weebly environment. If you're doing all of your website management on Weebly, then why switch to a different provider for your email marketing?
Here's one possible answer: cost. Weebly Promote is a separate service, so you'll need to pay extra fees to use it. There are three different paid plans to choose from. Here's what you'll get from each:
| | | | |
| --- | --- | --- | --- |
| Features | Build | Grow | Accelerate |
| Monthly Price | $8 | $25 | $75 |
| Contact Limit | Unlimited | Unlimited | Unlimited |
| Email campaigns per month | 5 | 20 | Unlimited |
| Recipients per email | 500 | 2500 | Unlimited |
| Max. emails per month | 2.5K | 50K | 250K |
| Scheduled emails? | No | Yes | Yes |
| Lead capture forms? | Yes | Yes | Yes |
| Automated emails? | No | 5 | Unlimited |
| Filter contacts by segment? | No | Yes | Yes |
| Additional email credits? | No | No | Yes |
| VIP Support | No | No | Yes |
Weebly Promote gives you drag-and-drop tools for designing your newsletters, email promotions, and more. Designing everything is easy thanks to preconfigured layouts that you can tweak according to your email's purpose and target audience.
As for managing your email list, Weebly Promote can build a database directly from sign-ups through your website. If you've got an existing list, you can also import it as a CSV file or from your email accounts. If you're on the Grow or Accelerate plan, you can also classify contacts according to custom filters such as demographics, the sections of your website they frequent/have access to, and so on.
Weebly tracks basic statistics like how many of your emails get opened, which messages get viewed, and which ones garner clicks from recipients. All this information, as well as all the related email design and contact management tools, are embedded in your Weebly dashboard.
Is Weebly Promote worth it? Taken by itself, it's a good addition to your Weebly arsenal. But compared to other dedicated email marketing platforms, Weebly Promote costs too much for what it promises to do. There are, for example, email marketing services that will give you unlimited emails per month for around $20—so it's a bit of a wash if you have to pay $75 to do the same thing on Weebly Promote.
If the convenience of having all your web-related tasks (including email marketing) in one platform outweighs all other considerations, then Weebly Promote is worth a shot. It's a capable platform, and it will certainly serve you well. The only catch is that, if you're open to casting your net wider, there are services that will do the same for less.
Power Up Your Website with Weebly App Center
If you need more functionality for your website, the Weebly App Center has 300+ apps that you can add with just one click. Your selection is a mix of native Weebly apps (Code Block, Price Chart, Promote Forms, etc.) and third-party features like social buttons, comments sections, chat systems, and more.
Most apps come free, though some also offer paid versions that unlock advanced features. You'll also find premium paid apps like the Google App Suite, which costs $49/year to install.
Here are some of the functions and features from the Weebly App Center's highest-rated apps:
Advanced website customization (X Page Layout Builder, Comments Plus+, Form Builder, etc.)
Ecommerce and business (PayPal, Ecwid, Countdown Cart, Stay22 hotel bookings, etc.)
Communication (Social Sharing buttons, Social Media Grid, Facebook Chat integration, etc.)
SEO and Marketing (SiteBooster, Stats & Marketing, MarketGoo, etc.)
Reach On-the-Go Audiences with Weebly Mobile Websites
Most of Weebly's themes are mobile-responsive by default. This means your website automatically adjusts to meet the demands of smaller-screen devices like smartphones and tablets. When using a responsive template, Weebly does all the optimization for you: there aren't any options to customize your website's mobile version manually, though you can preview how it will look on a mobile device screen.
If you do happen to pick a non-responsive template for your website, Weebly gives you mobile display options. You can change elements like your site's header and buttons so that they look their best even on different screen sizes.
Weebly also gives you powerful mobile apps for designing and managing your website on-the-go. These are full-featured mobile versions of Weebly's website builder console, so you can edit your template, view your site statistics, and publish new content straight from your iOS or Android phone. These are especially great if you spend the bulk of your day away from your workstation.
Find Your Audience with Weebly SEO and Marketing
First things first: Does a Weebly website flounder in search rankings?
The quick answer: No. Websites are websites to search engines, regardless of what you use to build them. The Weebly website builder isn't going to hurt your website's visibility.
In fact, Weebly offers tons of SEO support for your website. There are the default optimizations, which Weebly applies automatically to all its users' websites: the inclusion of sitemaps, mobile-responsive designs, HTML formatting that plays well with search engines like Google and Bing. And then there are the options you can control.
Weebly lets you set custom URLs (web addresses) for your website's pages, as well as edit meta data and descriptions. You can also set page titles and headers, different meta descriptions for every page, alt-text for the images you place on your site, and more. Weebly even lets you incorporate meta keywords, as well as custom code in your pages' headers and footers.
You'll also get marketing support through features like:
Integrated Google AdSense (you can run your own ads on your website)
Weebly Promote, the company's email marketing platform
Membership systems for site visitors (more on this in our ecommerce section)
Weebly Hosts Your Website for Free
When you create a website with Weebly, it's hosted for free on Weebly servers. Weebly takes care of all the behind-the-scenes, server-level work that keeps your site up and running; you'll be able to concentrate more on refining your website and growing your audience.
You can also get a custom domain through Weebly—either by buying it or getting a free domain by signing up for a paid annual plan. If you already own a custom domain, Weebly will also help you transfer it to your account so you can use it with your Weebly-built website.
One thing that puts Weebly above many of its competitors? You're free to migrate your website to a different host and platform. Weebly lets you download a copy of (i.e., export) your website as a ZIP file; you can also pull content from your site through Weebly's support for RSS feeds. If or when you outgrow Weebly's capabilities, these export options will streamline the process of moving to a more powerful platform.
Plus, you can use Weebly's export function to keep backups of your website data in your own computer. This can come in handy if your site ever runs into any trouble and needs to be restored from previous copies.
Weebly Customer Support
Weebly provides tons of resources to help you make the most of its website builder. When you're editing your website, you'll find tooltips on the corner of the page with ready answers for typical questions (e.g., how to add or edit elements; how to modify sections). There's also a quick link to the Weebly Help Center from the ever-present navigation bar.
When you get to the Weebly Help Center itself, you'll find clear, straightforward solutions for any questions or issues you might need to troubleshoot. Weebly occasionally embeds video tutorials in its Help pages, and you can find more video resources on its YouTube channel.
If you need direct assistance, the responsive and knowledgeable Weebly support team has your back. You can file a support ticket anytime or start a live chat with one of Weebly's US-based staff. If you're on a Pro plan or higher, you can also call Weebly directly for over-the-phone support.
Weebly's support staff hours are:
Mondays to Fridays: 6AM – 6PM PST / 9AM – 9PM EST
Saturday and Sunday: 8AM – 5PM PST / 11AM – 8PM EST
For smaller issues, you can also try consulting fellow users in the Weebly Community Forums. More likely than not, a similar issue has already been posted and troubleshooted; a quick search on the forums will probably land you some quick, helpful solutions.
Can Weebly Help You Build Your Website?
Weebly offers a great platform for general-purpose websites. But what if you have a specific niche or industry in mind? Not all websites serve the same audiences or cater to the same demands, after all. If you're an aspiring musician, say, or an up-and-coming blogger, or even the owner of a Minecraft server, can Weebly build a great website for you?
We took a closer look at some of Weebly's features to help you find out.
Weebly for Blogging
Weebly has a built-in blogging module that you can deploy for your website with a single click. You can have multiple contributors or editors; if you're on a Premium plan, you get more fine-grained permissions that let you distinguish between Authors (only able to view and edit certain sections) and Admins (with control over the whole blog).
You customize your blog through the Weebly website builder. The options are fairly basic: you can drag and drop elements like images and video onto your main blog page, and you can also incorporate a sidebar with elements like contact forms, newsletter sign-ups, or even ads.
Posting to your Weebly blog is a simple process. You'll get a WYSIWYG (what you see is what you get) post editor, with the option to file the post under a specific category and to toggle comments. Unfortunately, you can't designate featured posts or pages, so you can't highlight your best material.
Weebly's membership feature also works well for blogs. You can cordon off certain posts, pages, or categories as members-only content. You can learn more about that in our section on Weebly's memberships. Memberships create some great possibilities for your blog, such as:
Subscriptions for exclusive posts or supplemental content
Posting e-books or white papers for members
Weebly for Ecommerce
Weebly's really pushing itself as a powerful ecommerce website builder, even going so far as to ask new users if they're building a website or an online store. The Weebly Business plan is practically designed as a top-tier pricing plan specifically for ecommerce businesses. So it shouldn't be surprising that Weebly offers a ton of ecommerce features, such as:
Support for selling services or physical and digital products alike
Credit card and online payment processing
Support for several payment processors, like PayPal, Stripe, Square, and Authorize.net
Integrated shopping carts for desktop and mobile
Secure checkouts—via your custom domain if on a Business Plan; otherwise, via the internal Weebly domain
Inventory and order management from your Weebly dashboard
Built-in product search and filters
Custom shipping options, with adjustable rates for different types of shipping and service areas (domestic, regional, international)
Real-time shipping and automatic tax calculators
Support for discount coupons, sales, gift cards, and other promotions
Weebly's is clearly a powerful ecommerce module, and there's a lot to like about its many built-in conveniences. The ecommerce templates that Weebly offers, for example, automatically generate well-organized storefronts that you can tweak to your tastes. If you've got an existing shop, meanwhile, you can import your inventory via CSV to save you the hassle of transferring products one by one to your Weebly store.
Similarly, there are handy automations built into Weebly's system, like automatic alerts for products with dwindling stocks, automatic support for multiple currencies, and—for Business Plan subscribers, at least—even automatic emails sent to remind prospective customers of products in their abandoned shopping carts.
There are some negatives, though, particularly if you're on a Starter or Pro plan:
Weebly charges a 3% transaction fee.
These fees are applied on top of payment processing charges that you might have to shoulder, say, when you take credit card payments or transact through services like PayPal and Stripe.
Weebly limits how many products you can sell.
This is fine if you don't have a big inventory or if the online store isn't the main purpose of your website. However, if you've got a lot of products to offer, this can quickly be limiting.
The Weebly App Center also features ecommerce apps that can boost your online store's performance, especially once it starts outgrowing the native Weebly ecommerce platform. In particular, there's an Ecwid app so you can bolt on a dedicated ecommerce solution if you need to.
Weebly for Musicians
To make a striking music website with Weebly, you'll need to be prepared to shell out some money. Sure, you can get started with a Free or even a Starter plan, but to get high-resolution media and more engagement options, your best bets are the Pro or Business Plans.
Why? Because Weebly reserves the use of high-resolution media, including audio, for these plans. If you've got great gig photos or clips of your best performances to show off, then these plans are the only way to go. More importantly, these are your only options if you want visitors to hear good-quality versions of your music on your Weebly website.
Adding music to your Weebly website is easy. All you have to do is drop the Weebly music player widget onto your preferred spot on your website and upload your music tracks. Unfortunately, the Weebly music player only takes MP3 files, though you can offer tracks in other file formats if you want to sell digital files through your online store.
The Weebly music player uses HTML5, so you can be sure that it will run on any browser. There's no way to customize the music player itself, but it does display controls and track metadata (titles, artist, album art, etc.) by default. There still aren't native apps for Soundcloud, Spotify, or Bandcamp, but Weebly's "Embed Code" widget will let you paste in these services' embedded music track codes just fine.
Does Weebly help distribute your music? Unfortunately, no.
Unlike some of its top competitors, Weebly doesn't offer automatic distribution of your music to popular streaming services and online markets, like Apple Music, Google Play Music, Spotify, or Amazon. If you need music distribution support, we suggest checking out Wix for musicians instead.
You can check out the Weebly App Center for additional modules that can boost your site's functionality and potential for engaging fans. Modules like Eventbrite or embedded calendars, for example, are a great way to keep your followers updated on your gig schedule. Weebly's ecommerce module also gives you a powerful, integrated portal for selling merchandise, digital tracks and extras, and more.
Weebly for Designers
Weebly might not have the most beautiful templates out of the box, but it does trump many competitors by offering a couple of unique features that are perfect for designers.
First, you get creative freedom. Whether through the drag-and-drop builder or, more likely, the HTML & CSS customization option, you can fine-tune your website to better fit your aesthetic sensibilities.
Weebly also has robust support for multiple site editors/users, including staff accounts. This is great for design agencies that want several people to have access to different sections of the site's backend. You'll need a Pro account or higher for different permission levels, though.
Third, Weebly's support for memberships is a great way to handle exclusive content. You can have materials for different projects saved in an exclusive section of your site and accessible only to the relevant clients, for example. You can also use this to monetize your online content while building your profile as a designer through means like offering tutorials or advanced resources for a fee.
Finally, there's Weebly's powerful ecommerce options if you want to sell services or finished work directly through your website. Weebly's ecommerce module is flexible enough to let you handle different kinds of transactions without a hitch.
Weebly does have its drawbacks, though. Its staggered pricing model means you'll need one of the higher-tier plans if you want high-definition media on your website. This can be especially important if you're focused on, say, photography or video production. You can use Weebly's "embed code" widget to simply use media you've hosted elsewhere (e.g., YouTube or Vimeo), but it would still be better if you didn't need to resort to such workarounds.
Weebly for Hotels
When it comes to powering accommodations businesses online, Weebly lacks specialty features that can really elevate your website. There are wonderful templates to get you started, of course, and Weebly's website builder options are powerful and adaptable enough to let you craft a website that jives with your branding.
However, Weebly has little support for convenient, if not essential, features specific to hotel-related websites, such as booking systems or client management software.
There are no built-in modules that offer these functionalities, nor does Weebly provide native apps that you can add to your website.
The Weebly App Center's selection of third-party apps related to hotels is pretty sparse, with only 8 apps directly related to booking functions. That said, those 8 apps do span both free and premium offers, the latter ranging in price from $12 – $80+ per month depending on the app. The price spread is a bit disappointing, and most apps are mum on the transaction fees you'll have to pay, if any.
That said, depending on your chosen app, you can expect features such as:
Automated reservation and room inventory handling
Auto-syncing with different calendar services
Support for seasonal pricing, refunds, different payment schedules, etc.
Automated booking reminders for you and the customer
Weebly for Minecraft
Gaming communities are sprouting all over the web these days, and Weebly is an attractive option if you've got plans of building a website dedicated to games like Minecraft, League of Legends, DOTA, Overwatch, and more.
Weebly's effectiveness as a website builder depends on the type of gaming website you want to build. If you want to create a platform that's closely integrated with your in-game experience, Weebly isn't the right builder for you. There are no in-depth integrations with specific games, e.g., automatic syncing with players' game stats, leaderboards, or clan information import. You'll have to check out a dedicated game website builder for that.
However, that doesn't mean Weebly can't work for gamers. You'll find that there's a lot you can do if you're simply setting out to build an online hub for fostering communities that revolve around specific games (or gaming in general).
Weebly's versatile templates and flexible website builder make it easy to customize your website to suit your preferred game or group's aesthetic. You won't find templates that are themed for games by default, but customization to get a game-related look won't be a problem. There are no caps on how many pages you can have, either, especially since Weebly offers unlimited storage on all plans.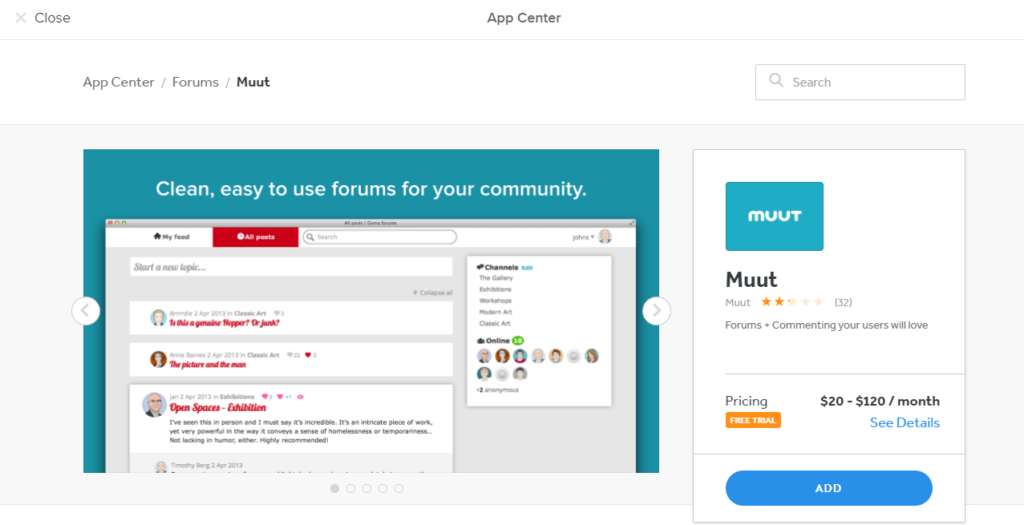 The Weebly App Center offers a good variety of forum and chat apps that you can add to your website, so you can create spaces for your clan or guild members (or just like-minded players) to interact. The Weebly ecommerce module itself, meanwhile, is flexible enough to accommodate business models built on gaming economies or in-game products. You can, for example, offer access to your Minecraft server for a price, or use the Weebly ecommerce module to sell game items outside the game itself.
You can also create member-exclusive sections of your site: perfect for sharing resources among clan or guildmates, for example. The catch is that Weebly puts a limit on the number of members you can have, unless you fork over enough to get the highest-tier Business Plan.
Is the Weebly Website Builder Worth It?
Short answer: Yes, with some qualifications.
Weebly offers the most user-friendly website builder out there, especially for people who are new to website development. What's great is that Weebly clearly puts a lot of time and effort into refining the service's overall user experience, so you're guaranteed to have a pleasant time with the Weebly builder.
That goes for users of all skill levels too, since Weebly is one of the rare website builders that lets you tinker directly with your site's HTML and CSS if you like. This option makes Weebly's website builder more adaptable than most, and it also creates more room for the Weebly service to scale in time with your growing needs and capabilities, especially if you decide to brush up on your coding skills.
With Weebly's supreme ease of use and adaptability, it's no wonder that the service powers over 40 million users and counting. The service isn't without its flaws, some of which are easy to work around and others more difficult depending on your niche. It's not the most innovative or sophisticated website builder option, either. But Weebly's a fantastic general-purpose website-building solution, and it delivers an unparalleled user experience and standout customer support that do much to tip the scales in its favor.