Table of Contents:
What is SaleHoo?
SaleHoo can be described as primarily a powerful research tool, supplier directory, and online community for dropshippers, wholesalers, and e-commerce stores.
In other words: SaleHoo helps online sellers find the best products and suppliers.
SaleHoo does this by providing its members access to the highly-prized wholesale directory. This directory is home to more than 1,000 pre-vetted suppliers, and there are over 1.6 million products you can choose from. The best part? SaleHoo guarantees that all of them have passed strict quality standards.
Navigating the directory feels great. You can find products and suppliers easily thanks to plenty of advanced search options; and a recent UI overhaul just made the whole thing function much smoother.
Contacting suppliers is also a breeze. You can send them messages instantly, and they'll be able to respond just as quickly. Most suppliers will also provide other ways of contacting them.
Not sure of what products to drop ship? SaleHoo's got you covered, too! They provide market research tools to help you spot the next best-selling products and trends.
Below are a few of SaleHoo's highlights:
SaleHoo gives you access to millions of products from any category imaginable, at the best wholesale prices.
All suppliers go through a rigorous screening process before being added into the directory. Routine audits are made and other members regularly leave individual supplier reviews.
It works with any eCommerce platform – whether eBay, Amazon, or your own independent store.
and plenty more!
SaleHoo Money Back Gurrantee
SaleHoo provides a generous amount of time to test out the service without any risk. You can purchase SaleHoo, give it a try, and if it doesn't live up to your expectations you can simply ask us for a refund. If you decide that you'd like a refund, just email us at [email protected] with your receipt number.- no questions asked.
You don't have to worry about being scammed of your money. SaleHoo is a legitimate company that provides a real service – and they've got the credentials to back it up. (You can read more about that below.)
Sign up for SaleHoo and get instant access to 1,000 pre-vetted suppliers, 1.6 million+ products, powerful market research tools, Shopify integration and more.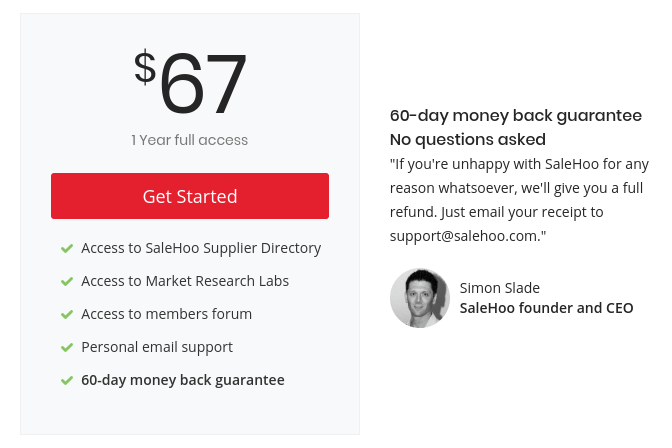 SaleHoo Features and Policies
SaleHoo Pricing and Refunds
At a competitively low cost of only $67 per year, SaleHoo has one of the most affordable memberships among drop ship solution providers. That comes with a no-questions-asked, full refund policy for extra assurance.
SaleHoo bills you through the ClickBank payment processor, which accepts PayPal and all major credit cards. At this time, you can only get annual billing cycles, and your membership gets renewed automatically.
A membership will provide you with plenty of features that can benefit your drop shipping business. Here's a quick rundown:
One of the largest wholesale directories online
1.6+ Million drop ship-able products to choose from
Powerful market research tools
Drop shipping and eCommerce training
Access to private members' forum
Customer support you can count on
Shopify Storfront easy integration
SaleHoo Wholesale Directory
SaleHoo links you to 1,000+ vetted suppliers from 100+ territories, amounting to more than 1.6+ million products, and gives you the tools you need to sell your chosen products at a profit.
That huge wholesale directory is one of SaleHoo's biggest perks. You can easily search SaleHoo's supplier lists and categories for possible products to sell, filtering for important considerations like if they are wholesalers only, require a minimum order quantity, offer international shipping, and if they require a tax ID.
SaleHoo Products
SaleHoo taps into a diverse list of catalogs, with suppliers offering products from tech giants like Canon, HP, and Samsung to clothing leaders like Levi's, Gap, and beyond.
This means you can count on finding whatever product you're looking to sell, and you're guaranteed to make a profit because SaleHoo gives the product to you at a low wholesaler price.
With SaleHoo's rigorous screening and verification process for its suppliers, the risk of losing your money to a bogus business is drastically reduced, too.
Market Research Labs
SaleHoo membership also gives you access to the company's Market Research Labs. This service crunches the numbers for you and recommends the products that will rake in the most profits.
Every week, SaleHoo staff will give you a list of products that have low competition and potential for high sales.
You can filter by product category, view important data like average sale prices for specific models, check seasonal trends, and so on.
If you'd like more personalized recommendations, you can also contact the SaleHoo staff directly for more detailed guidance.
SaleHoo Dropship (Previously Salehoo Stores)
SaleHoo's team have been very attentive to the trends in the dropship community and have transformed a major function to a more streamlined approach.
While previously, SaleHoo provided a storefront integrated to the available products and tools to allow you to run your own eCommerce website.
Nowadys, SaleHoo Dropship lets you add trending products exclusively from AliExpress to your Shopify store in minutes. This move has improved SaleHoo's focus on the majority of users configuration of a store front. That is, mainly aliexpress top selling products being sold over Shopify. As the old say "if you can't beat them, join them", no reason for SaleHoo to fight a lost battle vs Shopify in the storfront frontier.
The products from Aliexpress are hand-picked by SaleHoo's team of eCommerce professionals. Instead of you going out cherry picking and wishing for the best, the highgest probability of success products are available for promotion without you walking the path of trile and error that could be very costly at the first stages of any business. Most products available have high profit margins (usually at least 3x).
On top of that, working with SaleHoo's suppliers gurrantees that a proper screening as been carried out providing peace of mind.
Hence, investing in SaleHoo Dropship should prove a very cost effective decision both in ROI and in time management.
SaleHoo Dropship Stores Pricing Plans:
| Feature | Basic | Premium |
| --- | --- | --- |
| Monthly Price | $27 | $97 |
| Annual Price | $270 | $970 |
| Ideal for | 1-2 people | Teams |
| Import high profit Aliexpress products | 500 | Unlimited |
| Onboarding account manager | No | Yes |
| Amount of availble Shopify Stores | 1 | 3 |

SaleHoo Customer Support
SaleHoo provides 24/7 customer support through email and Twitter. You can call for more immediate support, but phone lines are only active from Monday to Friday, 2:00AM to 6:30AM New Zealand time.
SaleHoo also maintains a very active community forum, where you can count on a speedy and comprehensive answer to your issues or concerns.
There is also a small chat box at the lower right corner of SaleHoo's page where you can instantly talk to one of their support team. Unfortunately, there are times when their representatives are offline, but if you do catch them, they should be able to answer your questions on the spot.
SaleHoo also offers useful tutorials and guide materials through its Free Online Seller Training portal. Step-by-step guides, audio and video tutorials, and more, teach you key processes and concepts: from beginner guides to eBay and Amazon selling to securing vital business documentation, and more.
Is SaleHoo Worth It?
Yes! SaleHoo is worth its membership cost for two reasons:
It performs a service that would be very time-consuming and impractical for you to do yourself.
It provides that service at a consistently high level of quality and at a very reasonable price.
Face it. Finding profitable products is hard. From researching what products to sell and looking for reliable suppliers, it can be difficult to know where to even start. That's where SaleHoo comes in.
They do all the work of finding and scrutinizing suppliers from around the world so that you don't have to. They also make it easy to find the hottest products to sell in your store. You'll also get tons of guidance along the way.
All that at a price that's very reasonable. $67 buys you membership for one whole year! That amount can easily be made back in just a few sales. And with SaleHoo, you get the support you need to ensure those happen.
If you're not 100% confident in your own procurement skills, SaleHoo will give you the boost you need to push your business to success. Sign up with SaleHoo to get started.
How to Use SaleHoo – Updated UI Review
One of the great things about SaleHoo is that it's very easy to use. The whole UI recently received a major facelift to make everything run much more smoothly.
It's got great design. It's intuitive and simple, without sacrificing any functionality. Everything just makes for a very pleasant user experience.
For example, the main dashboard where you manage your entire account now displays all your favorite suppliers, saved product ideas, training progress, recent activity, and much more, in one convenient place.
The directory has also been buffed – filters work instantly without having to refresh the page, supplier websites can be previewed, search filters are retained from the previous session, and there is a section for top and trending suppliers which is updated weekly.

The search bar can now make suggestions based on your keystrokes, and includes top brands and suppliers in the list. You can search for both suppliers and items, and a spell check is instantly done on your keywords so results are relevant.
One of the most convenient changes they made is real time chat sessions with suppliers. You can chat with multiple suppliers at the same time, initiate a live chat session from any page, and access your chat history anytime. No need to fill out forms or wait for emails – suppliers can reply to you in an instant.
You can compare 4 products at a time to help you select one where you can profit the most. You can also see how much identical products have been sold for, and check for the latest sales data which is refreshed on a daily basis.
As for product trends, SaleHoo lets real people curate the list, so there is actual research going on behind the scenes. You can keep tabs on upcoming trending niches, with new trends added every week.
SaleHoo Scams – Is SaleHoo Legit?
Yes. SaleHoo is 100% legit and scam-free. They provide a valuable service you can take advantage of to start making money online.
There is, of course, no guarantee to profit. Any success you achieve with SaleHoo (or drop shipping in general) will be because you made good decisions and put in some hard work.
As further evidence to SaleHoo's credibility, it's worth mentioning that the Better Business Bureau gives SaleHoo top marks for their ability to resolve customer complaints.
That means SaleHoo meets the toughest standards when it comes to customer satisfaction – consistently performing among the best to make sure that users like you are never left hanging.
You can learn more about the BBB, and SaleHoo's BBB profile here.
Does SaleHoo Work With Shopify?
Yes, absolutely. Any product or supplier you find on SaleHoo will work with Shopify. There are no compatibility issues and some SaleHoo actually provide a proprietary integration tool using Salehoo Dropship
SaleHoo vs Shopify
Shopify and SaleHoo are two very different services.  While SaleHoo is a supplier directory, wheras Shopify is a store builder and hosting service. That means you would use SaleHoo to find suppliers and products, and Shopify to sell those products to your customers. They work opposite ends of the business, so to speak.
That means that if you were to start using SaleHoo, you would also need a service like Shopify to build a storefront for reaching your customers. That is, if you decide to stay away from marketplaces like eBay, Amazon.
SaleHoo Competitors
Take a look at how SaleHoo compares against other drop shipping companies. If you're looking for the best one, the following comparison should help you find that. However, you are by no means limited to choosing one over the other. SaleHoo will work fine alongside any of the following options.
SaleHoo vs Worldwide Brands
These two heavyweights represent the best drop shipping companies we've reviewed, and are actually very similar to each other. They're both massive wholesale directories, for the most part.
The main difference between SaleHoo and Worldwide Brands is their subscription models. SaleHoo costs $67 per year and $127 for lifetime access, while Worldwide Brands costs $299 for a lifetime membership.
SaleHoo
Worldwide Brands
Suppliers

1,000+ vetted Suppliers

6,000+

Products

1.6+ million

16+ million

Price

$67/year

$299 one-time fee

Other Features

Market Research Labs,

SaleHoo Dropship,

SaleHoo Educate

Built-in directory research tools
Click here if you'd like to read more about SaleHoo vs Worldwide Brands.
SaleHoo vs Doba
Doba is a drop shipping service that's geared more towards casual sellers who want convenience and simplicity above anything else. It combines product-sourcing, product exports, as well as order fulfillment into one easy-to-manage account.
On the surface, it looks great. And taken on its own, it's really not bad. However, in comparison to SaleHoo, Doba just doesn't quite cut it. The problem is its product and supplier catalog is very small, and limited to the US. It's also a lot more expensive overall.
SaleHoo
Doba
Suppliers

1,000+

200+

Products

1.6+ million

2+ million

Price

$67/year

$29/month plus $0.99/order

Other Features

Market Research Labs,

SaleHoo Dropship,

SaleHoo Educate

Product Exports, Order Fulfillment, Doba Deals and Training Webinars
International Suppliers
Yes
No
When it comes down it, SaleHoo just blows Doba out of the water.
SaleHoo vs Oberlo
Oberlo is a Shopify app that automates drop shipping from AliExpress. Since SaleHoo products don't come from AliExpress, you won't be able to manage them with Oberlo's automated tools.
However, you can still use the two services together. And because Oberlo is free, it's actually not a bad idea. Just manage your SaleHoo products as you normally would and use Oberlo when applicable.
If you'd like to learn more about Oberlo, you can check out its review here.
SaleHoo Final Thoughts
Compared to other drop shipping companies, SaleHoo really shines because it represents the best possible investment you can make to build a long-term drop shipping business.
Think of it this way: For effectively $5.58 a month, you'll have access to millions of wholesale products that aren't readily available to everyone. That alone gives you a great advantage over other retailers that rely on free sources like Alibaba or Oberlo.
You'll also be able to build actual relationships with the suppliers you meet. That gives you additional leverage because it makes it possible to negotiate for better prices, special deals, promotions, and so on.
If you're worried about the lack of automation, that won't really be a problem. Most of your suppliers will be happy to provide assistance with that. And you'll naturally develop a method of making things more efficient over time. There are also plenty of tools to help you streamline things – luckily the large majority can work alongside SaleHoo no problem.
On on top of all that, you also get:
An intelligent market research program
A dedicated team of customer support representatives
An active and helpful community of sellers
A wealth of free, skill-building resources
It's truly the hands-down, most value-for-money drop shipping solution you can get. Take advantage of SaleHoo's 60-day trial period and start your drop shipping business today.
Visit SaleHoo Now!