Table of Contents
MotoCMS Pricing and Features
The Cost of Quality Templates
MotoCMS Website Builder works a bit differently compared to most of its biggest competitors. Instead of a subscription model, users purchase licenses for website templates along with access to the service's website building tools. Once you've paid for a template, you're free to edit it as you like and use it on one domain (more if you purchase a developer's license).
Templates can cost as low as $31, but these options are limited to single landing pages. If you want support for multiple pages, the lowest prices as of this writing is at $129. Other templates can cost a bit more. However, you can expect to pay upwards of $200 – $300 especially if you opt for multiple add-ons.

If that's a bit too steep for your budget, don't worry. MotoCMS offers a free 14 day trial for all of their templates. It's highly recommended that you take advantage of this trial before making any purchase. You'll unlock all the customization options and have a good amount of time to tailor a template to your preferences. Just sign up with your email address and get to tinkering.
(Each account can only edit one trial template at a time. If you want to try out multiple templates simultaneously, you'll need to sign up with different email addresses.)
After the 14 day trial is over, you'll have to either purchase the template or lose all the changes you've applied.
Another option is to buy templates in bulk to enjoy instant discounts for up to 50 templates. Discounts equate to the number of templates you buy. For example, 10% off for 10 templates, 20% for 20, and so on.
Noteworthy Tools
Here are some other features that MotoCMS offers:
Blog Post Manager: Write and edit all your posts in one handy location. Although not as robust as other dedicated blogging services, MotoCMS helps you create polished content for your website.
SEO Tools: Create and edit a sitemap for your domain to help optimize your website for search engines. Other settings can be found under the SEO section of each template. You can also purchase a SEO Audit service as an add-on, which costs $39 on top of the price of your template.
eCommerce Tools: Outfit your website with a shopping cart and payment system to allow for a fully-operational online store. You can also set tax and shipping options, manage customer orders, view statistics, and more. This service costs a one-time fee of $49.
MailChimp Support: Add a MailChimp widget to your website and let visitors easily sign up for email updates or your newsletter.
Disqus Support: Add a Disqus widget to any of your pages to facilitate better engagement with your audience.
Analytics Integration: MotoCMS lets you integrate your Google Analytics and Webmaster accounts directly into your template so you can keep track of your website's performance anytime. This feature also works with Yandex.
Getting Started with MotoCMS
Selecting a Template
MotoCMS has thousands of beautiful, professional templates that cover any niche imaginable.
No matter what type of website you're trying to create – whether a blog, eCommerce store, portfolio, or anything in between – you'll find something to suit your needs. More templates are added daily. Even better, plenty of templates regularly go on sale!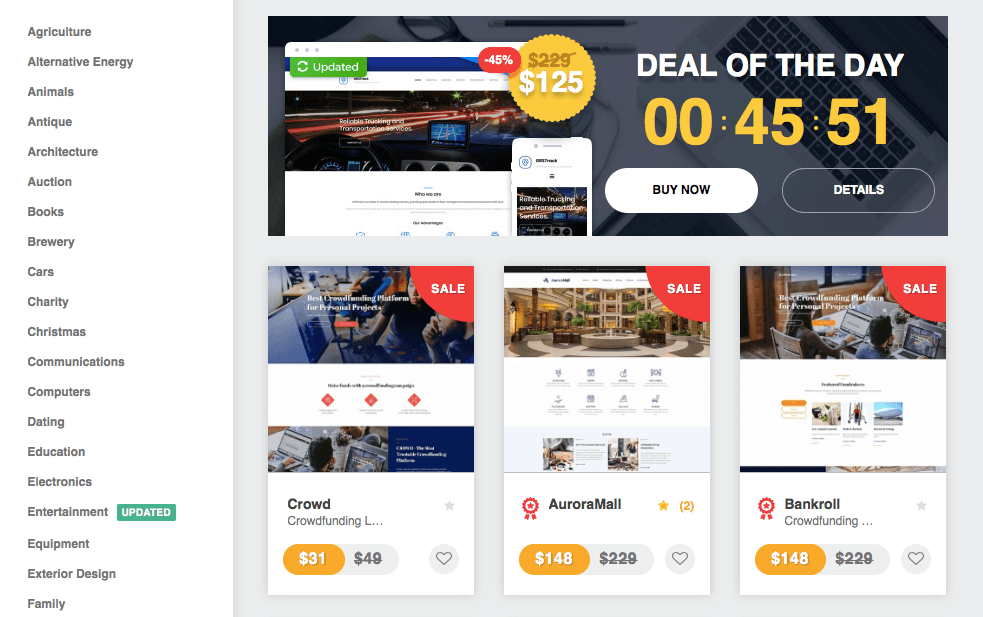 Just search by keyword or browse by category to find the perfect template for your website. Once you've selected a template you like, hover over its thumbnail and click on the Try For Free button. You'll be prompted to input your email address, after which you can start customizing your selection.
Changing the Look and Feel
Not to take away from MotoCMS' stellar collection of templates, but the real highlight of the service is the MotoCMS website builder. It's one of the most robust and intuitive tool sets you'll find and should allow you to design your website as how you envision it.
First-timers to the website builder will be greeted by popup boxes that describe the tools and their uses. You'll find that those aren't really needed, however. A clean, attractive UI makes it all very easy to learn.
Various website elements, called widgets, can be added via a drag-and-drop system. You can also edit the contents of these widgets, such as text and images, when applicable. Changes you make will be visible in real time. You can also adjust each element's properties – like spacing, alignment, color, and so on. It all allows for incredible fine-tuning!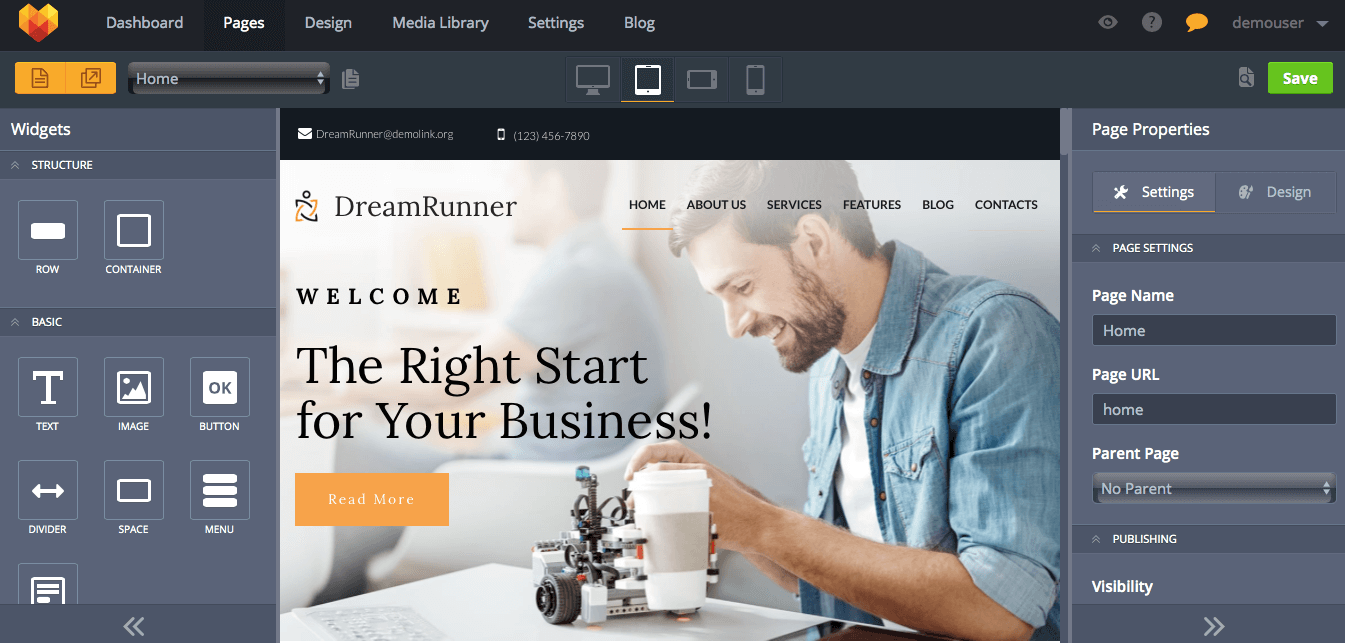 To make things even better, MotoCMS lets you preview your website as how it would appear on desktop, tablet, mobile landscape, or mobile portrait mode.
Overall, editing templates is rightfully how you'd expect it to be – simple to use but delivers fantastic results.
Deeper Customization
If you want to further tweak a template, MotoCMS lets you add code to any template. Navigate to a template's settings tab and look for the section called Code Injection. You'll be able to input your own HTML, CSS, or Javascript codes for headers and footers.
You can also add codes to any part of your pages via the Embed widget.
If you're a web developer and require custom scripts for your website, you can contact customer representatives to aid in this matter. MotoCMS is closed source, meaning you can't personally edit their code. You can, however, request them to implement your script, if needed.
Purchasing Your Template
When you're satisfied with your template, you can proceed to purchasing it for your own use. When you reach the checkout page, you can purchase a number of different add-ons for your website. Payment options include major credit cards and PayPal.
Web Installation and Future Edits
If you need to make further changes to your template after you've paid for it, simply navigate to your MotoCMS account page.
(Providing an email address for a 14 day trial automatically assigns you an account and password – check your inbox for details.)
From there, you'll see your purchased template, as well as any other trials or licenced templates you might already have. You can continue to make any edits as you did during the trial and publish those to your live site.
MotoCMS Loyalty Program
Program Overview
Users who purchase multiple templates are rewarded by MotoCMS with huge discounts on template prices. There are 6 tiers to the loyalty program, each one with correspondingly bigger discounts than the previous. The first tier grants users a 10% discount, while the highest one grants 50% off – translating to huge savings!
Other rewards include: free Premium support for a set duration (more on this later), as well as reduced prices on White Label licenses.
(White Label licenses allow you to sell MotoCMS templates under your own brand, letting you build a web development business of your own.)
Users can climb up the tiers by purchasing templates and completing certain tasks on the MotoCMS website. Some tiers will require specific actions to be completed, such as leaving reviews, sharing a video testimonial, referring a friend to the service, and other similar activities.
Benefits
The main benefactors of the MotoCMS Loyalty Program are web developers who have multiple projects to deliver. It's an awesome feature that lets you reduce your overhead as you complete more jobs.
Aspiring newcomers to the field can also take advantage of the program. It's a great way of building up your portfolio and could help you break into a very lucrative industry.
Customer Support
Contacting MotoCMS
You'll have no problem reaching a MotoCMS representative when you need one. MotoCMS provides around-the-clock support in the form of a live chat tool and manned phone lines. Most representatives are well-equipped to handle your concerns.
You can also contact them via email, online ticket, WhatsApp, and Telegram.
You may also purchase Premium support for 3 months at $39. This puts you in a priority queue for telephone consultations. Other benefits include: faster ticket response times, free installation on all your templates, and webmaster assistance which gives you greater control in template customization.
Web Development Training
In addition to MotoCMS's FAQs, guides, and video tutorials, users can also sign up for a 5-day training course on web development. This service is completely free – only requiring a valid email address to avail.
Topics include an introduction to the MotoCMS tool set, guides on how to create and edit a template, as well as integrating with social media accounts.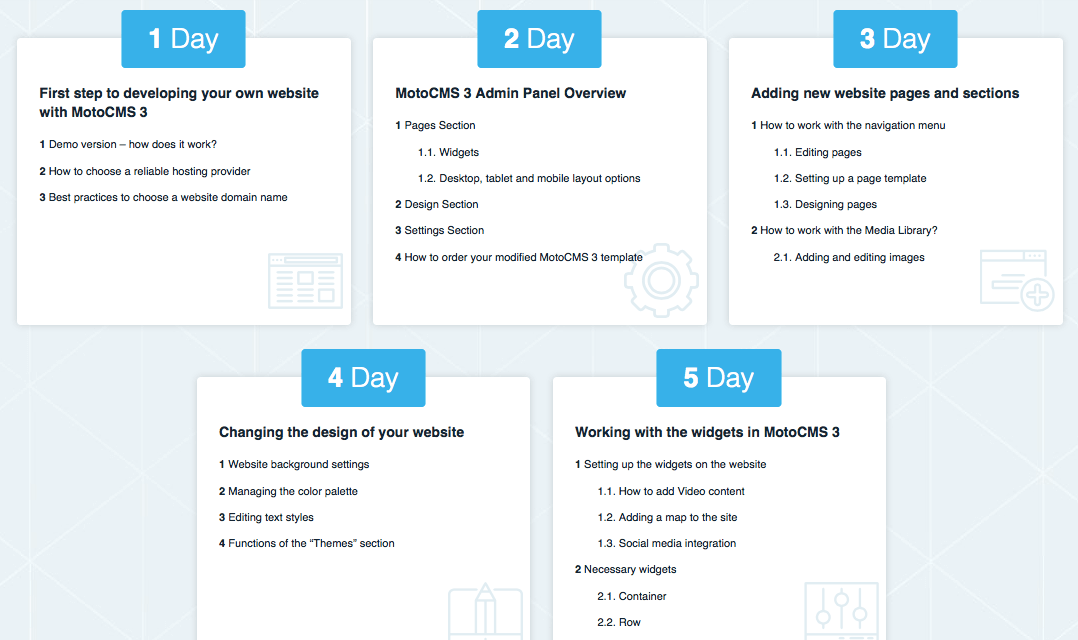 If you're a complete newbie to web development, this is a great way to get accustomed to the workflow. You'll be able to use what you learn here on other services as well – as the principles are, for the most part, similar across different platforms.
Conclusion
MotoCMS isn't like other website builders. It doesn't have hosting built into the service. At its core, it's essentially just a tool for designing websites.
The service, while easy enough to use as a beginner, is geared more towards people with a bit more experience in web design. This is evidenced by the lack of a wizard tool for instant website creation – which is fairly commonplace as far as website builders go; as well as their Loyalty Program – which heavily favors web developers who need plenty of templates for their clients.
However, this isn't to say that MotoCMS is a bad choice. In fact, it's one of the best website builders on the market now. You'll be able to make truly stunning and responsive pages with their service. Best of all, purchasing a template means you'll own it – letting you edit and export it to any host you'd like.
If you're looking for a powerful website builder that gives you fine-tune control over the design of a website – allowing you to meet your own or your client's specifications – then look no further. MotoCMS is definitely worth checking out.