Wix Pricing
Anyone can use Wix for free, but while Wix's entry-level plan is more generous than most, it's still too basic for all but small personal websites. Your website won't have a custom address; instead, you get a "Wix.com" subdomain (username.wixsite.com/sitename), and the Wix logo and related ads will appear on your pages. You'll get unfettered access to the Wix website building platform, but those drawbacks are a big liability if you're aiming to build a full-fledged site. For any serious website project, you're better off with Wix's paid options.
Wix offers five premium tiers, each without strict caps on how many websites or pages you can make. You're only limited by your plan's storage and bandwidth.
Here's a closer look at each pricing plan:
| | | | | | |
| --- | --- | --- | --- | --- | --- |
| Features | Connect Domain | Combo | Unlimited | eCommerce | VIP |
| Price/month | $4.50 | $8.50 | $12.50 | $16.50 | $24.50 |
| Displays Wix ads? | Yes | No | No | No | No |
| Storage | 500MB | 3GB | 10GB | 20GB | 20GB |
| Bandwidth | 1GB | 2GB | Unlimited | Unlimited | Unlimited |
| Free Domain | No | Yes | Yes | Yes | Yes |
| Includes online store module? | No | No | No | Yes | Yes |
| SSL Encryption | Yes | Yes | Yes | Yes | Yes |
| 24/7 Support | Yes | Yes | Yes | Yes | Yes |
| Email campaigns | No | No | No | No | 10/mo. |
| Professional Site Review | No | No | No | No | Yes |
| Form Builder app | No | No | Yes | Yes | Yes |
| Site Booster app | No | No | Yes | Yes | Yes |
Are Wix premium plans worth it? Yes. Just make sure you start from the Combo plan and up.
Wix's Connect Domain plan is too small a step up over the Free plan to justify the $5. Its biggest flaw is that it still displays Wix ads; for a website with monthly charges, that's unacceptable.
The Combo plan is where Wix's premium plans start being worthy of your attention. Ad-free, with more generous storage and bandwidth allocations and a free domain, this is the Wix plan that can get you started with that website in earnest.
Like many other website builders, Wix staggers features across its plans. You'll have to shell out more money if you want more features or advanced services. The upside here is that Wix doesn't put too big a gap between each tier, so much-needed upgrades for a booming site, for example, could potentially cost as little as an extra $4 per month.
Is the Wix VIP plan worth it? Only if you see yourself needing the extra 10GB of storage space that it has over the Unlimited plan. Otherwise, you might be better off sticking to the latter and simply paying separate fees for other Wix services (Bookings, ShoutOut, etc.) that you might need. If you're pushing out a ton of newsletters and email marketing, for example, that $12 difference between Unlimited and VIP might be better spent on the Wix ShoutOut Business Essential module, which gives you 10 more email campaigns per month over the Wix VIP plan.
Visit Wix Now!
Wix Templates – Design Beautiful Websites
Wix sets itself apart from the competition by avoiding the biggest pitfall for most website builders: cookie-cutter results. Instead, at Wix, you'll find 500+ gorgeous templates fit for a variety of websites, plus the controls to craft each according to your unique vision.
Templates are designed for specific niches and industries, from ecommerce sites to design portfolios, but you're free to pull from any category as you see fit. Wix constantly updates its template roster, so you'll always be choosing from fresh, stylish options. Each template sports modern design touches and well-structured layouts out of the box, so your website's bound to make a good first impression even with minimal tweaking.
That's not to say you can't or shouldn't make any changes; if anything, Wix's robust design module invites you to customize your chosen template as much as you want. The intuitive drag-and-drop interface puts every site element in your direct control. You can change fonts, switch up your layout, or fold in rich media effects like parallax scrolling, video backgrounds, lightboxes, and more, all without typing a single line of code. That easy customization means you can spruce up your site whenever you want; your design isn't going stale anytime soon.
Have a look at some of Wix's most popular templates:
Wix Video Portfolio Template
Sample Wix Photographer Portfolio Template
Wix Music Website Template
Wix Meetup Website Template
Wix Food Blog Template
Wix Fitness Website Template
There are a couple of drawbacks:
Your content is tied to your chosen template.
Varied though your options might be, Wix doesn't let you swap templates without losing your changes. Pick your template carefully.
Wix doesn't let you add custom CSS to your site, and your options for custom HTML are fairly limited, too.
This isn't a big issue if you don't plan to wrangle code in the first place, and Wix's drag-and-drop interface does come with enough freedom that you might not miss the use of CSS or external HTML at all. For those with technical skills and the inclination to flex them to get their websites just right, though, the limits that Wix imposes on how much you can tweak your site is worth bearing in mind.

Wix ADI – Create Websites On-Demand
If you're aiming to launch a website quickly, Wix will serve you well, thanks to its Artificial Design Intelligence (ADI) module. Even faster than working with a default theme, the Wix ADI takes care of all the construction for you. You simply need to answer a series of questions, and the AI system kicks in to pick a template, arrange elements, and even populate your site with content like images and video suited to your answers.
Wix ADI questions
Wix ADI features
The Wix ADI's results are great: usable from the get-go, and far from the awkward assemblage you'd expect from an automated system. Wix claims that no two results are the same, but if you'd rather not take their word for it, you can still step in and refine the ADI's product with manual customizations. Overall, it's a fantastic way to speed through the site creation process.

Wix ShoutOut – Engage with Your Audience
Speaking of modules, Wix helps you drive user engagement with a handy email marketing and newsletter tool called ShoutOut. The ShoutOut module works much like the Wix drag-and-drop builder: you can choose from a variety of email templates and customize your pick through a simple editor.
ShoutOut's biggest advantage is that it's baked into the Wix dashboard, streamlining the newsletter creation process. You can use the same media assets you've uploaded to your site, for example, allowing for consistent branding. Likewise, any users who sign up for your newsletter through your website are automatically added to your contacts list, so you don't have to worry about missing anyone on your next update.
Like many email marketing providers, ShoutOut gives you statistics about how your newsletters are doing: how many get opened, how many readers click through to your site, etc.

Wix Code – Get Deeper Customization
Wix is nothing if not innovative—so much so that they have a packed timeline of regular feature releases and updates. One of its latest modules, Wix Code, answers some of the issues that come from limited CSS/HTML access.
Wix Code is basically a set of developer's tools: you get a platform for writing JavaScript code, APIs that grant you more extensive control over various elements of your site, and the freedom to incorporate third-party APIs, too.
Some of the biggest improvements here are the ability to work with data collections and third-party APIs. Want to keep an updated display of customer reviews, maintain a library of recipes, and more? Instead of duplicating pages, Wix Code now lets you specify a page theme or layout that can be applied across your chosen data collection. Need a third-party service like a weather check? Wix Code now lets you fetch data from external services for use on your site.
Of course, Wix Code requires more technical skill than the standard drag-and-drop interface; at minimum, you'll need to be comfortable with APIs. Still, the module expands the palette of functionalities available for your website. And if you do want to try your hand at the Code module, Wix provides clear, straightforward documentation and even brief video walkthroughs to get you up to speed.
Manage Content with Wix's Tools
Thanks to its by-page construction style, Wix used to be better-suited to websites that don't publish new content very often or in significant volumes. Now, though, Wix Code's data collections and dynamic templating let you roll out articles, images, and other items without having to build each as its own separate page. The release of Wix Code presents the option of going beyond page-based site construction, making Wix better at handling sprawling sites that anticipate lots of content and rapid publishing cycles.
If you'd rather not use Wix Code, there's also a standard blog module. It lets you publish posts in a separate section of your site, complete with customization options for things like fonts and categories. However, it's a bit more limited in the types of content it can handle (mostly text, as befits a blog) and the formats you can use to present your content.
Wix App Market – Expand Your Website
As with content management, the option to skip coding entirely also exists when it comes to advanced site functionality. The Wix App Market boasts of over 200 web apps that you can bolt onto your website. Wix typically has in-house apps for common functions like events, bookings, and forums, but you'll also find lots of third-party alternatives.
Most apps are free; some have a paid option; and others only come in paid Premium versions. Either way, paid apps often cost less than $10 per month, with some available for a one-time fee instead.
The more popular features and extensions on the Wix App Market include:
Form builders (123 Form Builder, Constant Contact, Active Contact, vCita etc.)
Bookings (Wix Bookings, OpenTable, Vacation Rental, etc.)
Events (Eventbrite, Meetup, etc.)
Ecommerce (PayPal, Etsy, Pricer Ninja, etc.)
Social media (Facebook, Twitter, Spotify, Vkontakte, etc.)
SEO and marketing (Google AdSense, Rabbit, SEO Analytics, etc.)
Wix Mobile Editor – Optimize for Mobile
Do Wix websites work well on mobile devices? With more and more users browsing the web on their smartphones and tablets, this has become a crucial question. The good news is that Wix answers it well: you can optimize your website for mobile use via Wix's built-in tools.
Unlike other website builders, which simply slap your site with a mobile-responsive template that adapts to different screen sizes, Wix gives you more control over your mobile site. The Wix Mobile Editor lets you customize certain aspects of your mobile site, such as the format of the navigation menu, the background image, the layout of posts on the page, and so on.
It will still be the same site—changes in the desktop version are reflected in the mobile one—but Wix Mobile Editor lets you adjust your site template to fit mobile screens and browsers perfectly.
Wix SEO Wiz – Boost Site Rankings and Visibility
Does using a website builder like Wix harm your site's visibility?
Short answer: No. Search engines like Google don't mark distinctions between websites built with site builder services and those made from scratch. If you create pages that search engines can index, you're fine.
But how do you know your site's doing that? With Wix, you don't need to worry: the website builder does that automatically, sending information about your website to search pages.
Wix's SEO Wiz module boosts your chances by giving you all the tools you need to improve how search-friendly your site is. By answering a few simple questions, you'll help the Wiz SEO come up with suggested keywords and a custom plan for your online marketing strategy.
Wix also gives you the option to set custom URLs (addresses) for each page, as well as modify the metadata (titles, descriptions, tags) of your pages and photos. Aside from all this, Wix provides other tools like Google Analytics and its own Site Booster app, which let you monitor user behavior and push your site to key online directories like Yelp, Bing, and Google Maps.

Wix Grants Free Domains and Hosting
All websites built with Wix are hosted exclusively on Wix servers. You don't have to pay extra for web hosting, and Wix does you a solid by taking care of all the server management and maintenance required to keep your website running 24/7. This means you can devote your time to sprucing up your site design, bringing in more users, and growing your website.
Wix also grants free domains if you sign up for an annual plan (more on that in our Wix Pricing section above). This saves you the trouble of registering for a domain separately, a process that costs you extra (usually around $10-12) and requires fiddling with some DNS settings that might be confusing if you're not well-versed in web technicalities.
There's a major downside to all of this, though: Wix has a tight grip on your website. There's no way to export your data, meaning you can't move your website to a different platform. This can be a big problem if your site ever grows beyond what Wix can handle. There's no way, for example, to change your site's underlying architecture or pass design duties over to a professional team that you might have hired.
Setting aside these potential problems, the inability to export your data means you can't keep personal backups. You'll have to duplicate your site manually or depend on Wix's built-in site history module.

Wix Customer Support
When we say Wix guides you every step of the way, we mean it: Wix peppers its website builder with tooltips linked to each module or section. Just click on the question-mark icon and you'll get step-by-step tutorials on how to use that section—or even a video walkthrough. It's a small but profoundly useful touch that saves you time and makes the Wix interface that much more accessible.
If you do need more in-depth help, the Wix Help Center houses tons of informative, easy-to-follow articles, guides, and tutorials to help you troubleshoot almost any kind of issue. There are quick video tutorials too if you're more of a visual learner.
For times when there's no better solution than another human being's expertise, the Wix support team is ready and able to step in. You can request callbacks, file a support ticket, and expect rapid, helpful responses either way. You'll get 24/7 support on a premium plan, but even a free plan gets speedy assistance from the stellar Wix support team.
Is Wix the Best Choice for Your Website?
These days, websites cater to different niches and serve different needs. There's no one-size-fits-all website that guarantees success, so accessible, flexible platforms have become even more important.
The Wix website builder is a powerful, user-friendly tool, but can it deliver a website that brings in new users and wins over your target audience? We dig deeper into Wix's features to see how this website builder performs for different industries.
Wix for Blogging
If you want to start a blog with Wix, you've got several options:
The Wix Blog module
Wix Code's dynamic content feature
Third-party apps (e.g., Blogger, Tumblr) on the Wix App Market
Let's tackle the Wix Blog module first. Wix replaced its old blogging system with a completely new version, though both old and new Wix Blog systems are still active. If you're a new user, though, you'll be using the new Wix Blog.
The new Wix Blog is more social and community-oriented, and it's designed to scale up from a personal blog to a full-fledged publication as needed. Visitors of your site can sign up as "members," complete with individual profiles and the ability to like, follow, share, or comment on posts. You can even promote some members to contributing writers if you want.
As for content itself, you can affix tags and hashtags to your posts and file them under distinct categories. Creating posts, meanwhile, is simple: Wix uses a rich-text editor with extensive formatting options for different post types (text, photos, videos, quotes, etc.), so you can fire off a post with hardly any trouble. Wix has optimized the new Blog module for use on both desktop and mobile, so you can keep writing or managing your posts regardless of what device you've got on hand.
The old Wix Blog version lacks the social features in the module's latest iteration. That said, it's still got typical blog features like post tags and categories, media galleries, and so on, all of which you can manage from a control panel on your dashboard. Unfortunately, posts made with the old version of Wix Blog can't be ported to the new Wix Blog system, so you're better off sticking to the module's latest iteration instead.
Apart from the dedicated blog module, you can also set up dynamic content via Wix Code. This works by using a data collection to store the content of each post, then setting up a dynamic template to be applied to your content. Wix Code lets you set up a page to act as an index or library, as well as put in category or tag fields in your data collection for further sorting. It's a good alternative if you want a bit more control over how your content is stored and deployed.
Finally, there are the Wix App Market's blogging apps. Some, like the Blogger and Tumblr apps, let you embed a stream that updates with content from your existing Blogger or Tumblr site. Others, meanwhile, offer alternative modules for setting up a separate blog section on your website. Most of these options are free to use, so check them out if Wix's in-house solutions aren't to your taste.
Wix for Photographers
Photographers need websites that pack a visual punch, and Wix offers plenty of templates designed specifically to showcase your photography at its best. Your template selection is even divided into different categories of photography, from portraits and events to travel and documentary, so you can jump to the ones that best fit your chosen specialization.
Wix's biggest sticking point when it comes to photography websites is storage space. Unless you spring for one of the higher-tier premium plans, you could run out of space very quickly. This is especially true if the bulk of your images are in super high-res—these will devour the Combo plan's 3GB storage in no time, to say nothing of the 500MB limit you get with the Connect Domain or Free plans. If you're considering Wix for your main work portfolio, you should be prepared to shell out for at least the Unlimited plan.
The Wix App Market features social media extensions, as well as other apps for community forums and similar features, so you'll have tools to engage more deeply with your audience if you like. Wix Stores allows for both digital and physical sales, so you can easily offer image licenses or prints for interested visitors.
The core Wix Bookings app, meanwhile, is perfect for arranging shoots with clients. Pick from a range of beautiful themes for your list of services, then let clients book appointments whenever they want. The app takes bookings 24/7 and automatically updates both your Wix-powered calendar and, if you connect it, your Google Calendar account. You can even store customer information for regular clients.
Grabbing the Wix Bookings Premium upgrade gets you some nifty advanced features for only $10 extra. You can, for example, send automatic reminder emails to clients, or accept different payment methods like installments through either PayPal or Stripe. All your earnings get credited to your account of choice, and Wix doesn't even take a cut.
If you'd rather sell photos than services, Wix also has your back. The Sell Photos app, for example, is completely free, and lets you offer high-quality prints of your photos to potential customers. The app will handle the actual printing and shipping, and revenues will be credited directly to your PayPal account.
See our full list of the best photography website builders 2019
Wix for eCommerce
One of Wix's premium plans is dedicated specifically to ecommerce, and Wix packs powerful features to match. At the heart of the Wix ecommerce toolkit is Wix Stores, the company's in-house app for creating and running online stores.
Wix Stores is a powerful all-in-one tool. It brings Wix's user-friendly approach to every step of building and running an online store, from designing your storefront to managing your orders. Here are some of the many things that Wix Stores will let you do:
Sell an unlimited number of digital or physical products
Offer item variants and classify products into different collections
Use different payment methods like PayPal and credit card
Take payments via an on-site POS (point-of-sale) system via Stripe and the Wix Store app
Customize your checkout page
Use SSL encryption for all customer transactions
Specify tax and shipping rules for automatic computations
As with other features of the Wix system, Wix Stores simplifies many of the processes that could otherwise bog down your online store. Your store manager module, for example, is embedded in your dashboard, so you won't have to juggle different control panels for your website and your store.
The best part? Wix doesn't take any commissions from your sales, so you get to keep all your profits.
If you've already got shops set up elsewhere, like Etsy or eBay, there are also apps in the Wix App Market that let you integrate these with your website. There are also ready-made apps for more powerful ecommerce solutions like Shopify, so you can step up your online store without fuss if your business does start outgrowing the Wix Stores app.
See our full list of the best eCommerce website builders 2019
Wix for Bands and Musicians
Wix has the tools to help you build a website that's not just a repository of music tracks, but a vibrant online hub where your fans and potential audience can get to know you as an artist.
Adding music to your Wix website is a simple, straightforward process. You can use the Spotify or Soundcloud apps from the Wix App Market, or you can use the in-house Wix Music module, which comes with its own music player.
If you do opt for Wix Music, you'll need to prepare your tracks as WAV, FLAC or ALAC files to make the most of the music player and Wix Music's distribution system (more on this in a bit!). Wix's music player also takes MP3 files, but these will limit your distribution options.
If you want to sell your music directly through your site, here's some good news: tracks uploaded on Wix Music can be made available for download or purchase right from the player. Wix lets you pick from different payment models, such as free, pay-what-you-want, or a set price for the track or album. You can also choose to add bonus items like exclusive images or liner notes for fans who buy your music straight from your website.
Bear in mind, though, that Wix Music places some limits on how much music you can feature on your website:
Albums/EPs: 100 albums, up to 30 tracks each
Singles: 100 singles, up to 5 tracks each
Playlists: 100 playlists, up to 500 tracks each
The 100-unit maximum applies to your whole library, so if you have a mix of albums, singles, and playlists, Wix Music caps you off at 100 units (regardless of type) altogether.
Wix Music also has a Premium version, which starts from $4. Going Premium unlocks the option to distribute your music to the following stores:
Apple Music and iTunes Music Store
Amazon
Google Play Music Store and Google Play Music Subscription
Spotify
Pandora
Tidal
Shazam
Deezer
iMusica
You can choose which albums to distribute to these channels, and once your submissions fit the guidelines set by each store, Wix will handle the legwork of putting your music up for sale on each network.
Revenues from Wix Music distribution go directly to your PayPal, so all you need to do is link your account to your Wix user account to start earning from your music. The best part? All your earnings, whether from direct sales on your website or through different distribution channels, are commission-free.
Wix for musicians goes beyond simply selling your music, though. You can also raise your media profile and build a bigger online following by creating an engaging, interactive website. Wix makes that easy with 50+ stunning templates designed specifically for musicians, producers, agents, managers, and other members of the industry. Wix's music template styles cover different genres, from jazz and choir to indie rock and pop.
Of course, Wix's website builder has impressive media handling capabilities, so you can look forward to regaling fans with snapshots and clips from your latest concert. Gallery widgets, Wix Code-powered dynamic galleries, lightboxes, 3D parallax backgrounds, or even cool video backgrounds are all at your fingertips and ready to be deployed, often with a simple point-and-click.
Wix makes room for live music and deeper fan interaction, too. Publicize your upcoming gigs with apps like Songkick, Bandsintown, Google Calendar, or Eventbrite, all available from the Wix App Market. To stay in touch with fans, deploy integrations for social media networks like Facebook and Twitter, embed community forums with apps from the Wix App Market, or send out regular newsletters via Wix ShoutOut to keep followers up to speed with your latest project.
Check our full list of the best best band & musician website builders 2019
Wix for Real Estate
Wix has 18+ templates for real estate businesses, all sporting elegant, eye-catching designs and plenty of space to show off your properties. Each template can work for individual agents or full realty agencies.
Wix goes beyond your website's looks, though, offering features that make it easier to find prospective customers and cultivate relationships with existing clients. You'll have to go for some of Wix's pricier premium plans, such as the Unlimited plan, but you'll get business-oriented features and applications that will make your life much easier.
The Wix App Market, for example, offers customer relationship management (CRM) tools that can help you keep track of your client base via powerful functions like automatic schedulers, follow-up reminders, and more. (If you're already using a CRM service, though, you'll have to check if Wix Code lets you pull from your service's API.) The Wix Bookings app will help you juggle client appointments without any hassle, too.
Wix's payments system is flexible enough to support different real estate payment models. You can integrate any number of your preferred online payment methods, thanks to Wix's support of PayPal, Stripe, various credit and debit cards, and even Bitcoin. Transactions like property downpayments or reservations can easily take place through your website. Wix also supports pricing tables and comparison tools, plus invoicing and account managers to help you keep track of customer billings.
Here's the biggest downside, though: Wix doesn't feature native integrations with MLS and IDX, essential realty listing systems. There are third-party services that provide APIs to integrate listings from these systems; however, that solution will still need you to fiddle with Wix Code. This is fine if you've got programming chops or the time and patience to work through some short Wix Code tutorials. But if you haven't got the time or inclination to jerry-rig MLS and IDX integration, there's no quick or easy way to implement this on your website.
Check our full list of the best real estate website builders 2019
Wix for Designers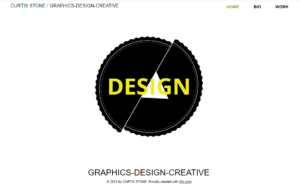 Like photography websites, this is another niche where gorgeous visuals and sharp design sense matter. Luckily, Wix has the chops to cater to pros who want a quick, low-maintenance website without sacrificing visual impact or overall design merits. Wix has 40+ templates crafted specifically for designers, ranging from individual portfolios to personal homepages to full-blown agency and studio websites.
Wix has strong media display support, with lightboxes, galleries, video backgrounds, image sliders, and more. The addition of Wix Code gives you even more options for dynamic content display using data collections and gallery APIs, so if you're handy with JavaScript, Wix could be an even more powerful tool in your hands.
Aside from displays, Wix also offers tons of apps and modules that can enhance your site's usefulness. Keep audiences updated on your agency's latest projects, for example, with ShoutOut. Inform people of your upcoming gallery show using event management apps from the Wix App Market. You could even offer some of your work for sale directly online, either through the Wix Stores app, the Wix Art Store app, or any of the third-party online store applications on the Wix App Market.
Check our full list of the best artist & designer website builders 2019
Wix for Restaurants
Restaurants need their visuals to pop just as much as artists and photographers do, and luckily, Wix's templates know how to make that happen. There are 40+ templates for showcasing anything and everything related to food, often with expansive, full-page layouts and image-heavy designs to help you highlight the dishes that will make potential customers' mouths water.
But presentation is just one part of a successful dish, and Wix takes this to heart by pairing its templates with the features essential for a fantastic restaurant site. You'll find apps like Google Maps to help guests locate your restaurant; apps like Wix Restaurants Menu that let you customize templates so you can present the details of your menu with clarity and aplomb; and apps like OpenTable or Wix Restaurants, which allow you to take reservations or orders through your website.
If you do opt to take orders or reservations online, you might be wondering how that will work. Will Wix get a cut of your sales? The short answer: no. You can cater to patrons commission-free. Just buy the ready-made Wix Restaurants app from the Wix App Market, and you're ready to go. Wix Restaurants packs a bunch of useful features that are convenient for you and your customers, like:
Options to book reservations, order in advance, order for delivery or schedule for pickup
Automatic notifications via email, fax, text, or phone
Payments via cash or credit card
You'll even get a dedicated Wix Restaurants mobile app so you can manage online orders on your smartphone.
Check our full list of the best restaurant website builders 2019
Wix for Hotels
If you're a small- to medium-size hotel business looking to establish a great online presence for relatively little cost, you should check out Wix. You can start off by designing a fabulous website using one of Wix's 20+ themes created specifically for hotels. There's something for your niche, whether you're running a backpackers' hostel, pioneering the eco B&B concept, or cornering the urban boutique hotel market. Most of Wix's templates use a full-page, expansive spread that will give you plenty of opportunity to showcase your rooms, amenities, and distinct feel.
But Wix doesn't stop there, of course. There are plenty of features that will make your guests' browsing and booking experience quick and hassle-free. Some of your best bets are Wix's in-house solutions, like Wix Hotels, the Wix Language Menu, and more.
Wix Hotels is an all-in-one reservations and bookings system designed specifically for small property businesses: hostels, boutique hotels, B&Bs, vacation spots, and more. As with all of Wix's online sales systems, Wix Hotels is commission-free, so you get to keep all of your earnings. Payments are credited directly to your PayPal account.
Like many of Wix's in-house solutions, this powerful app packs tons of helpful features:
An integrated management portal for keeping track of reservations, room inventory, and booking calendar
The option to set seasonal rates for your listings
The option to offer extra services like room cleaning, breakfast, and more
If you opt for the Wix Hotels Premium plan, which costs $10, you'll get access to advanced features that simplify reservations processing even further:
Support for 10 different languages for a broader customer base
Support for major credit or debit cards from all over the world
Letting guests book through smartphone and tablet on top of the standard desktop option
Automatic updates to your bookings calendar with each new reservation
Module management through your mobile app
The Wix Language Menu, meanwhile, is perfect if you're targeting foreign markets. This app transforms your site into a multilingual website. You have the option of redirecting customers to the appropriate site version based on their browser language or letting them pick their preferred language manually. The Wix Language Menu supports over 30 languages, including French, Spanish, German, Chinese, and Japanese, so you can cater to as many markets as you please.
Aside from these, the Wix App Market is replete with other applications that can enhance your website. You'll find integrations with Yelp, currency converters, testimonial displays, and more.
Check our full list of the best hotel website builders 2019
Wix for Weddings
When it comes to aesthetics, you'll find nothing lacking in Wix for your wedding website. Wix currently has around 25 templates designed for event websites, including weddings. These templates cover a broad range of styles, from the understated and elegant to the exuberant, modern, and bold. Wix's rich media support comes in especially handy here, as you can whip up truly stunning websites with 3D parallax effects, striking video backgrounds, and beautiful image galleries.
Functionality is where Wix stumbles, at least in comparison to dedicated wedding website builders. The Wix App Market comes packed with applications that will handle important functions like event calendars, guest accommodation bookings, and so on, but these are designed for general purpose use. You can certainly put in the time to customize these add-ons to get your desired results. However, that method falls short of the convenience offered by dedicated RSVP management systems, wedding gift registry integrations, and similar features from niche-specific wedding website builders.
As a memento or e-invite for your wedding, then, Wix can bring the design chops, and even some of the functionality. But if you want a website that can double as an all-in-one wedding planning and management hub, Wix is a workable but pale alternative to wedding-specific site builders.
Check our full list of best wedding website builders 2019
Bottom Line – Should You Use the Wix Website Builder?
Wix is the biggest name in the website builder game right now—and for good reason. Sign up for a Wix account and you'll get immediate access to:
hundreds of gorgeous templates
an intuitive, easy-to-use website builder
powerful applications to soup up your website
a nonstop stream of features and updates that put your website on the cutting edge of consumer web technology today
There are quibbles, of course: not being able to hot-swap templates can be a pain, and the inability to export your data stops you from migrating to a different host when your website outgrows Wix. But that's the thing: Wix is developing so well, and so quickly, that it's unlikely to fall behind your website's own upward climb anytime soon.
Wix currently has over 100 million users, and it's winning over 40,000 new people each day, thanks to its ever-improving website builder. Just look at Wix's long list of monthly feature releases and updates. This is a website builder that's hustling to stay on top of its game—and it's blazing far ahead of the competition. If you want a fantastic website built on rock-solid foundations with minimal fuss, then Wix is absolutely worth your while.
Visit Wix Now!