Psychic Screening Process
Applicant psychics are interviewed by the psychic staff several times, and undergo test readings regarding different topics to gauge their psychic reading accuracy. A background check is also done for every psychic to ensure the legitimacy of their credentials. Lastly, the final process involves a live reading test with one of their certified psychics, where the applicants' abilities, skill, and commitment to providing accurate readings will be tested. This rigorous application process helps ensure customers that only psychics who are legitimate and are knowledgeable to the psychic art are admitted to the company.
Psychic Reading Channels and Profiles
Psychic Source offers 3 convenient ways to reach their psychics- via phone call, live chat, or video chat session. If you prefer that they call you, you can send a callback request- just be sure to be available within the next 24 hours. You will immediately see which reading options are available on the psychic's profile, as with their call back, chat, and video schedules. You can also read about their specialties, tools, psychic background and experience, and rating and reviews. This can help you decide which psychic to consult for your session.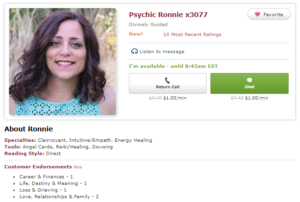 Ease of Use
Creating an account takes only a few moments- all you need is enter some personal details like name, birthdate, and email address, as well as the package that you'd like to purchase for the first session- since their introductory offer is in effect, rates are fixed at $1 per minute. You can choose from 3 denominations- 10, 20, and 30 minutes, with 3 extra minutes for free. You can then proceed to enter your payment details- they accept debit, Visa, MasterCard, Discover, Amex, and Diner's Club cards. An email verification is required before you can complete the registration.
Even before you create an account, you can browse the list of their psychic staff freely. You can choose them via the channels they are available in, or search for them by name or extension. You can also sort them by availability, activity, rating, alphabetically, and price. If you are looking for a specific specialty, expertise, tool, or reading style, you can set the filters for relevant results.
Types of Psychic Readings
Angel Card Readings
Astrology
Cartomancy
Dream Interpretation
Energy Work
Lost Object Readings
Love Readings
Love Tarot Readings
Numerology
Past Life Readings
Spiritual Readings
Tarot Reading Cards
Pricing and Special Offers
If you're a little skeptical about Psychic Source, you can try out their service with minimal costs- they have an introductory offer of $1 per minute for the first session, with additional 3 minutes without any charges at all. That's not all- to ensure customer satisfaction, they have a money back guarantee if you are not entirely happy with your last paid session.
As for regularly priced reads, it usually varies from psychic to psychic, depending on their expertise and demand, although it usually starts at $4.99 a minute, and can reach $11.99 per minute for some of their expert readers. You can see each psychic's default rate from their profile. Usually, phone call and live chat rates are the same, while video calls may cost a couple dollars more.
They also have a membership rewards program where you earn 3% Reward Dollars for every purchase, up to 50% Bonus Dollars monthly, and $25 Bonus Dollars if you talk for 175 minutes in a calendar month. Joining the program is super easy- just opt to receive their email newsletter upon signing up, and you're already in. You also have the choice to unsubscribe from the newsletter, although this removes you from the membership program as well.
Privacy and Confidentiality
Psychic Source uses SSL with 256-bit encryption to keep all your data safe and secured. They also only share you data with in-house representatives as needed. Communications are recorded and may be kept by their company, but all interactions are kept personal and private, and its purpose is solely for protection and quality assurance. No part of the conversation can be altered or edited from their end.
Customer Service
If you have any questions about their service, you can check their FAQ section for more information. You can also initiate live chat with their customer representative, or send them a message via the contact page- their team is available 24/7 for your inquiries. Lastly, you can follow them on social media via Facebook, Twitter, Youtube, Pinterest, Google+, and Instagram.
Psychic Source Review 2020 – Conclusion
Psychic Resource probably is one of the most trusted psychic services available, thanks to a combination of authentic psychics, user-friendly process, multiple reading channels, and years of delivery to their commitment. Applicant psychics undergo a strict process with interviews and test reads with their resident psychics to ensure legitimacy. Their advisors can be reached via live chat, phone call, and video chat, plus a call back option for the user's convenience. Some of their readers may have a steep regular price, but you can take advantage of their introductory price offer and rewards program to save on heavy costs. Go ahead, give psychic resource a try!