What Does BlueHost Offer?
Considering the balanced nature of the pros and cons above, it would be easy to assume that BlueHost is mediocre at best—but this assumption would be incorrect. While it is true that BlueHost has many limitations, only a precious few of them have a blanket effect; meaning that an average customer may not even notice them, or mind it when they do. For example: There is no uptime guarantee; but who cares about that when monitored performance is above average? However, there are some would-be deal breakers. The lack of Windows support is mystifying in this day and age; and the long term periods for shared hosting can put off some potential customers.
On one hand, you have the limitations; but on the other, you have the power to decide what kind of functionalities you want to pay for. The segmented services they offer guarantee that their hosting plans will make sense financially for individuals and business owners with different budgetary needs. Yes, you shell out more money for additional features; but you can rest easy knowing that each BlueHost plan is built on a foundation of round-the-clock support, a solid track record spanning over a decade, world class technology, and a money-back guarantee.
Plans and Pricing
Every single BlueHost offering—from shared, cloud, VPS, and dedicated hosting; to optimized plans for WordPress, WooCommerce and even Drupal—comes with free domain registration for one year, free marketing credits, and an enhanced cPanel-based interface; from within the latter, there's also access to free one-click installs and free site builders. Instead of dense and feature-laden hosting packages, BlueHost gives customers the power to customize their hosting experience with a whole range of premium add-ons.
Shared Hosting: From $7.99 Monthly
Consider a shared hosting plan if you're just venturing into web hosting, or if you've got modest resource needs. All plans use enterprise-grade servers equipped with SSD storage and Linux CentOS 6, so you're assured of quick content loading times and standard compatibilities. In fact, BlueHost supports a lot of platforms, like PHP, Perl, Python, Ruby on Rails, MySQL, and more. Plus, you'll have BlueHost's customized cPanel interface to help you manage everything from an organized dashboard.
BlueHost offers you three packages with modest regular monthly rates: Basic ($7.99/mo), Plus ($10.99/mo) and Prime ($14.99). BlueHost's regular rates aren't that expensive and are comparable to other hosting providers, but they're not the most affordable by any means—plus, there's no option for month-to-month billing. As a first time subscriber, however, you can avail of a special introductory discounts applied to your initial term period. A rundown of plan features and a look at their introductory prices can be seen in the image below.
The lowest tiered shared hosting plan lives up to its name: Basic. There's not much there; not even features that other comparatively tiered plans from competitors add for free, like unlimited email accounts and free marketing credits, are absent. This plan is a skeleton; but it is perfect for customers that want to fully customize what they are paying for.
BlueHost bundles in a lot of advanced features for free—especially with the higher-tiered plans. You get automatic daily, weekly, and monthly account data backups to keep your files secure and easily restorable. Aside from that, you'll get the CloudFlare content delivery network built directly into your plan, so you can expect accelerated page loading times and a boost to your site's overall performance.
There are also premium features for additional fees, and you can apply them to any plan. You can, for example, get additional domain names, dedicated IPs, SSL certificates, SpamExperts mail filtering, domain privacy, SiteLock, Site Backup and Restore Pro, and more. Unfortunately, these premium tools and options sometimes cost a lot of money. Take site transfers, for example. It will cost you an extra $149.99 to have BlueHost to migrate an existing website or cPanel account from your previous host.
Cloud Hosting: From $9.99 Monthly
If you have a bit more cash to spare, or want to scale up slowly, cloud hosting is ideal. BlueHost's cloud hosting solutions give you the assurance of mirrored data and automatic failovers; so if your main hosting system falters, your site smoothly switches over to any of the three copies and standby devices primed to take over. Thanks to integrated NGINX/Varnish caching, you'll also get much faster performance and better page load speeds compared to what you get with shared hosting. The best part? Seamless upgrades! Moving to a cloud hosting plan from a shared hosting plan on BlueHost is painless and takes minutes.
To get cloud hosting on BlueHost, you'll need to choose from three plans—all with affordable regular monthly rates: Starter ($9.99/mo), Performance ($13.99/mo), and Business Pro ($25.99/mo). As with most of their offerings, BlueHost gives introductory discounts for these packages, too. Below is a quick overview of the cloud hosting plan features, along with their introductory rates for the initial term period.
BlueHost's shared hosting plan rates may be a little above average, but their cloud hosting plans are more affordable than most—even without an introductory discount. While a little bit more pricey than their shared hosting plans, BlueHost's cloud hosting plans do offer more value overall.
There's more control, too. Resource monitoring—traffic, load speed, reach, etc.—is provided, as well as almost instant scaling of CPU and RAM, should more power be needed; and you can scale up or down as needed. It's as easy as a click of a button. This allows monthly billings to reflect only what you've used and only what you need. No surprises!
There's also extra support: All cloud hosting plans come fully managed. While you certainly have control over resource monitoring and allocation—which is a breeze, thanks to BlueHost's customized cPanel dashboard—the daily routine of day-to-day maintenance is left to the expects. BlueHost handles all of it: security updates, software patches, troubleshooting, and so on.
VPS Hosting: From $29.99 Monthly
Need even more power and room to grow? BlueHost's VPS hosting solutions might be right up your alley. BlueHost is known to have devoted a lot of time and energy to improve existing technologies to make their VPS service reliable and powerful. They use OpenStack and KVM technologies that allow them to run a private cloud in their data centers, and manage everything in real time reliably and efficiently. They also developed their own Storage Area Network (SAN) that provides constant, scalable, segregated-type of storage that is, for lack of a better word, fast. All of this is on top of a foundation of servers build from the ground by BlueHost themselves, using all SSD storage.
BlueHost's VPS plans are instantly provisioned, so your virtual server will be ready for use immediately after registration. You'll get BlueHost's enhanced cPanel interface, from which you can even provision additional server resources without having to contact technical support. You'll get root access, too, though unfortunately BlueHost only uses Linux CentOS for its virtual servers. That's right: No Windows support.
You'll have three plans to choose from, all with reasonable regular monthly rates: Standard ($29.99/mo), Enhanced ($59.99/mo), and Ultimate ($119.99/mo). Like shared and cloud hosting, these plans are also available with an introductory discount applied to the initial term period of your subscription; and unlike shared hosting, BlueHost allows month-to-month billing for VPS hosting. Introductory prices and plan features can be seen in the image below.
What happens when a VPS account is created? BlueHost divides servers into distinct regions, also known as "containers"—each assigned a VPS account and given its own allotted CPU power, memory, storage space, and bandwidth. This seclusion of server space provides for more customization and easier maintenance.
BlueHost provides all the hardware, and the customer is able to add applicable operating systems, firewalls, content, software, and web files to match his needs. Each customer is in charge of all installation, maintenance, security and backup of the operating system, data, software and files used in the container. BlueHost VPS hosting is easily configurable through their cPanel interface.
Important to note: While BlueHost says that support is "Managed – 24/7" for all VPS hosting plans, a talk with one of their customer support representatives reveals that all of these plans are essentially self-managed from your end. "Managed – 24/7" means that customer support is there for you anytime to answer questions; but you will have to navigate their admittedly user-friendly and intuitive interface yourself if you want to make specific changes. These VPS hosting plans do NOT come fully managed by BlueHost; although the very technical aspects of maintenance and upgrading are taken care of, obviously.
Dedicated Hosting: From $119.99 Monthly
For the best of what BlueHost has to offer, check out their dedicated hosting solutions. A dedicated hosting service gives you the luxury of having a whole server to yourself; which ensures the ultimate website performance, control, and security. Like the servers in use for BlueHost's VPS hosting plans, these dedicated servers are all instantly provisioned and all equipped with RAID 1 storage to ensure utmost data security. You will likewise get root access and an enhanced cPanel interface for managing your server; so you can upgrade and reallocate resources without having to go through BlueHost's technical team. BlueHost will also assign you a dedicated support team so you'll always have knowledgeable experts on hand to help you troubleshoot any issues that arise.
There are three BlueHost dedicated hosting plans to choose from, all with moderate regular monthly rates: Standard ($119.99/mo), Enhanced ($159.99/mo), and Premium ($209.99/mo). Month-to-month billing is an option; and first time subscribers get an introductory discount on their first term period, too. Below is a look at BlueHost dedicated hosting plans' features and introductory prices.
With all plans, you get the latest iteration of Linux CentOS, as well as root access to your server so you can install software and configure it as you please. As with their VPS hosting plans, there is no Windows support. BlueHost also provides the option to use the latest version of its enhanced interface, which is based on cPanel. This means you can set up one central module from which you can manage sites, domains, files, and more. You'll have access to a drag-and-drop site builder via Weebly, so it's easy to design a simple website; additionally, BlueHost supports 1-click installs for a raft of popular e-commerce and CMS solutions like WordPress.
The service infrastructure is set up in a way that lets you implement upgrades like additional storage on the fly, without any delays or fiddly coordination with BlueHost's server management team, so you can ramp up your server specifications easily and in real time. Again, this runs parallel with what's available with BlueHost's VPS hosting plans: Dedicated servers do not come fully managed, so customization and specific changes need to be implemented from your end—although BlueHost customer support will be happy to guide you though parts that may be unfamiliar or new to you. As always, the technical aspects—upgrades, maintenance and whatnot—are taken care of by BlueHost.
Specialty Hosting
BlueHost also offers specialty hosting services that are optimized for specific uses and platforms. There's reseller hosting, though this option is completely powered by another service; in fact, when you try to view reseller hosting plans on the BlueHost website, the link leads you straight to ResellerClub. There is a Drupal-optimized hosting plan that seems to be simply built on the foundations of BlueHost's shared hosting solutions; but this pales in comparison to the comprehensive set of tiered hosting plans optimized for WordPress; as well as a separate set of packages for its popular plugin, WooCommerce.
WordPress Hosting: From $39.99 Monthly
When BlueHost says "optimized", they mean it. Their WordPress hosting plans are built on custom architecture that makes everything faster and easier for WorPress users every step of the way. Power is ramped up from BlueHost's end by advanced NGINX and custom PHP-FPM, and from your end the customized cPanel interface makes it a breeze to manage and control features and tools. For example: MOJO Marketplace found within the control panel allows for one-click installs of plugins, scripts, and more. Instant provisioning of more CPU, RAM, and even SAN storage is also possible with the same ease.
There are four WordPress hosting plans to choose from, with regular monthly rates a little pricey compared to what competitors offer, but overall giving better value: WP Standard ($39.99/mo), WP Enhanced ($59.99/mo), WP Premium ($89.99/mo), and WP Ultimate ($129.99/mo). Again, an introductory discount is applied to the first term. Below is a look at plan features and introductory prices.
Unlike BlueHost's shared hosting plans, even the most basic, lowest tier WordPress hosting plan has integrated security features bundled in. From day one, you are provided with SiteLock security and WAF, an SSL certificate, and an advanced CDN. There's also dedicated storage and bandwidth; which includes dedicated backup storage, too. And did we mention automated backups of your WordPress websites? BlueHost goes the extra mile, even for those paying the minimum, to ensure that your data is remains safe.
WooCommerce Hosting: From $13.99 Monthly
While the WordPress plans may be useful for bloggers, content creators, or small to medium businesses looking to grow their online presence and branding, BlueHost WooCommerce hosting plans—though still grounded on WordPress—are very much geared for e-commerce.
There are three WooCommerce hosting plans to choose from, all more affordable than the offered standard WordPress hosting plans! Check out these regular monthly rates: Starter ($13.99/mo), Plus ($17.99/mo), and Pro ($31.99/mo). They're even easier on the budget with the introductory discount. See the image below for plan features and introductory pricing.
All WordPress and WooCommerce hosting plans come with dedicated WordPress support; and the advantage of WooCommerce plans include easy setup, too. You can subscribe to a plan and be selling your products online in minutes. That's with secure payments, too; because an SSL certificate and dedicated IP are already included in every plan.
Customer Support
BlueHost's support team is available 24/7 via live chat, phone call, or support ticket. Aside from this, BlueHost has a comprehensive knowledgebase to help you with common questions or concerns. You can also visit the company's community forum to consult other BlueHost users. Lastly, you can connect with BlueHost via Facebook, Twitter, Google+, Youtube, LinkedIn, Pinterest, and Instagram to be informed of the latest news and updates.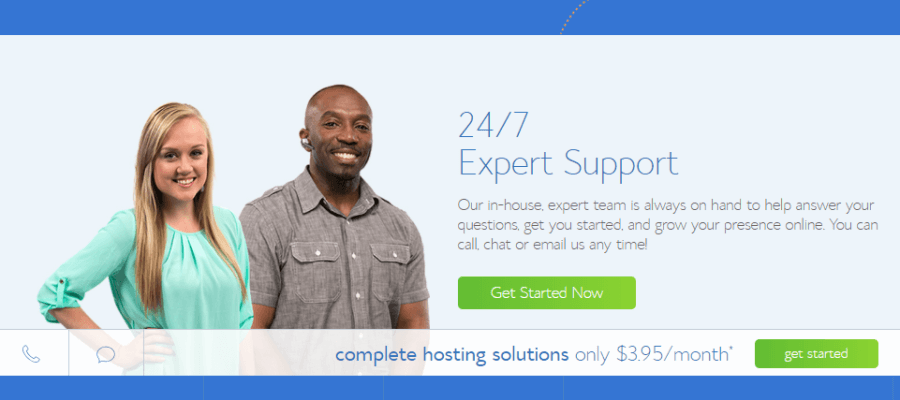 Website Migration Support
Some hosting providers bundle in a free website transfer with their hosting plans, or at least provide the service for a small fee. Not BlueHost. There is a flat fee of $149.99 for their experts to migrate and transfer to BlueHost up to five pre-existing websites and up to 20 email accounts from your previous provider. This fee doesn't even include domain name transfers—you'll have to do that yourself. More importantly, BlueHost does not offer any sort of migration support for their VPS and dedicated servers.
30-Day Money-Back Guarantee
You can get a full refund if you cancel within 30 days; and while this is perfectly fine and good as an industry standard guarantee, we do miss BlueHost's older, much more customer-friendly offer. (Remember when BlueHost offered pro-rated refunds for cancellations past 30 days? We do.) Keep in mind, though, that refunds are only possible if you use a credit card as your payment method. Also, the guarantee only covers hosting plans; fees for premium add-ons are non-refundable.
BlueHost Review 2020 – Conclusion
BlueHost's multi-pronged approach when it comes to hosting solutions means you'll get a versatile and flexible hosting provider if you sign up here. BlueHost offers shared, cloud, VPS, and dedicated hosting services, each with multiple pricing tiers and features that can cater to a wide range of needs and budgets. The lack of a solid uptime guarantee is a major downside, but the company makes up for it with a generous refund policy and stellar customer support. Overall, BlueHost remains a solid choice, no matter what kind of website you need to host. Check it out now!