The DreamHost Control Panel
When it comes to hosting solutions, proprietary back-ends are typically less than ideal. User interfaces built in-house are notorious for being flawed; compared to industry standards like cPanel or Plesk, company-specific designs can be cumbersome, inefficient, non-intuitive, or just plain ugly. Having said that, what DreamHost works with is a refreshing change in an otherwise bleak world of hand-rolled control panels.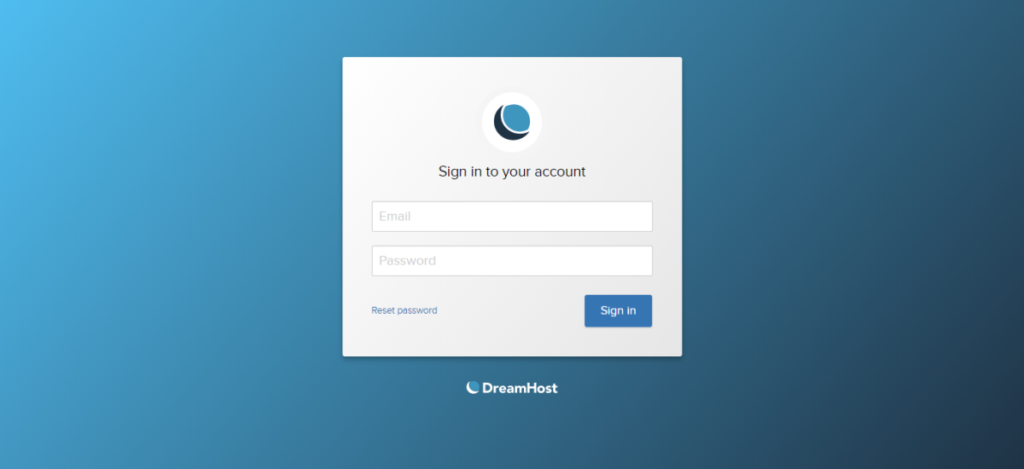 Every single hosting plan offered by the company comes with the DreamHost control panel. It is a simple system that allows you to access pretty much everything for any of your domains from one simple menu. You can find and change anything; from usage statistics to hosting plans and DNS records from within the control panel. One of the system's wonderful features is that it is fully responsive—any changes you make generally take between five to 10 minutes to update live, and that can be tracked from within the panel, as well.
DreamHost's streamlined user interface is easy to navigate; and it's actually one of the great things about subscribing to a DreamHost plan—unless you are more tech savvy than the average customer, and wish to use a control panel you're more familiar with. Many hosting providers bundle cPanel or Plesk into their plans; or offer them as paid add-ons, at the very least. This is not the case with DreamHost—and as great as their control panel is, to have it as a non-negotiable rather than an option can be annoying.
Plans and Pricing
When it comes to hosting solutions, DreamHost provides plans for shared hosting, VPS hosting, and dedicated hosting; as well as specific packages for WordPress hosting and a unique "pay only for what you use" billing setup for cloud server hosting. There is no standard reseller program. Most of these hosting packages have one-click install features, which make them ideal for not only WordPress, but also applications like Joomla or phpBB. As for popular platforms Drupal and Magento, they may be used with DreamHost, but it's not very common as they're unsupported.
Shared Hosting: From $10.95 Monthly
Unlike many hosting providers, DreamHost offers a singular shared hosting plan. This package includes unlimited storage and bandwidth—within reason, as explained in the company's Unlimited Policy—as well as the resources for unlimited MySQL databases; and unlimited email addresses with POP/IMAP/SMTP accounts, autoresponders, filtering, spam protection, and webmail capability.
Unless you choose to be billed month-to-month, you'll get free domain name registration. The plan gives you the capacity to have unlimited domains, too; although they're not free. For each domain you do have, though, DreamHost provides privacy protection and your very own Let's Encrypt SSL certificate—free of charge.
You also get IPV6, PHP7.1, Python, Perl, and Rails support; Crontab, full CGI and Raw Log files access; one-click installs; and more.
DreamHost is upfront about their price points. No bargain-basement-worthy introductory discounts here—but that also means no surprising renewal rates and very little to bear with in terms of upselling. Pricing starts from $10.95 monthly, although you can choose plans with lock-in periods—one year or three years—to avail of lower rates per month.
Worth noting that the DreamHost shared hosting plan is covered by a very generous 97-day money-back guarantee, which should be more than enough time for anyone to get a good feel for the service.
VPS Hosting: From $13.75 Monthly
If you're looking for more power and customization than a shared hosting plan can provide, VPS hosting may be right up your alley. Many features included in the DreamHost shared hosting plan are also bundled into their VPS plans: Access to Crontab and Raw Log files; one-click installs and SSLs; support for PHP7, Perl, and Python; unlimited email addresses and MySQL databases; and more.
DreamHost VPS hosting plans also provide for multiple user access while making sure that you are still in control. You can assign an unlimited number of SFTP users, but also password-protect sensitive content. Subversion Repository (SVN) also makes sure that teams working on the same content won't suffer undue conflict arising from members unintentionally stepping on each other's space. Reseller hosting is also possible: You can create unlimited sub accounts with separate access, billing and FTP. However, no re-branding is allowed—possibly why there is no specific reseller hosting plan available.
DreamHost offers four tiered plans—Basic, Business, Professional, and Enterprise—that all include unmetered bandwidth and the capacity for unlimited hosted domains and websites. All DreamHost virtual private servers also run on high performance SSDs, which are 20x faster than SATA disk drives. The core of the tiered pricing is the differences in available RAM and storage. For example: Basic offers 1 GB of RAM and 30 GB of storage, while Enterprise offers 8 GB of RAM and 240 GB of storage. Growth and scalability is no problem, as you can upgrade your plan to get access to more RAM and storage in less than a minute from the proprietary Dreamhost panel.
Though certainly feature-packed and worth the price points assigned, DreamHost VPS offerings can be very limited for people looking for creature comforts and space for their own brand of micro-management. All four plans come fully managed and only on Linux Ubuntu OS. These packages have no cPanel or Plesk options, no Windows support, no root access and no money-back guarantee. However, being fully managed does have perks: You'll never have to worry about software patches and releases, as DreamHost experts will handle all of that for you—updates may as well be automatic.
Dedicated Hosting: From $169 Monthly
If you're looking for the most powerful hosting solution DreamHost can offer, it makes sense to make a beeline for dedicated hosting. When it comes to cultivating site activity, traffic, and audience size, bandwidth is an important factor—and that's where DreamHost can help you out. The company offers unlimited bandwidth and an easy-to-navigate line-up of server options, so you can have a dedicated server up and catering to vast audiences in no time. However, you'll want to tread carefully—the company makes claims and omissions that may cause you to overlook some very serious limitations of their offerings.
DreamHost dedicated hosting comes with some of the features that are already offered as part of their other hosting plans: one-click installs; support for PHP7, Perl, Python and Ruby; unlimited MySQL databases; and more. On top of these, the perks of dedicated hosting with DreamHost includes RAID 1 storage, a dedicated IP address, and full root and shell access; as well as round the clock server monitoring, tech support, and DDoS protection. Most of the limitations of their other hosting plans are carried over here, too: No cPanel or Plesk options, no Windows support, no money-back guarantee. Additionally, DreamHost dedicated servers run Linux Ubuntu exclusively; with no option to use Linux CentOS.
No Standard Plans
The overall cost of DreamHost dedicated hosting varies based on how you configure your server and how long your lock-in period is. No standard plans, here—you get to fully customize the experience. You can choose from four to up to 12 CPU cores, HDD or SSD storage, and RAM ranging from four up to 64 GB. At the most basic configuration of a quad-core processor, 4 GB of RAM, and 1 TB of SATA storage, you'll be billed $169 monthly, though you can get this down to $149 monthly if you opt for a yearly contract.
Important Customer Information
DreamHost offers a 100% uptime guarantee, but this is where things get a little sketchy. If you comb through DreamHost's Terms of Service specifically for guidelines having to do with their dedicated servers, it clearly states that DreamHost is under no obligation to compensate users for downtime regardless of downtime cause. Additionally, the company's support and service liability agreement policy pages don't mention details about server hardware management and upkeep. Its Terms of Service, though, set out an additional "one-time labor fee" of $100 for any hands-on labor regarding the server, or hardware upgrades to any server's configuration.
Cloud Hosting: From $4.50 Max Monthly
Want full control and full root access without paying over $100 every month? You may want to consider DreamHost's cloud hosting option, called DreamCompute. It features scalable all-SSD cloud servers that are designed around Ceph and OpenStack, lighting-fast processors, DreamHost Object Storage—for redundant storage of your applications—and a whole range of choices for full control.
Unlike any other DreamHost plan, you can run your unmanaged cloud server on your preferred operating system and software version. Yes, even MS Windows—or BSD! However, note that many Linux options are already pre-loaded for your convenience. With the servers engineered and configured with OpenStack for applications and Ceph for storage, DreamCompute is also fully compatible with standard APIs; with support for developer tools like mongoDB, redis, python, Ruby, and nodejs.
Signing up for DreamCompute does not require you to pay any fees upfront. You will be billed according to the number of hours you used, with a corresponding maximum charge per month. The tiered plans offer increasing amounts of RAM and vCPUs; although all of them are capped at 600 hours, or 25 days of usage.
All packages also come with 100 GB of block storage.  There's also free bandwidth, but this is a limited offer only. Once they have finally made a decision regarding the rates, users will be informed with ample time to make the necessary adjustments. Only the downloaded data count will have a charge, though, as they have already stated that upload traffic will have no incurring costs.
Specialty Hosting
Some hosting providers offer hosting packages that are platform-specific; usually for popular ones like Drupal, Magento, Joomla or WordPress. DreamHost really has only the latter, but not only is it a whole sub brand—DreamPress, and it includes tiered plans, some of which even have  WooCommerce support—it's also officially recommended by WordPress. However, it's worth noting that you can simply subscribe to a general DreamHost plan and run WordPress as a one-click install; you can do one-click installs for Joomla and several other platforms, too.
DreamHost for Drupal and Magento
As popular as they are, Drupal and Magento are both unsupported by DreamHost; meaning they're not offered as one-click installs, nor is DreamHost bound to optimized their services for the smooth running of these platforms in any way. However, they can still be installed manually—and out of over half a dozen unsupported site builder applications listed by DreamHost on their Knowledge Base, only Drupal and Magento benefit from having separate and extensive help articles that guide you through the third part application installation process.
Also, it's important to note that DreamHost recommends that these two platforms only be installed on their virtual private servers or dedicated servers, as running Drupal or Magento on their shared hosting plan may result in issues ranging from slowness to downtime. A DreamCompute account may also be used with Magento for better performance—or better yet, consider the DreamHost WooCommerce hosting plan if you're intent on creating an online store with this hosting provider.
WordPress Hosting: From $7.95 Monthly
There are four different WordPress hosting plans available—five if you count the one for WooCommerce, but we'll get to that. The Starter plan is the most affordable, but it is also the only one that's not run on cloud servers—it's basically their shared hosting plan repackaged as a value option for DreamPress. That being said, there is a silver lining: Because it's a shared hosting plan, it is covered by the 97-day money-back guarantee. You get a free domain, too, if you subscribe to the annual plan.
All WordPress plans benefit from automatic security and WordPress updates, domain privacy, free one-click SSL,  SSD storage, unlimited email addresses, and more. The Starter plan comes with one-click install WordPress, but the rest of the plans come with the platform pre-installed with themes and plugins included. The vaunted DreamHost control panel is beneficial for DreamPress, too—because it's in-house and fine-tuned for DreamHost users, there's a lot of room for flexibility and functionality in terms of managing WordPress.
Performance WordPress
The Basic, Plus and Advanced plans make up the Performance WordPress category of DreamPress. They all include complete domain management, Google's Brotli compression software, daily site backups, and more. DreamPress sites are automatically configured with HTTPS. Plus, these Performance WordPress plans are all covered by a 30-day money-back guarantee; less than the 97-day period the shared hosting plans enjoy, but more the zero guarantee given for DreamHost's VPS or dedicated hosting plans.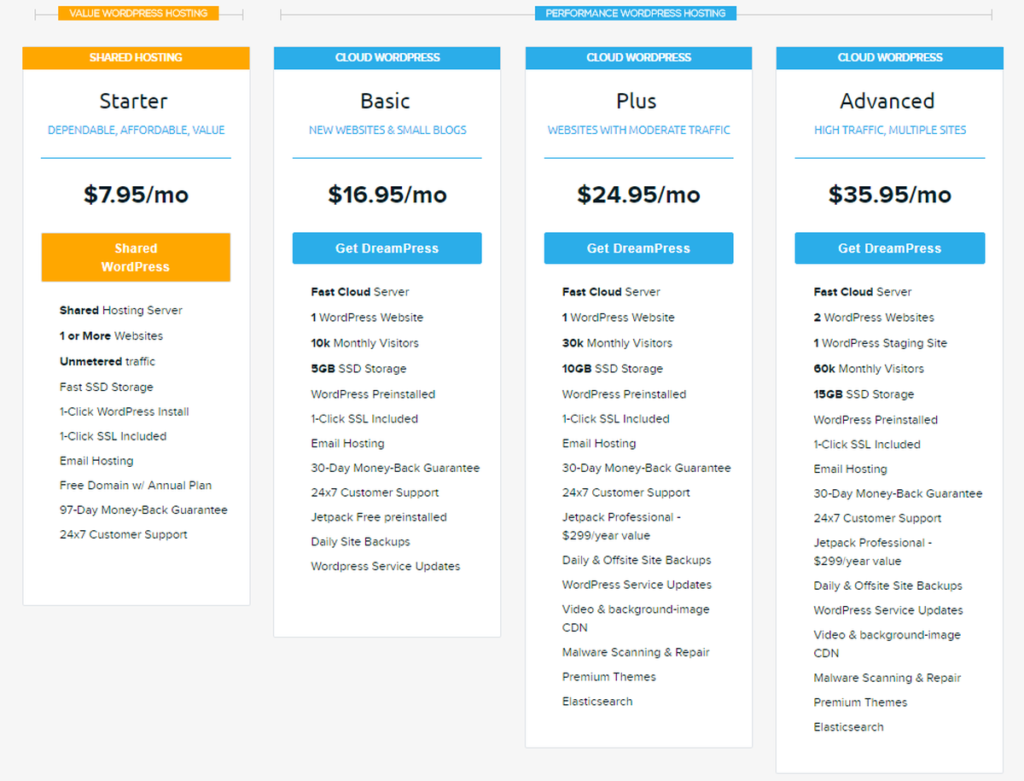 As far as the tiers go, you basically pay more for higher traffic and bigger storage; although there are some premium features that are only available with the higher tier packages. For example: Jetpack Free comes preinstalled with the Basic plan, but Jetpack Professional with $299/year value is bundled in with both the Plus and Advanced plans. Other Plus and Advanced features: Offsite site backups, a video and image CDN, malware scanning and repair measures, and more. The Advanced plan also allows for two WordPress website and one staging site.
WooCommerce Hosting: From $29.95 Monthly
WooCommerce is a WordPress plugin that makes the platform extraordinarily suitable for online stores. This singular plan—currently with an introductory discount, making it just $24.95 monthly—includes a highly specific set of features designed to support you and your store.
Apart from all the across-the-board perks of DreamPress plans, you also get WooCommerce and the Storefront Theme pre-installed. There's also advanced VaultPress backups, Jetpack Professional, and you get three calls monthly to Concierge Phone Support—a true luxury, as DreamHost customer support typically doesn't use telephone lines. As far as resources go, you get one website, 30 GB of storage—with storage expandability up to 50 GB storage—and more.

Other Services
Apart from hosting solutions, DreamHost offers other services. They've created their own website builder—Remixer—which offers stunning and professionally designed templates fully responsive both on desktop and mobile. You also gain access to their image library, with 600,000 different pictures all free to use. Of course, you can still upload your own photos from a local drive, an existing website, or from your social media pages. Editing is a breeze with their click-to-edit customization. Remixer is also free to use—you only have to pay to publish it under your own custom domain. Speaking of custom domains: DreamHost also offers domain name registration services with free domain privacy protection.
Customer Support
DreamHost offers 24/7 support via e-mail and live chat. You can also try engaging their Twitter account. Some will be put off by the fact that DreamHost does not have a phone number you can call but, in reality, this only works out better. When you submit a support ticket to DreamHost, you explain your problem and note two parameters—the urgency of the problem and your technical expertise in the subject—so they can respond appropriately.
You can request a callback from the DreamHost staff which comes at an extra charge or wait for them to help via e-mail. Issues lodged with top-level urgency are often resolved by the DreamHost staff within 20 minutes. We've rarely had to wait longer than 3 hours to get any kind of issue resolved.
100% Uptime Guarantee
DreamHost has an impressive 100% uptime guarantee for all of its hosting plans. This policy ensures that you get a day's worth of credit for every hour of downtime. However, as we've noted above, be wary of this guarantee if you're thinking of getting a dedicated hosting plan.
97-Day Money-Back Guarantee
You'll get a lengthy 97 days to claim a full refund if you're dissatisfied with the company's services—but only if you paid for a shared hosting plan via credit card. Worth noting that DreamPress plans also enjoy a 30-day money-back guarantee, though.
DreamHost Review 2020 – Conclusion
Dollar-for-dollar, DreamHost is not the cheapest option out there, but when you consider all the features you get—as well as the way they don't try to hide their real price points behind introductory discounts—the pricing is actually very fair. That is, unless the limitations and omissions negatively affect you and the way you work. cPanel and Plesk? Forget it. Windows? Not unless you get DreamCompute. Root access? Not available for VPS hosting. Money-back guarantee? Only for certain plans. On the other hand, if these limitations don't bother you, DreamHost will really be a dream; with its decades-long track records, impressive uptime, and unparalleled support. You may even find one of our complaints—the unavoidable use of their proprietary control panel—unwarranted; because the DreamHost panel really is intuitive and easy-to-use. The bottom line: There's a reason DreamHost has been around for so long. Their hosting solutions do have limitations, but overall, service is excellent.